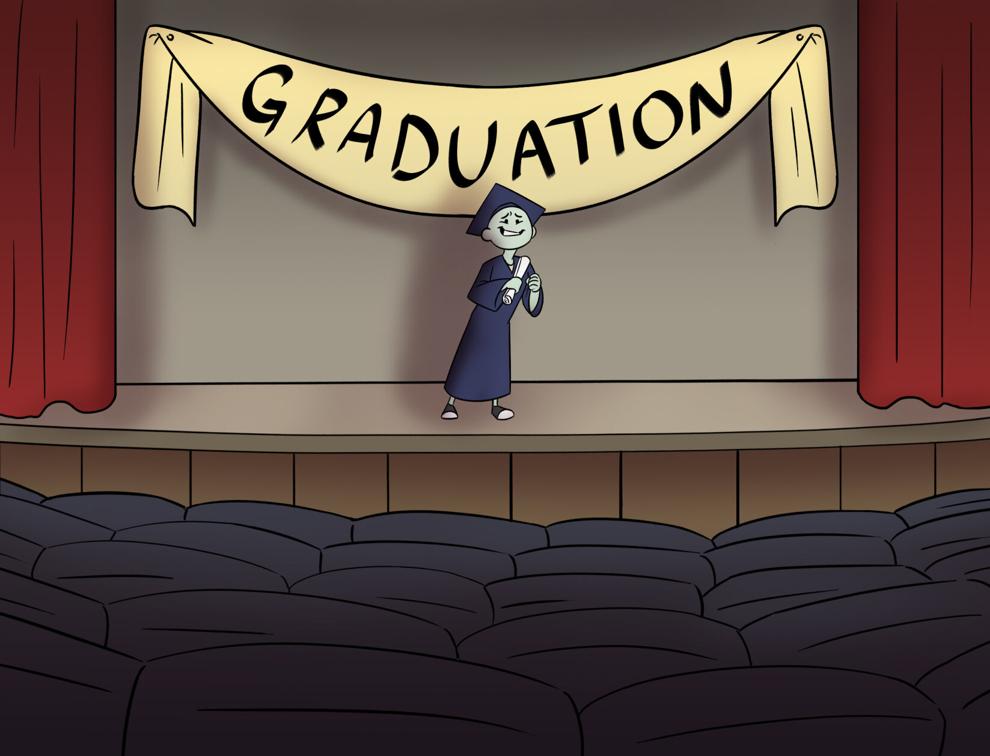 Graduation is an important milestone for college students as it paves the way for their future. It is normal and expected for soon-to-be graduates to await the day they get to hold their degree in their hands, breathe a sigh of relief and hear the roaring cheers from family members in the crowds. 
The applause from family, friends and fellow graduates is what makes the ceremonial walk worth the time and money spent earning the degree. While Cal State Fullerton students are now able to attend their graduation ceremony in person, the absence of loved ones dulls the achievement. 
In a recent email, CSUF announced that graduates will be able to receive their diploma in person this year, but without friends and family on the sidelines. 
The joint celebration with graduates and their significant others during this ceremony has been swept away, diminishing the meaning of graduation ceremonies altogether. 
The lack of presence from family and friends severely devalues the significance of walking the stage many students dream of stepping foot on. For some, it could be just another joyous celebration, but for others, this could be the first graduation ceremony that a family experiences. 
Any student can walk the stage and throw their caps in the air in celebration of such a grand  feat, but there lies a heavy weight when the most important people in their lives can't attend such a special moment. Walking a stage in front of an empty crowd is no better than hearing your name called on a screen at home. 
At a virtual ceremony, excited graduates are able to watch the ceremony through livestreaming services with family members, friends and significant others by their side. While this may not be an optimal choice for anyone who was anticipating the classic graduation ceremony as past years, this year's option for in-person graduation is an even more saddening sign of our times. It is clear that CSUF faculty wants graduating students to have some sense of normalcy during such a pivotal moment in their lives, however a graduate-only ceremony is far from normal. 
Even before COVID-19, the emotional impact of no-shows to a graduation ceremony was evident. When parents or family members aren't found in the stands by an excited student during their ceremony, graduates can be left feeling distraught and vulnerable. 
It would serve the same emotional pain when a graduate walks those special steps to receive a diploma, only to be met with the depressing silence where familiar cheers would normally be. Despite the availability of livestreaming the ceremony, there is no greater overwhelming joy than having family and friends present in the stands, cheering boisterously when the graduate's name is presented. The desolate feeling of an empty presence could very likely ruin the experience of the ceremony itself.
Though there aren't many options due to current COVID-19 regulations, a limited in-person graduation cannot offer much to students who want to hear the cheerfulness and celebration from their families during the ceremony. 
A commencement ceremony is nothing if graduates can't gather with those who supported them through all their years of education. Without that support, a limited graduation ceremony containing only students is incredibly disappointing not only for graduates, but for those who wish they could be there and can't. 
Upcoming graduates are better off graduating virtually — at least this way they'll be able to spend this exciting moment with the people who helped make it all possible.