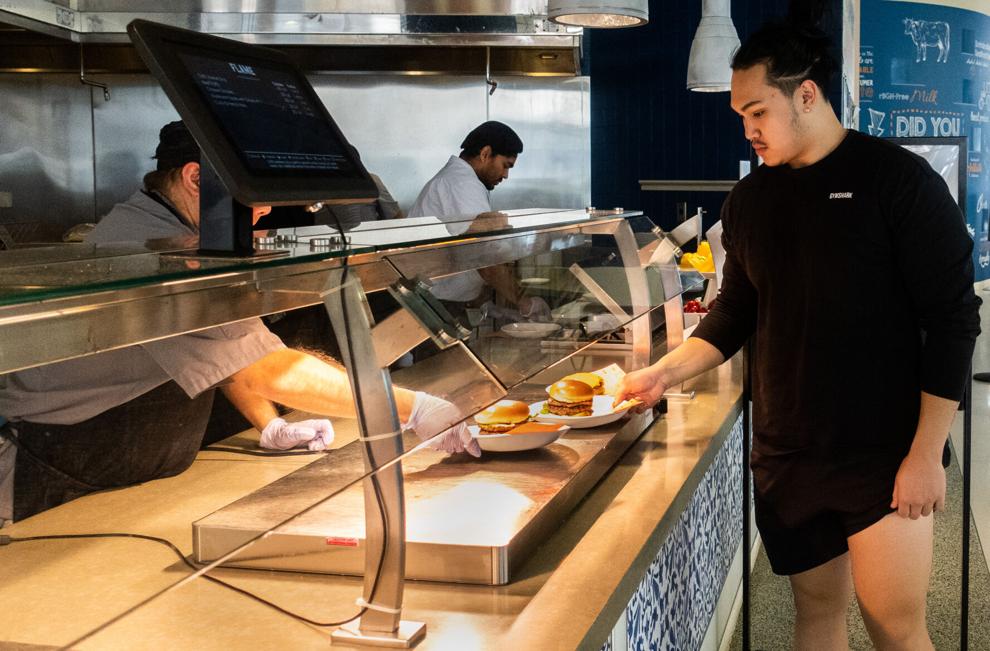 In addition to high on-campus living costs, Cal State Fullerton residential students find themselves paying a mandatory fee for a meal plan. This seems like a great substitute to buying fast food, but students who have dietary restrictions or food allergens may be better off eating elsewhere. CSUF needs to improve the culinary conditions if they're forcing students to pay for a meal plan when living on-campus. 
CSUF needs to address these issues and begin serving more dietary-friendly options that are correctly prepared and labeled.
In an article published in December 2022, the Daily Titan reported students raising concerns about their safety while eating at the Gastronome during an Associated Students meeting. When eating at the Gastronome, students noticed a lack of dietary options and proper ingredient labeling. 
These mandatory meal plans can range from $1,000 to $2,300 per semester and add to housing fees. Students can choose to pay for the lowest meal plan, but it doesn't allow them access to the Gastronome every day or is only for a limited amount of time during the semester. For example, the 5-Day Meal Plan will not allow students into the Gastronome during the weekend.
Rubi Sanchez, a first-year psychology student, said there was a lack of other dietary options besides soy-free foods. 
Emmaleigh Irish, a third-year musical theater student, has a gluten dietary restriction and said the Gastronome has "gluten-friendly" rather than "gluten-free" options. 
"It's advertised as gluten-friendly, which is questionable because most of the time, they say gluten-free. So what does gluten-friendly entail?" Irish said.
Because these foods are not entirely gluten-free, there's a chance that if a student with a gluten dietary restriction decided to risk eating a "gluten-friendly" option, they could have an allergic reaction.
Irish said she had taken a bite of the bread before and was unsure if it was gluten-free.
Sanchez said it's not fair for people with dietary restrictions to pay for the food plan because they have so few choices.  
"For people that do need to eat specific foods, I feel that they should be more inclusive, maybe pick out certain foods instead of having just that little section in the corner," Sanchez said. 
This is an issue for many residents, considering this is the only place they can use the pricey meal plan they were forced to buy.
The lack of options forces students who have already purchased an expensive meal plan to consider spending more on independent meals. 
Students could simply buy outside food or groceries, but this neglects the issue that residents are forced to buy a meal plan. Anything residents buy outside the Gastronome is an added cost on top of the meal plan they have to buy.
Sanchez said she goes out to eat over the weekends due to only paying for the 5-Day Meal Plan. This is an added cost to a meal plan that is supposed to save students from going out to eat.
The argument that residents can just buy their own food assumes that all CSUF residents are financially secure enough to buy their meals every day on top of being forced to pay upwards of $2,300 for a meal plan they cannot use.
"I just don't feel like that's fair, you could go out and make your own food, but they're forcing you to pay all this money to only eat what they have here," Sanchez said.
Students with dietary restrictions are at risk for an allergic reaction every time they eat at the Gastronome due to the lack of proper labeling. The lack of accommodations for special dietary needs forces students to consider paying extra for outside foods.
Students shouldn't have to worry about whether they can eat during the day after already paying for an expensive meal plan that is supposed to cover their dietary needs.
While the Gastronome is already making improvements, it must provide better food options that are inclusive of special dietary needs — a basic accommodation to CSUF's residential students.