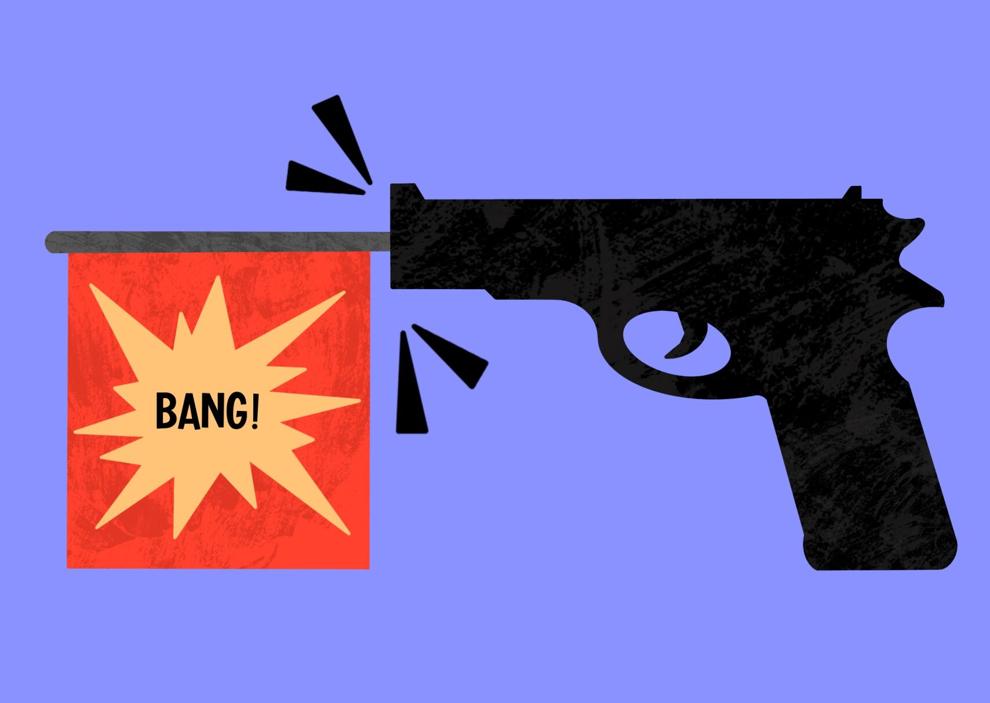 Alec Baldwin shot two crew members during the filming of "Rust" in Santa Fe, New Mexico, on Oct. 22. On that day, 48-year-old director Joel Souza was injured and 42-year-old cinematographer Halyna Hutchins was killed.
The gun was said to be loaded with blank rounds, giving Baldwin the green light to proceed to fire. This incident could have been prevented. Implementing new safety protocols paired with providing actors and actresses with the proper education of prop guns is the only feasible solution for preventing such a catastrophic event.
The utilization of prop guns with blank rounds on movie sets is a modern Hollywood tradition. Blank rounds consist of gunpowder without a projectile that creates a realistic and believable gunshot effect without the danger of shooting an actual bullet. 
It doesn't help that firearm safety protocols were skipped on the set of "Rust." Hannah Gutierrez Reed, an inexperienced armorer working on her first set, had failed to inspect the weapon before it was handed to Baldwin. Reed wasn't even the one who issued the gun to the actor, according to several affidavits from the Sante Fe County Sheriff's Office.
Hutchins was not the first to perish from a prop gun on a film set. The late Brandon Lee was infamously killed during the filming of "The Crow" from a combination of a prop gun and a small explosive charge he was holding. 
The actor was 15 feet away from the weapon when it was fired. Another similar incident occurred with Jon-Erik Hexum during the filming of the TV series "Cover Up," where in a playful game of Russian Roulette, he shot himself in the head with a gun loaded with blanks. Lee was 28 and Hexum was 26.
Revising and cracking down on firearm protocols should be proactive. By the time a policy is revisited, someone would have been hurt; or worse, killed. The incidents  with Hutchins, Lee and Hexum were a result of a variety of factors, such as policy complacency, ignorant gun handling and a lack of knowledge from surrounding crew members. These are recurring factors in most prop gun incidents. 
To reduce accidents and deaths from the misuse and mishandling of prop guns on a movie set, there are a couple of measures that need to be considered. Every actor and crew member must become more educated and disciplined on the use of prop firearms on set. 
Reed should have been more disciplined with her firearms, and Baldwin should have had some knowledge of handling weapons to manually check the gun himself before firing. 
Granted, Reed is inexperienced compared to other seasoned armorers, though the complacency of gun protocols is inexcusable. Baldwin is not supposed to be a firearm expert, but if he's going to handle real weapons loaded with fake rounds, there should be some accountability on his end regarding weapon inspection.
The same could be said of Hexum, who carelessly played with his gun and caused his own death. A reasonable person would not be playing with blank rounds after learning about what blank rounds can actually do. 
Another solution to end the rampage of the prop gun is by eliminating prop guns altogether, with some already taking the initiative. ABC's "The Rookie" will see the replacement of blank-firing guns with airsoft guns on their set, weapons that have the same realistic appearance while only shooting harmless little pellets. They still hurt, but it is better to be shot with a pellet than a bullet. 
There can also be laws that outrightly ban the use of prop guns and blank rounds on set. California senator Dave Cortese announced recently that he is drafting legislation that will ban the use of prop guns on sets in the state, no matter what ammo. If passed, California movie sets can no longer use prop guns with blanks during filming, and would have to find alternative ways to simulate a gunshot.
There needs to be new standards in place regarding prop guns for the safety of crew members. It's a matter of workplace safety, especially when actors are going to be using actual guns as props. If moviemakers choose not to abolish prop guns for airsoft guns, then they must do their part by properly training individuals involved to ensure everyone's safety.
If weapon safety protocols are enforced, the only kind of bang a movie should make is in the box office.