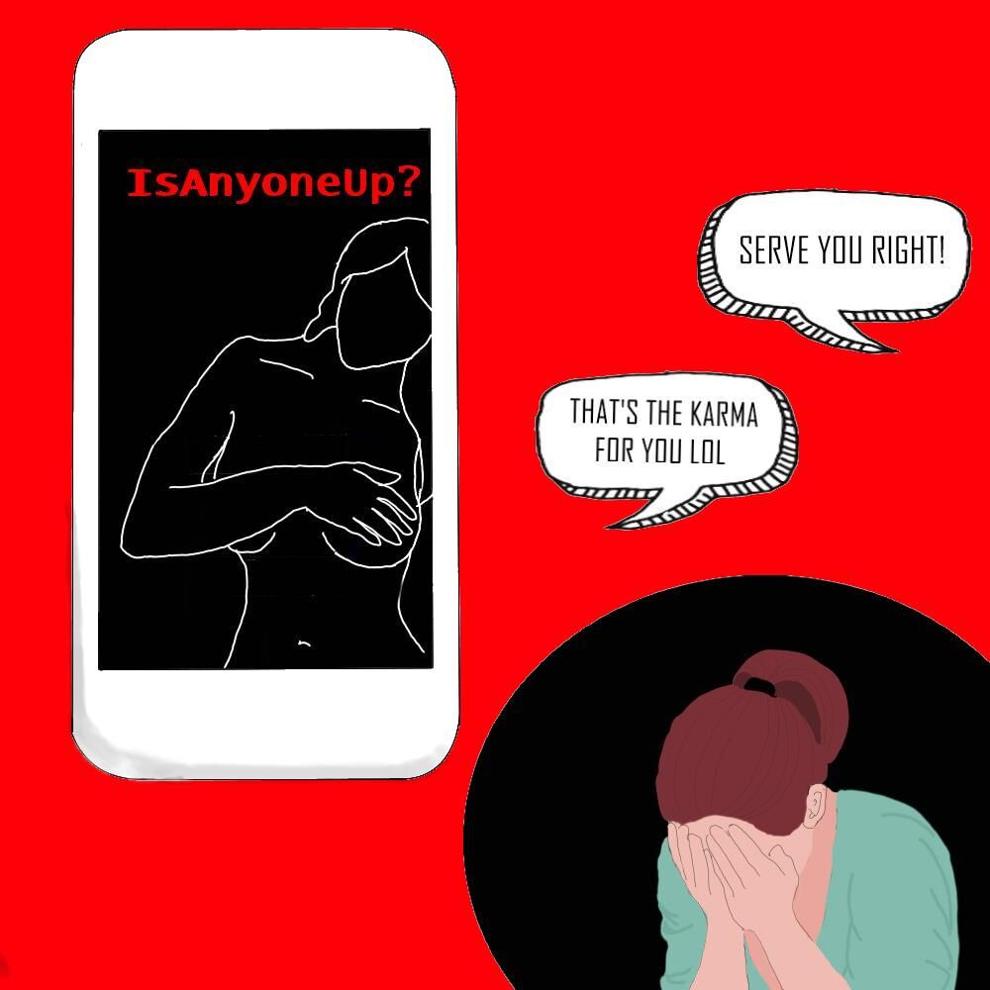 Revenge porn, also known as non-consensual pornography, is a type of abuse in which nude or sexually explicit media is shared without the consent of the people pictured or recorded.  Due to its exploitative and immoral nature, there must be more legal repercussions against revenge porn.  
Victims of revenge porn are disproportionately young and female. According to the article "Revenge Porn Laws: Learn How to Fight Back" by Aaron Minc, 90% of revenge porn victims are women and 68% of the victims are from ages 18 to 30. 
This heinous act may be motivated by retaliation against someone's partner after a breakup or similar offense, said Heather Brown, an adjunct professor on sex, crime and culture at Cal State Fullerton. 
"The fact that you have a breakup with a significant other, which is generally where you see this type of crime," Brown said. "It doesn't mean that they get to terrorize you basically, with distributing images that you believed were shared in private."
Revenge porn can ruin people's lives. Images and videos on the internet can easily spread and are difficult to track, making it challenging to bring offenders to justice. 
"Those images last forever out on the internet," Brown said. "It was only recently that they added that particular crime, and so I think until the law enforcement is able to effectively investigate those crimes and actually secure convictions, the penalty or punishment is gonna stay low." 
It is not just an act of revenge: it is a destructive weapon that destroys the life of an individual in the worst way. Yet, the laws that prosecute revenge porn are ridiculously relaxed. 
In the U.S, 46 states and Washington D.C. have laws against revenge porn. Each state can define revenge porn as a crime if the individual publishes or distributes the sexual media of a person on the internet without that person's consent. But usually, most states prosecute the case as misdemeanors. 
In California, revenge porn is classified as disorderly conduct, which is a misdemeanor with a punishment of up to six months in jail, and a fine of up to $1,000 for a first-time offender.
However, the punishment does not fit how severe the crime is. Chelsea Reynolds, an associate professor of communication at CSUF, said that revenge porn can affect an individual due to its terrorizing nature.
Not only are people's lives ruined, but they can be mentally and physically affected by the thought and knowledge that their private pictures and videos are being watched by thousands of people on the internet. 
These consequences are not enough to hold distributors of revenge porn accountable or fairly punish them. 
Even though the damage that revenge porn causes is malicious and hurtful, it is barely prosecuted because the victims lose their privacy as a result of such misclassification, which makes them hesitant to ask for assistance from the police.
Or worse, revenge porn cannot be prosecuted as sexual harassment or sexual abuse. 
Reynolds said that revenge porn is a form of digital communication, so the laws around online content may be different than laws around sexual harassment or abuse that happen in person.
However, that should not be the case. In the same way that child pornography is a sexual offense, so should revenge porn, because both acts are similarly exploitative. 
Revenge porn should be taken more seriously. Anyone who is a victim of revenge porn should not be afraid to report it in order to seek help. There is no need to worry about privacy because there are many confidential services available. 
On the CSUF campus, Student Wellness offers Violence Prevention and Advocacy Services in order to help students who are the victims of sexual assault and harassment, to seek legal advice or emotional support.
Reynolds said that since revenge porn is sensitive and situational, it is important to seek confidential advice before making a decision about whether you want to file a police report or if it is an issue that can be resolved through open communication.
"If an image has been passed on to hundreds or thousands of other people and it's impacting a student's ability to perform at school because it was passed along by another CSUF student, that would definitely be a case where Title IX would probably want to get involved because it would be considered sex-based or gender-based discrimination," Reynolds said.
The more revenge porn cases that are reported and prosecuted, the more pressure there will be on lawmakers  to change the legislation  on revenge porn to be prosecuted as sexual harassment. No one should ever suffer from such an exploitative crime.