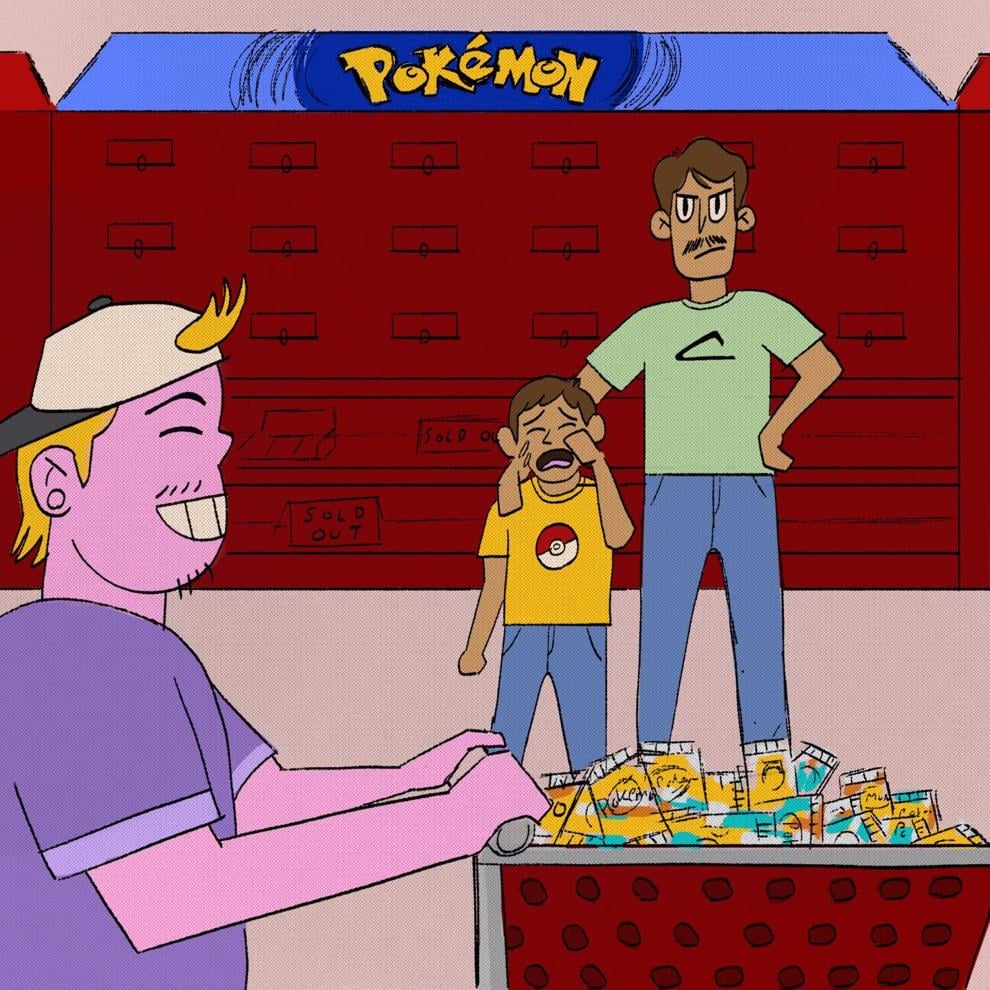 Pokemon card collecting is a beloved hobby that's been ruined by scalpers and consumers seeking out cards solely for profit. The current landscape of the hobby began taking shape during the COVID-19 stay-at-home orders when product shortage and a high demand drove up prices on products, ultimately creating an atmosphere for scalpers to thrive. 
The latest release of the 25th anniversary set titled "Celebrations" released on Oct. 8. The release lured grown men to Targets and Walmarts to fill up their carts with all of the Pokemon cards, leaving nothing for the rest of the line – which included shoppers trying to buy for their kids or to add cards to their collectibles. 
It's almost become a ritual during every release date, as posts on the subreddit PokemonTCG feature photos of these scalpers with full carts while collectors air out their frustrations. In the last year, it's been incredibly difficult to find Pokemon cards on store shelves because everything is snatched by people who are looking to flip them for profit.
Stores like Target initially limited the amount of products that can be purchased at one time after halting the selling of them completely due to shoppers becoming violent in their parking lots and stores over cards. Despite the heated tension over special cards, scalpers are once again flocking to stores and emptying shelves. 
Depending on the product, the secondary market value can sometimes be double or even triple it's Manufacturer's Suggested Retail Price, also known as MSRP. What's worse is that local card shops have raised their prices to match the market value instead of selling them for or close to MSRP, gouging their supporters for more money because the market supposedly justifies their actions. 
It is frustrating for collectors because local card shops were always a reliable source for reasonable prices. However, they've succumbed to the current craze and are capitalizing like scalpers. Yet, the raising of prices does make sense from a business standpoint, especially if scalpers are relying on their products to make good profits.
The 25th anniversary set featured an ultra premium collection, which is highly coveted by collectors because it features — for the first time ever — two gold commemorative metal cards. On the cards: the original base set designs for Pikachu and the most popular card ever, Charizard. 
The product sold for $120 at stores if collectors were lucky enough to find one on the shelves or online. When a local East Los Angeles card shop named Project CCG announced on their Instagram that they'd be selling for $220, supporters of the shop were upset. 
The post was flooded with comments from people calling them out for scalping. One person said they were disappointed because the shop usually sells their products for reasonable prices. 
Consequently, this has been an overall shift in the culture that is now driven by profit. Many YouTube personalities who open products always focus on the value of the cards rather than collecting them out of love. This creates a generation of kids who flock to the hobby for the wrong reasons. 
 Not only is the hobby marred by people trying to make a quick buck, but it is fueled by scalpers' obsession to hoard cards because of the notion that in a few years, they'll be worth hundreds, if not thousands of dollars more. They appear to be grounding this false belief on the fact that most products in the past were opened and the number of people who collected sealed products was a fraction of what it is now. 
If everyone is hoarding the same products, thinking they are going to hike up in value, they are fooling themselves because now everyone has evolved into copycats. Scalpers that are driven by greed have wreaked havoc on a great hobby, creating a competitive environment to simply buy cards for a reasonable price. 
Luckily with the Pokemon company back in production, it appears that the industry is motivated to quickly replenish stock at retailers as soon as possible, which would ultimately lead to its full swing. With the initial release of the 25th anniversary set being mostly wiped off the shelves by scalpers, stores are being stocked slowly but surely. 
In order to combat the current market landscape, collectors must fight the fear of missing out. To solve this growing dilemma, consumers cannot support these scalpers selling on platforms like OfferUp, eBay or StockX. 
Hopefully with production back to normal, the Pokemon company will print enough products to support the current demand and normalize the prices of the secondary market. Most importantly, consumers should collect cards for the love of the cards and not for the value. 
Don't be like antagonists Team Rocket, be more like Ash Ketchum and catch them all for the love of Pokemon.