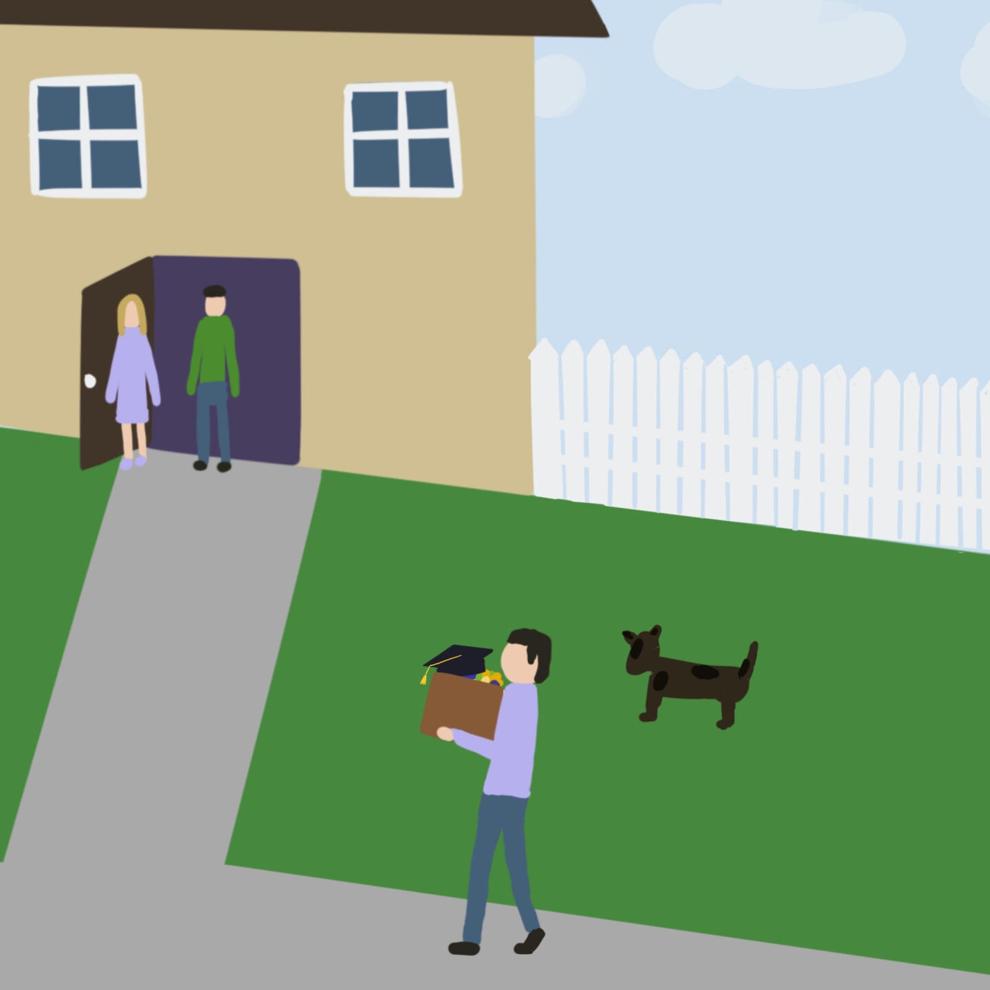 Having to move back in with parents after college graduation often stigmatizes graduates as lazy, lacking responsibility and incapable of being self-sufficient. However, as financial independence has become tougher during the COVID-19 pandemic and forced many into harsh circumstances, there needs to be a greater acceptance and normalization of moving back home. 
According to a 2019 survey by TD Ameritrade, 50% of young millennials ages 22 to 28, who along with Gen Z make up the "boomerang generation," plan to move back home with their parents after college. 
The same survey also reported that not only were graduates moving back home, but that 31% planned on living at home for more than two years. 
Living at home has become a necessity especially for students who have acquired a large amount of student loan debt during their college careers. Rising tuition costs have placed a burden on students and their families, forcing them to make sacrifices like moving back in. Young adults who move back with their parents are wrongfully shamed for making responsible financial decisions that will ultimately allow them to afford college and have a better chance at success. 
Student loan debt, increased by the rising costs of college tuition, is a major contributing factor behind the monumental increase of college grads returning home to live with their parents. According to Investopedia, the tuition for a public four-year university in the United States has tripled over the last 30 years and has more than doubled for private four-year universities. In 2020, the average student loan debt was over $37,000, and combined, college grads owe $1.6 trillion. 
This unfortunate truth is leaving some college graduates in a sea of debt that they may never be able to swim out of and instead slowly sinking them as their loans accumulate interest. It is projected that at the current rate, college graduates could owe $2 trillion in student loans by 2024 and $3 trillion by 2038.
Unlike the cost of tuition, the national wage growth rate has continued to fall well below its target of 4% to a meager 0.3%, according to the Economic Policy Institute. The low wage growth rate over the last 10 years coupled with rising tuition has made it increasingly difficult for students to pay back loans and has delayed major life decisions like buying a home and moving out of their parents'. Based on this data, college graduates would drive themselves further into debt if they had to pay for rent, bills, food and other living expenses like insurance and costs of owning a car. 
Without a job that pays well above the minimum wage or financial help from parents, it is much more difficult to survive life after college. The expectation that all college graduates are equipped to sustain this amount of financial independence is absurd. 
Even after freeing themselves of debt, college graduates still face another hurdle: the second housing crisis in 12 years. And to make matters worse, this housing crisis occurred during the pandemic.
Between a historic housing shortage and record high selling prices, the dream of home ownership is slowly getting further out of reach for college graduates. According to an article by Insider, the housing shortage is the result of contractors underbuilding over the past dozen years, lumber shortage and the pandemic.  
Simply put, there are not enough homes being built. Even if college graduates are able to lock down a job after school, they still have to compete with other buyers in a scarce housing market that boomed during the COVID-19 pandemic due to historically low mortgage rates.On top of student debt, graduates can expect to pay 39% more for their dream home than boomers did 40 years ago. 
For a recent college graduate without a full-time job set in place, moving back in with family can be a sound financial move with obvious benefits — especially when the economy is recovering from the COVID-19 pandemic. Even if parents are requiring rent, a single room at their house is still cheaper than an entire apartment or mortgage. 
Of course, this opportunity also comes with some disadvantages; privacy and independence would be among the many sacrifices college graduates would have to make. At times it may be challenging to stay calm when it feels like parents are encroaching on adulthood when they question those late nights out.
But ultimately the decision to live with mom and dad isn't forever. This time could be used to analyze the career landscape and create a blueprint to obtain a high-paying job, and in no time, enough money will have been saved up to move out and see those major life decisions carried out.
Living with parents makes it possible to live off the salary of a typical entry-level job. It gives graduates the opportunity to save money for long-term financial goals like paying off their student debt or buying a home. Instead of struggling to make ends meet every month, students should swallow their pride and ignore society's expectations by making wise financial decisions that will set them up for success in the long term.
Although this living arrangement isn't for everyone and should be considered carefully, the potential for new graduates to free themselves of a substantial amount of debt far outweighs the trouble of having to bump elbows with parents for a year or two. It is a step that could be the first towards financial freedom and being a truly independent adult. 
There is no need to feel ashamed or embarrassed about moving back home — you won't be the first to do it and you certainly won't be the last.