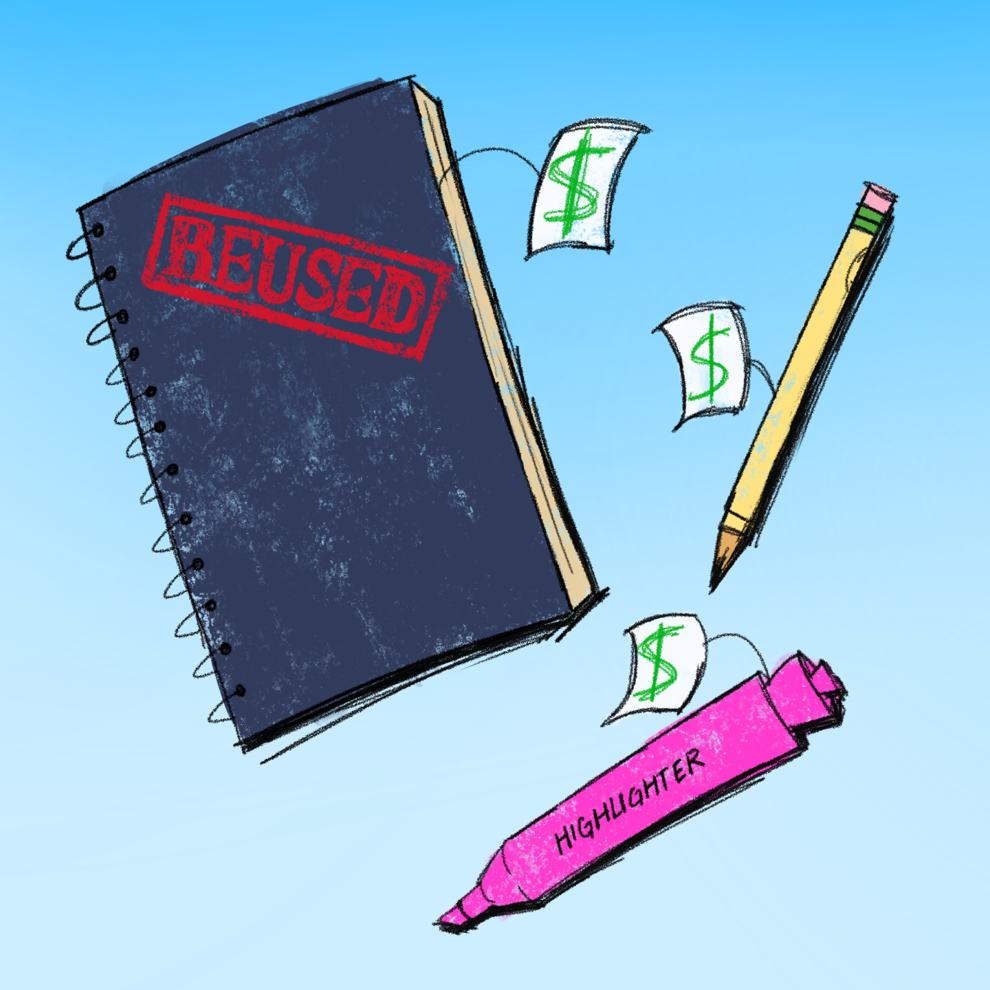 Every start of the semester comes with the promise of a fresh start. However, a new beginning does not always have to correlate with the overconsumption of school supplies. 
Last year's product shortages resulted in low-stocked shelves. As a response, college students should take advantage of reusing thrifted items. College students should thrift their school supplies at any given opportunity because it saves money and does not require new materials to produce items, ultimately contributing to a lower carbon footprint. 
A major selling point related to thrifting is the environmental impact. Unused notebooks, 3-ring binders and packs of pencils can be bought at thrift stores during the back-to-school season. Most municipal solid waste comes from paper, so buying a new notebook every semester strays from a sustainable lifestyle. 
Additionally, notebooks made from recycled paper still require energy and extracted materials, thus making it only fractionally better than buying new. Instead, college students should invest in reusable notebooks and other school supplies from a thrift store, eliminating the destructive process of hammering energy and materials to produce brand new school supplies. 
Another reason to purchase school supplies from a Goodwill outlet is that it can help students save money on necessities. Back-to-school spending has increased significantly since schools have reopened. For some college students, relying on family funds may not be an option. 
Thrifting school supplies allows students to cut costs on low budget items. Items that may be marked up at an office supply store, like Staples, can cost significantly less at a charity shop. Likewise, products from thrift stores tend to be marked down through discounts and coupons. 
The value of thrifting cannot be overstated as students buy more clothes to prepare for more in-person classes. Thrift stores and charity shops provide the opportunity for college students  to find high quality, vintage items for cheap deals. Hence, more money can be saved for high budget purchases. 
Some may oppose thrifting because the prices of secondhand items have been increasing due to its recent trendiness. However, the prudency of the activity has led to a drop in the fast fashion market. Every secondhand purchase prevents an item from becoming permanent trash.
The preference of buying new products demands new materials which the Earth cannot keep up with. There is no use pretending that the Earth has infinite resources as the climate crisis worsens.   
Thrifting is also not an excuse for overconsumption. It does not matter how cheap an item was resold for; if it is not a necessary purchase new, then it is not a necessary purchase second hand. The goal of thrifting does not have to be replacing an entire system of consumption. However, if it is possible to buy secondhand, one should. 
Thrift stores are easier to find than some may think. Some examples of thrift store chains are Goodwill and The Salvation Army, which can be found in almost every city. 
However, if the experience of diving through cluttered racks is not enjoyable, smaller vintage and consignment stores offer a more curated experience. Buffalo Exchange on Harbor Boulevard is less than 10 minutes away from Cal State Fullerton and it is an excellent choice for reused clothing. 
Thrifting has also been made easier through websites, like ThredUp, Poshmark and Depop. 
Contrary to common perception, thrifting does not have to look like searching through racks and bins in a brick-and-mortar store or scrolling through pictures from anonymous sellers. Thrifting can be as easy as getting some friends together to swap excess school supplies. 
It may be a jarring shift to start thrifting items off of a back-to-school checklist, but it can be a financially and environmentally rewarding experience.