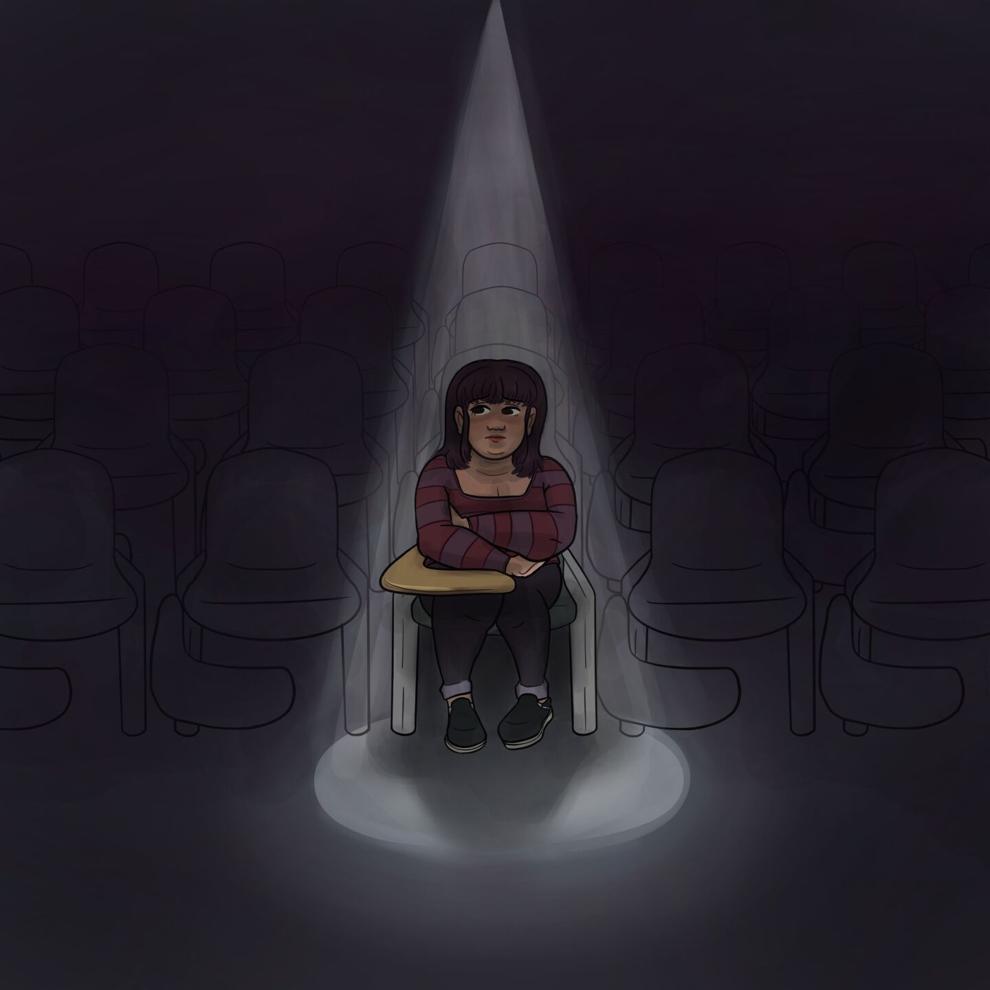 College lecture halls are intended to be a space for students to learn and further their higher education. However, notoriously uncomfortable seats can hinder this goal — and sometimes even prohibit it.
With such uncomfortable seating, it is time for Cal State Fullerton to look into better alternatives that students will find more comfortable to be in. Students' comfort should come first so finding alternatives should be one of the university's priorities.
With classroom arrangements that are reminiscent of a small theater and seats that are squeezed tightly together, it is a surprise that students are able to focus during their lectures, let alone take notes. While the issue depends on each building within the university, students struggle most at the Ruby Gerontology Center and the auditorium in the College of Business and Economics. 
Madison Lopez, a freshman civil engineering major, discussed the problems that tiny lecture hall tables and seats can cause. 
"The tables are tiny, I don't even use it anymore because it gets in the way. One thing that bothers me about it is that when someone uses it, they poke you—it sticks into your seat," Lopez said.
Due to seats being compact and close together, it causes some students to have their seats overlap or constantly clash together. Students may feel uncomfortable in their chairs which leads to problems focusing. 
"I do see people fidget a lot in their seats, moving around trying to get comfortable or trying to write better," Lopez said.
The problem exceeds just pure comfort, as lecture hall seats can prevent students from learning. With constant fidgeting and trying to find a way to sit comfortably, students lose valuable class time.
For plus-sized students, finding adaptations is not easy or accessible. The university lecture hall sometimes lacks size-inclusive seating, which leaves students feeling uncomfortable. 
If students did not have to worry about how uncomfortable the seats in the lecture halls were, they would be able to have more time focusing on the lecture and taking notes.
Jesseca Yriarte, a fourth-year psychology major, discussed how the seats' lack of size inclusivity impacted her studies. 
"That is one of the reasons I had to drop a class this semester," Yriarte said. "I was so uncomfortable in this chair. The tables couldn't even go in front of me."
In Gordon Hall lecture room 252, Yriarte said she was unable to use the table in front of her because it did not allow space for her stomach. As a result, she needed to take class notes on her phone which made it harder to keep up with the class.
"I'm a very studious individual. I take pride in myself caring about my school work and my education and the fact that I couldn't even focus just because of my size is not encouraging," Yriarte said.
One could argue that overhauling the seating arrangements in classrooms would be costly. With the current renovations the university is doing, adding inclusive and comfortable seating may not be CSUF's first priority.
Although, there are alternatives for inclusive and comfortable seating that may fit within their budget.
Sudarshan Kurwadkar, a professor in the civil engineering department, suggested the university invest in ergonomic chairs.
The purchase would be a one-time investment which is beneficial for the university. That investment would go a long way for students and help them in their classes.
Ergonomic chairs would provide students with full-body seating that are comfortable to be sitting in for long periods of time. These chairs could be put into classrooms with plenty of floor space and could replace the standard desks we currently have in the classrooms.
If students could sit in ergonomic chairs for over an hour, it will prove to be highly beneficial. Students would be able to focus more on the lecture since the chairs would provide more comfort.
Kurwadkar emphasized that student comfort should be the university's focus. 
"A student is sitting on a chair for as long as one hour and 15 minutes for some classes and in some classes two hours and 45 minutes," Kurdwadkar said. "There has to be some comfort in the chair so that they will be able to focus." 
Ultimately, lecture hall chairs need to be comfortable enough for students of all shapes and sizes so that they are able to learn to the best of their abilities. Not being able to attend a class due to discomfort is a huge inaccessibility issue that the university should strive to address with a one-time investment. 
For a university that preaches inclusivity, it is lacking. Whether the change happens with ergonomic chairs or couches, students should be able to learn in peace.