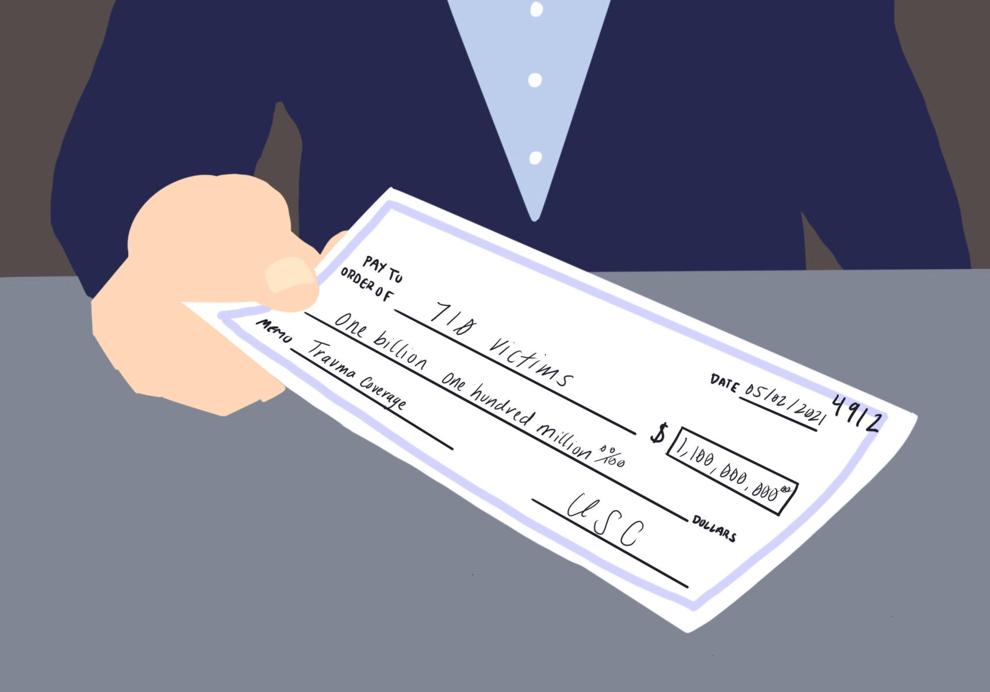 As of March 2021, University of Southern California has allegedly issued a $1.1 billion settlement over sexual assault claims against the university's former gynecologist, George Tyndall. Around $852 million is planned to be settled among the 710 plaintiffs, while another $215 million were offered for anyone who received services from Tyndall, whether or not they were sexually assaulted. 
Being one of the largest settlements for sexual assault, this arrangement only accounted for claims made against Tyndall between 2009 to 2016, despite Tyndall working at USC and receiving complaints since the 1990s. 
This billion dollar settlement, while a massive gesture, can't reverse time and undo the damage inflicted by Tyndall. With nearly 30 years of sexual assault swept under the rug, USC can't be excused for any amount of money allocated to the victims. Tyndall's sexual misconduct could have been avoided, and incoming or transfer college students need to remember this before deciding to attend USC. 
In 2018, the Los Angeles Times conducted an investigation into Tyndall's career at USC to uncover any information that was not yet released by the university. Investigative reporters Harriet Ryan, Matt Hamilton and Paul Pringle then wrote an article showcasing shocking details about Tyndall's employment and the USC administration's negligence. 
As written in their article, "The complaints began in the 1990s, when co-workers alleged he was improperly photographing students' genitals. In the years that followed, patients and nursing staff accused him again and again of "creepy" behavior, including touching women inappropriately during pelvic exams and making sexually suggestive remarks about their bodies." 
The complaints made against Tyndall in the 90s should have ended his career and put him on trial immediately. Yet, the voices of Tyndall's victims went ignored for decades, and he was able to continue his reign of terror with USC, a school whose credo is to "engage, support and educate" its students. 
USC's female students experienced sexual misconduct from a gynecologist that the school believed to be trustworthy. The university showed support to its victims by prolonging the report against Tyndall to the Medical Board of California, ignoring their complaints and throwing money at those affected to dispel their trauma. Women's bodies were violated and some administrators would not do anything about it. 
Fortunately, some of Tyndall's survivors have continued to speak out against their attacker. USC administrators and even the defense attorneys who were involved proved that not even a big paycheck can forgive the enabling of sexual assault. 
On March 25, one of Tyndall's victims, Lucy Chi, made a public statement regarding her anger and frustration toward those who have not been held responsible for the attacks against her and other victims. 
"USC allowed thousands of women to be abused by the gynecologist, and when they found out, they covered it up." Chi said. "They aided and abetted all of those sexual assaults. And no one in the administration and leadership at USC has been held accountable." 
Chi then accused former district attorney, Jackie Lacey, a USC alumnus, of covering up the complaints to save the university's administration from a sticky situation. 
Gynecology appointments alone are already incredibly uncomfortable and vulnerable situations for women. Tyndall took advantage of hundreds of students in need of health services, and it happened at USC for decades. While Tyndall was the one who committed the physical assault, university administrators should be just as responsible for the heinous acts against these women. 
There is nothing the school could do now to repair the damage that has already been done, and these victims will have to live the rest of their lives remembering Tyndall's attacks knowing that their nationally accredited university failed them. 
USC's settlement is better than nothing, but it is still not good enough. Those looking to go to the university deserve to know the history of a school whose administration spent almost 30 years ignoring sexual assault complaints on its campus.