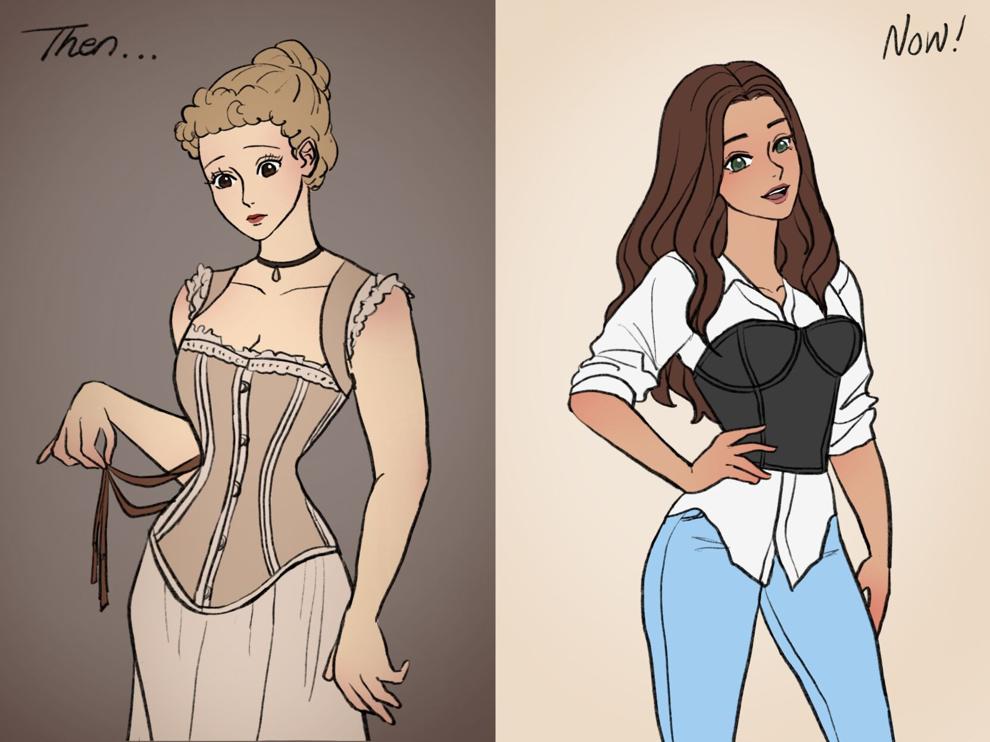 From Victorian women of the 1800s to celebrities like popstar Lizzo and model Bella Hadid, corsets have made a comeback as a popular garment of choice to be worn under or over clothing. 
While corsets of the past had a more restricting effect on women, corsets worn by today's celebrities have become more of an accessory than a shapewear piece meant to conceal or hide women's natural body shape. 
Despite these updated views on corsets in today's fashion industry, the implications of idolizing smaller waists and women seeking to alter their appearances still exist. In recent years, the traditional corset has evolved into a new type of garment: the waist trainer.
These steel-boned corsets, worn as elastic bands around the midsection, are meant to trim and shape the wearer's waist to achieve a slimmer look. 
The hook and eye fastenings can be tightened over time to make the waist progressively smaller, mimicking the functions associated with corsets of the 16th century. 
Even reality star and business mogul Kim Kardashian has added waist trainer products as part of her popular Skims shapewear line. 
Despite their popularity, these pieces severely alter women's expectations for their self-image and can be detrimental to their physical health.
As 19th century corsets had tighter lacing on the bodices and longer silhouettes meant to be worn under dresses, waist trainers are updated with an elastic band that acts as a compressor to hold in women's waists and achieve the same effect. 
Even though corsets may be less restrictive nowadays, its purpose is still a means of altering one's physical structure. 
The prevalence of this trend with multiple grown women, including celebrities like the Kardashians, shows younger girls that they too should alter their appearances for an hourglass look, making the trend much more harmful than some may realize. 
Kim Kardashian had to receive breathing lessons for wearing corsets from a designer to wear an ultra waist-cinching dress to the 2019 Met Gala. She also admitted to feeling levels of pain like she's never experienced before, according to an interview with WSJ Magazine. 
Some fashion historians have even argued that women's use of corsets over time may have inspired multiple diet and exercise trends meant to shape the body's appearance into an hourglass-like figure created through wearing corsets. 
In addition to their effects on women's beauty standards, waist trainers can have serious adverse effects on the body. Wearing a waist trainer can lead to loss of abdominal strength, musculoskeletal problems and restricted breathing and digestion issues, according to pelvic floor physical therapist, Shani Fried and senior medical director of Gastroenterology at Southern Ohio Medical Center, Jesse P. Houghton, M.D, in an interview with Byrdie. 
While waist trainers perpetuate the idea that women should work to achieve a slimmer figure, some might argue that they aren't harmful if women are actively making the choice to wear these garments outside of societal pressures.
However, when women document their results using waist trainers and celebrities like the Kardashians actively promote this device, it can have an effect on people's standards for their own looks. This, in turn, can heighten people's insecurities about their bodies and contribute to unattainable beauty standards. 
We shouldn't push women to adhere to this certain beauty standard through the use of waist trainers and garments for body modification. 
The pressure to have an hourglass body should not restrict the importance of people loving their natural body shape and prioritizing their health above all.