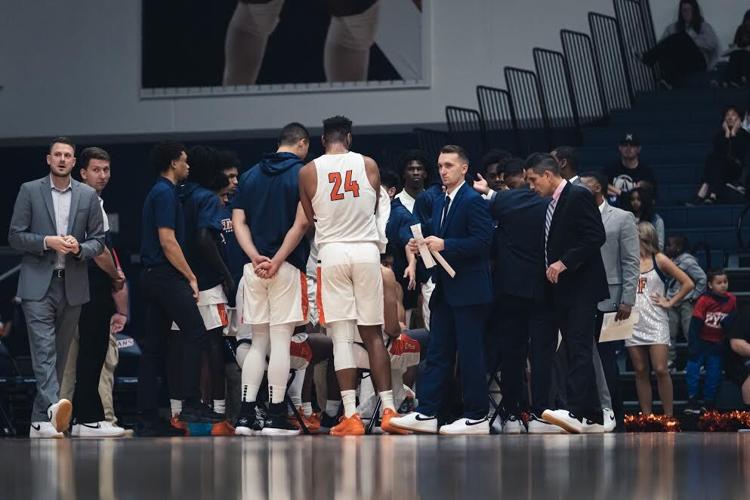 Maintaining one's health as a college athlete is quintessential for their success throughout college. Whether referring to success on or off the field, being as healthy as they possibly can to perform at a high level is to be expected, but mental health is an aspect that is often overlooked.
Athletes for Hope, a non-profit organization that is dedicated to encouraging athletes' engagement with their communities, stated that 33% of all college students experience significant symptoms of mental health issues such as anxiety and depression. Among those people, only about 10% of college athletes who suffer from mental health issues actually seek help.
Jaime Potter, interim head athletic trainer at Cal State Fullerton, emphasized the importance of educating everyone in the athletic department in regards to players and their mental health.
"It's not just educating student athletes; it's educating coaches, administration, my staff and academics, that we have a better understanding of how to help and what to do," Potter said.
Potter said that spreading awareness about mental issues is a way that the athletic department is attempting to break the stigma of college athletes having mental toughness.
Understanding that mental health is just as important as physical health is something that the university is recognizing, said Dr. David Mitchell, licensed psychologist and member of CSUF's Counseling and Psychological Services.
"It's all health. I know that in society it hasn't been looked that way. Some of us have been told that you just deal with it on your own, you just keep quiet about it, and we'll just keep that in house. We're breaking free from that. We are seeing the opportunity to be healthier and better, and that helps us whether we're just a student, a student-athlete or professional. We can all be heading in that direction rather than suffering in silence," Mitchell said.
Mitchell said that it is important for people who have addressed their own mental health issues to develop good habits, not only to better their current state, but better their livelihood.
"Addressing mental health is not about somebody with a disorder. It's about learning how to manage life and deal with the challenges of life in healthier ways, and then those habits taking hold," Mitchell said.
Potter highlighted that for many college athletes, the sport in which they participate in is often the only outlet they have, something Mitchell said that could be detrimental, especially during the COVID-19 pandemic.
"It's important to not just have one. Sometimes people get really hung up on having that one thing and that gets really problematic. Whether that's their sport, their relationship, a substance — I really do help people expand their options and get more creative on what they view as something that's part of their self-care for mental health," Mitchell said.
Mitchell said that he is pleased with the work CSUF has put in addressing mental health, not just sending the message, but actually implementing ways to help and spread awareness.
"Sometimes we're just helping them self-regulate or manage stress to keep them at an optimal level where they're really engaged and doing well in all these different aspects of their lives," Mitchell said.
Although spreading awareness in regards to mental health among college athletes can be a slow process, Potter said she is optimistic in the direction that CSUF is heading in addressing the issue.
"I can't explain enough how when I first started seven years ago to where it is today, how much CAPS plays a huge role in the ability to take care of our student athletes," Potter said.
While Potter and Mitchell do their best in educating others about maintaining their health, Mitchell said that he sees CSUF athletes being more open and sharing their concerns regarding mental health. By student athletes being positive role models in the community, he said he feels that they are setting the tone on campus in regards to acknowledging the issue.
While schools like CSUF are making an effort to progress talks of sustaining one's mental health, it ultimately comes down to people having an understanding that mental health is a legitimate issue for not just college athletes, but for society as a whole, especially with the current climate.
"Now is the time for the entire campus to take their mental health seriously. Increase self-care, be grateful, have moments of gratitude, use affirmations and just be kind to each other," Mitchell said.