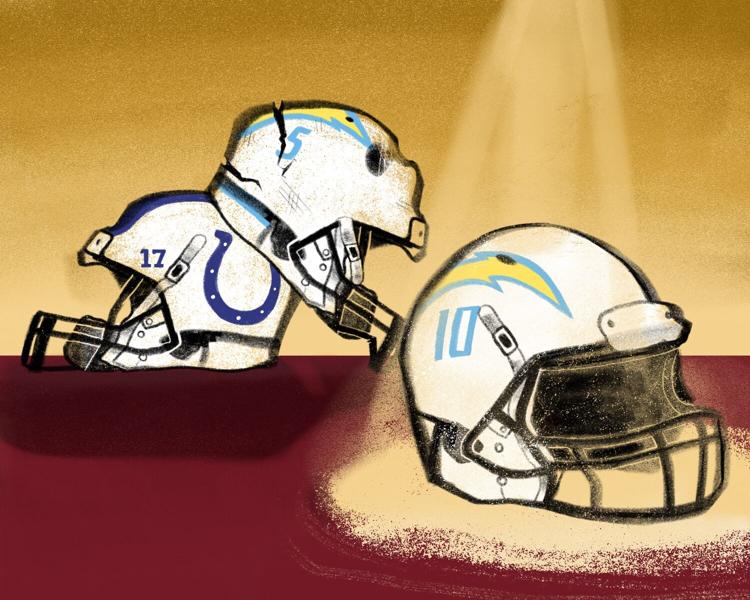 After losing 16-year quarterback Phillip Rivers to the Indianapolis Colts in free agency, the Los Angeles Chargers quarterback situation shifted to veteran Tyrod Taylor and rookie first-round pick Justin Herbert battling for the starting spot. 
With a limited training camp and no preseason games, head coach Anthony Lynn elected to go with Taylor, as to give Herbert more time to mature. However, plans abruptly shifted right before kickoff of the Chargers week two game against the Kansas City Chiefs. 
Coming off of a nail-biting victory against the Cincinnati Bengals in the first week, Taylor and the Chargers knew they were facing an uphill battle against the reigning Super Bowl champions. Taylor put up a mediocre performance against the Bengal, as he threw for 208 yards and no touchdowns or interceptions. 
Taylor's play would have had to elevate if they wanted to stand a chance in the second week, instead, a last-minute disaster required a change under center. The Chargers team doctor was administering a routine pain-killing shot to Taylor's ribs when the doctor accidentally punctured Taylor's lung. 
The shot Taylor received is known to carry this risk as doctors are not able to see exactly where the needle goes. 
"Every doctor who has ever numbed someone's ribs knows it's a potential complication," Dr. Oz told TMZ. With this knowledge in hand, Lynn's calm response was no surprise. Lynn said, "It happens. Tyrod's not angry, not upset."
With Taylor sidelined, the Chargers were left with no choice but to turn to Herbert. In an unexpected debut, Herbert put together an admirable performance. The rookie gave the Chargers a lead heading into the fourth quarter. However, the Chargers' defense was unable to hold, as they gave up 11 points in the fourth and eventually lost the game to a field goal in overtime. 
Herbert ended his debut with 311 passing yards, a throwing touchdown, a rushing touchdown and one interception. Even though the team lost, the closeness of the game and performance of Herbert was better than what many expected. 
Nevertheless, Lynn was very blunt with his take on the quarterback situation. 
"I know we can win with either quarterback. But, the veteran quarterback right now gives us the best chance to win. It's not like we won the damn game yesterday. We lost last time I checked," Lynn said. "There's a lot we didn't get done with Justin on the field yesterday. He's a backup for a reason." 
 Lynn's comment caused a lot of stir on social media with people saying a head coach should be trying to show faith in his young quarterback, and not utter that he is a bench player for a reason.  
No matter what, Taylor will be out for at least a couple of weeks. Therefore, Lynn's "backup for a reason" is, for the moment, his starting quarterback. 
 With a full week of practice knowing he would be leading the team, Herbert said he was hoping to get his first career win against the Carolina Panthers on Sunday. He had a game-winning drive opportunity down 21-16 late in the fourth quarter, but the Charger's efforts fell short again and Herbert finished with 330 yards through the air to go along with a touchdown and interception.
 Out of the four first-round rookie quarterbacks, none have been able to win a game yet. To be fair, Miami Dolphins and Green Bay Packers rookies Tua Tagovailoa and Jordan Love have yet to see the field, but Joe Burrow of the Bengals and Herbert now combine for a 0-4-1 record through the first three weeks of the season. 
Herbert and the Chargers will now turn their focus to Brady and the Bucs in the fourth week of the NFL season. The Chargers believe, upon his eventual return, Taylor will be the starting quarterback, so Herbert will need to capitalize on the limited time he has if he has aspirations to take over the reins of this team sooner rather than later.