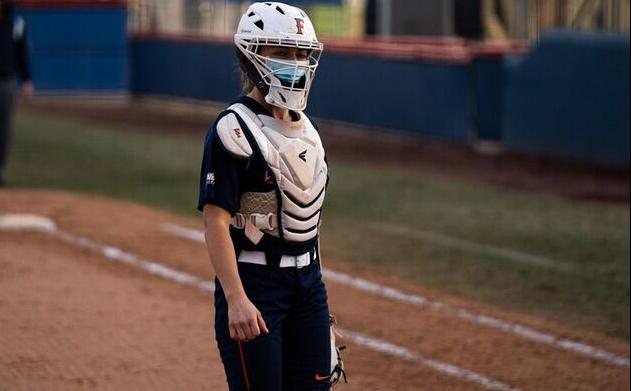 On Tuesday, Cal State Fullerton softball hit the road to Tempe, Arizona for a double header against the No.15 Arizona State Sun Devils, where the Titans were swept in both games. 
Arizona State opened the afternoon and ended the first game early with an 8-0 victory and came right back to take a 5-2 victory in the second game of the double header.
Game one began as a defensive battle between two formidable pitchers, as Sophie Frost for Fullerton battled it out against Arizona's Allison Royalty. 
Royalty pitched a shutout for the Sun Devils through six frames and only allowed the Titans to earn two hits and one walk. She recorded nine strikeouts during the outing, which put her at 3-0 for the season. 
Throughout 4.2 innings, Frost gave up two earned runs and three hits while being given the loss. 
The Sun Devils earned their first run in the second inning from a sacrifice bunt by Makenna Harper, which the Titans allowed to slip away as the ball was knocked into shallow right field during the tag-out at first base.
Kathryn Hackbarth led off the fifth inning and gave Arizona its second run of the game with a solo home run against Frost. Frost managed to get the next two batters out, but was pulled after hitting Alynah Torres with a pitch. 
Savannah Serrata relieved Frost, and walked the following two batters to load the bases before she gave up a grand-slam home run that extended the Sun Devils' lead, 6-0. 
Arizona put the game away early in the sixth inning by way of the mercy rule, and earned two runs off of a double to right field by Hackbarth. 
Game two proved to be more competitive out of the gates as Fullerton scored first off of a sacrifice groundout by Hannah Becerra which brought in Megan Delgadillo from third base. Arizona scored two runs in the bottom half of the frame, but the Titans tied it up shortly after in the second inning thanks to an RBI single by Delgadillo.
In the fourth inning, Hackbarth launched a home run down center field to take the advantage and was shortly followed by a two-run home run by Jazmine Hill. 
Neither team earned another run throughout the remainder of the contest, which gave Arizona the victory in the doubleheader. 
Lindsay Lopez earned the win for the Sun Devils in game two, pitching five innings while giving up two runs and eight hits to go along with three strikeouts. Staci Chambers was given the loss for the Titans, as she gave up five runs, three of which earned, and seven hits in 3.2 innings of work. 
Fullerton will travel to Los Angeles for another double header against Loyola Marymount on Thursday at 12 p.m and 2:30 p.m. before hosting No. 1 UCLA at Anderson Family Field for another double header on Saturday.