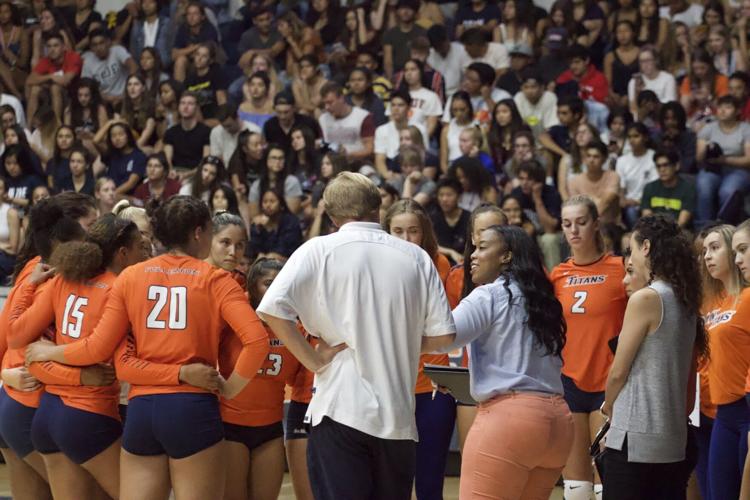 From a team that had the most wins in program history since 2012 and the most conference wins since 2013, to being shut down for the last six seasons, change was on the horizon for Cal State Fullerton's Volleyball team. 
"We had to change the culture completely last year and I chose to be a better leader for myself and my young women. Coaching is so attached to wins and losses, and I realized that there is more to that for me," said Ashley Preston, women's head coach.
During the team's offseason  Preston appeared on the "More Than a Moment" series, an initiative that aims to foster discussions about inequality. The series started by just a click of an email, Preston said.
She added that she agreed to the series because she wanted to have genuine conversations surrounding the racial injustices and social unrest that have occurred over the last few months. 
After appearing on the show, she said she brought this discussion to her team. She said she would be remiss if she didn't address it.
"I would be doing myself disservice and that's how I opened it up with my student-athletes, but also too with that, I am intentional with bringing a team that is very diverse with all different backgrounds so that assimilation doesn't happen of 'there's only one way that a volleyball player should be' — because I don't fit that mold of a volleyball coach," Preston said. 
As a starting point to regain the team's unity, the team and coaches read and studied books that were centered around teamwork, goals, and positivity, such as Jon Gordon's The Energy Bus. The team also watched videos that focused on trust, courage and vulnerability as well as learning to have difficult discussions.
Preston has since adopted the motto "Your Sister's Keeper" in which the team discusses being relational, responsible and respectful towards one another. 
"I told them 'let's write quotes to a teammate who is in this room that's struggling right now.' So basically I took from our culture—what we do in our gym—and we did it on a Zoom," Preston said. "What I said is like 'hey, what I would say to a teammate right now, and I showed them my board in my house now too: I see you, I support you, you matter."
In practice, there are often times when Preston and her staff would teach the players to set boundaries on how to have those critical, political conversations, all while maintaining the code 'you are your sister's keeper.' Though it's OK to have differences, figuring out how to have conversations where both sides still have respect for each other is a point of emphasis, Preston said.
"What's missing is having conversations, and we're just going off of assumptions of people, like 'oh, because you're Black, I know you think this' or 'because you are a republican, I know you think that' and that's not the case," Preston said. "For me though, to protect my peace at this time I no longer show up for baiting conversations, I only want to show up with authenticity and so we teach that in our zoom." 
The team's cohesiveness was apparent last season when they doubled the amount of wins from their previous season. Looking to make the most of the offseason, virtual meetings have become a way of life for the team as Preston continues to encourage healthy discussions.
"Speak up in a genuine authentic vulnerable way to make people understand that 'if you care about me, then I need you not to say that, or if you care about me then please hear me and make sure that my viewpoints aren't misconstrued, because I have this lived experience. My life is my own and I have this lived experience that you may not have, so I'll listen to you if you can listen to me as well," Preston said.