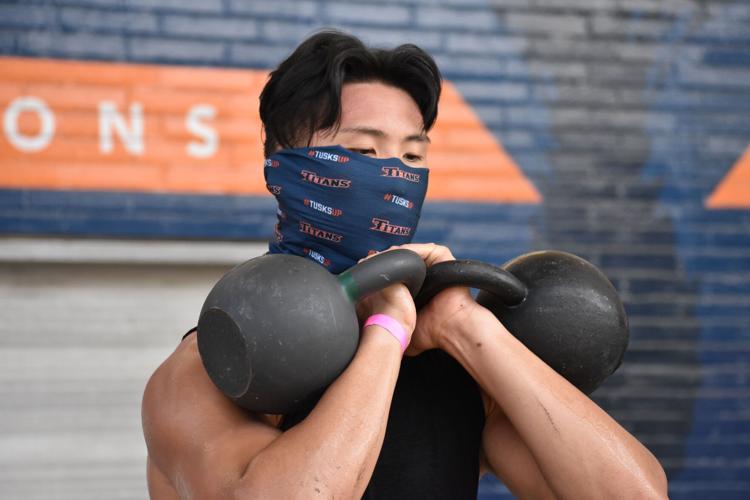 Just weeks away from the start of the Cal State Fullerton's men's and women's basketball seasons, athletes from all sports are showing that time away from campus resulted in unique workouts and team bonding activities. 
With the coaching staff's guidance, the Titans have made the most of the workouts despite their inaccessibility to training facilities on campus. 
"I know that some of the guys have grouped up and ran around campus, ran around the surrounding Fullerton area, going to a park where there are monkey bars and turning it into a pull-up bar; doing small stuff like that to be able to maintain some form of shape. We have had meetings with our strength coach to go through yoga, so that they are not just sitting at home and getting tight," said Anthony Santos, a men's assistant basketball coach. 
For athletes who have not returned to campus, having unlimited access to the gym and workout rooms are what they look forward to.
Senior Haley Brown from the women's soccer team said she has found new ways of working out beside the norm of running around the neighborhood. 
Brown said she enjoys being outside and her love for riding bikes is a good way for her to stay in shape.
"I love biking, so that's fun and I go on long bike rides, or if I'm going to play soccer somewhere, I bike there so that it's more fun, a little warm up ride," Brown said. "It's actually fun because my mom goes on the bike while I run. She bikes next to me, so I can talk and I'm not alone." 
Johnny Wang, a men's basketball senior forward,  said he used his connections from high school to continue to workout in isolation from others amid the COVID-19 pandemic. 
"Because I went to school here in Southern California and I have connections with personal trainers and basketball trainers, I have access to a gym and weight room, so I've been just working out privately and consistently and that's how I stay in shape in the offseason," Wang said. 
Since basketball is returning, Wang said he believes that the team looks very exciting and he cannot wait to get back to get with them.
"It feels great, like it's been a long time since we were away from the gym — from everybody. Finally, the team can get together and start working together," he said.
Going into his last season at CSUF, Wang said that the team he once started with is very different, and that through hard work, the team will be back on track and ready when the new season arrives.
Wang said that in the past three years many of his teammates have graduated, with him being the last one left from his freshman year team. He said that the team will have many newcomers from junior college, transfers and first year students.
"They bring energy to the court already, which is why we are focused on teaching them our system — teaching them our concept. But I feel their passion, their energy is making them go on the right path with us. I think everybody can expect the team to play hard, have a lot of energy on the court and it will be really joyful to watch," Wang said.
Although Brown has not returned to campus, she said she knows the team will be one to watch for.
"I'm really excited about the women being able to be back on campus. They're definitely taking all the health precautions necessary to be back on campus, so I'm really excited, especially the freshman to have this time to get to know the team and the coaching staff and know our style of play and what not," Brown said.
For Brown, the new additions to the team will be able to add to the success of last year's unit in hopes for another Big West championship, she said.
"Right now, we're just going to be preparing for next season. We don't know what that is going to look like yet, but we're preparing so that when the season comes, we are ready,"Brown said.
Santos said he does not know if fans will return to the stands this season, but he is more concerned with preparing his players for on-court play.  
"I know our guys are ready and we just have to approach it from that standpoint. We always talk about bringing our own energy to the space — that's going to be a big thing for us this year when we do get back to being on campus, playing and moving forward," Santos said.
Whether there are fans in the stands or not, sports are back and the athletes long awaited season and hard work will hopefully pay off in the near future.