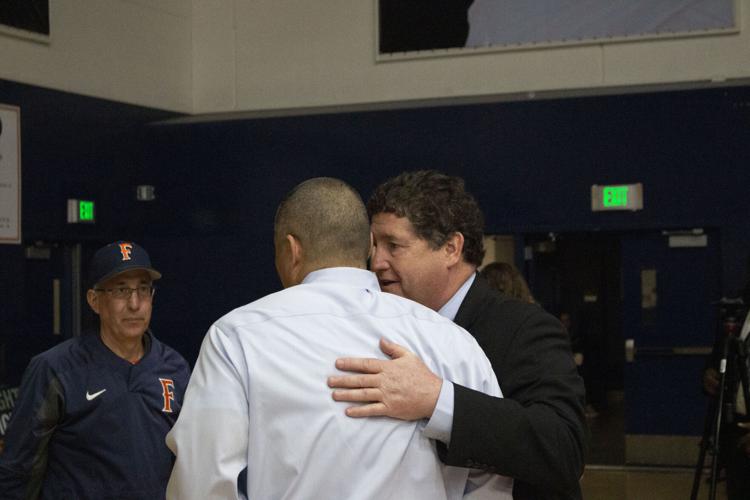 With so many unanswered questions regarding the state of Fullerton Athletics, Jim Donovan, the CSUF athletic director, gave the public an update on Wednesday to discuss the department's initiatives surrounding the COVID-19 pandemic and social justice, as well as how operations have been overall with the absence of sports.
As the virtual interview began via the department's Instagram live, Donovan was not given time to ease into it and was asked his thoughts on the Black Lives Matter movement and the Fullerton Athletics' new anti-racism and allyship campaign: Voices of the Heard. 
"It's time for all of us to start speaking up for social justice and stand up against racism," Donovan said. "Voices of the Heard gives an opportunity for our community to be seen, to be heard, to express themselves about anti-racism." 
Donovan, who is currently in his eighth year as the athletic director, continued to speak on the importance of the Black Lives Matter movement and urged that the Titan community stand up for the right thing, 
"From our standpoint, social justice is imperative. It's required. It's not something that's even debatable," Donovan said. "It is not a moment, it is a movement."
Towards the end of  the interview, it shifted into COVID-19 and its effects on CSUF athletes and coaches' preparation for the upcoming seasons. 
Donovan said he believes that athletes will be back on campus within the next month; however, it's subject to change. The most important thing is to keep everyone safe and tested to make sure there is no spread. 
Currently, Fullerton Athletics is working on securing affordable testing for 25% of their athletes and staff weekly. Once a deal for testing is made and their proposal to return to campus is approved, teams will be able to begin a slow ramp-up of workouts. The target dates for teams to get back on campus for strength and conditioning and skills training is between Oct. 1 to Oct. 10.
As of right now, the plan is to have the rest of fall sports be postponed until spring of 2021. Donovan said he believes that the winter sports will be back by mid-November as they have not been canceled or moved yet, but an official decision has yet to be reached on if they will proceed as scheduled. 
Without teams participating in practices or competition and work being done from home, Donovan was asked what the athletes and coaches are doing during this time, as well as the state of the athlete's physical and mental health. 
Donovan made it clear that the pandemic has made it hard for coaches to interact with their athletes, but it has not stopped them from meeting virtually with their teammates. The primary focus for them is academics, but also the little things such as culture, life lessons and planning for their respective sport. He stated that their primary objective for their student-athletes is helping the athletes focus on self-building and team focused activities.  
Fans asked when competition does return, will attendance be allowed? Donavon suggested however that the decision ultimately is out of the department's hands.  
"In large part, that's going to depend on the state criteria and the Orange County Department of Health, but my guess is that we probably won't have fans at events until sometime in 2021," Donovan said.
To close out the interview, Donovan made it known his excitement to have athletes return back to campus, but stressed the tremendous amount of responsibility he holds to prevent any COVID-19 outbreaks occurring within the department