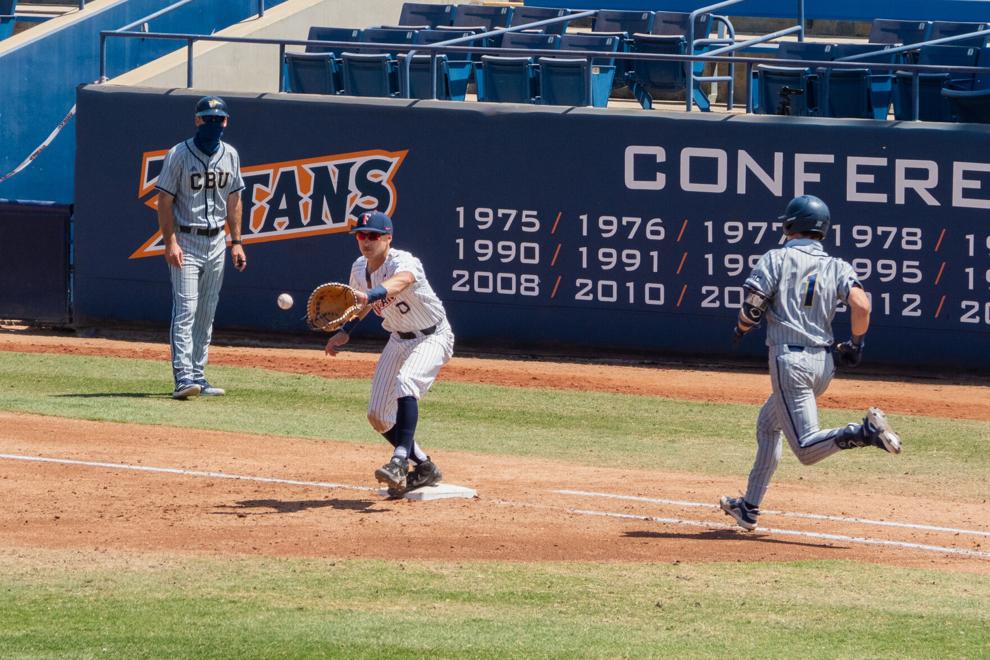 Although basketball and football are two collegiate sports where the NCAA transfer portal's impact has been felt, those aren't the only sports seeing players take control of their careers.
The transfer portal is open to all NCAA sports. Baseball happens to be the men's sport with the highest percentage of transfers from two-year colleges and the second-highest percentage in total transfers with 22% and 24%, respectively.
Similar to the previous installment of this series, where Vince Lee's transfer journey to Cal State Fullerton through basketball was discussed, there is another case similar to his but in another sport on campus.
Isaiah Garcia from Lincoln, California and a senior infielder on the CSUF baseball team, is another Titan whose career did not go as planned.
During his time at Lincoln High School, Garcia helped the Zebras win two Pioneer Valley League Championships and a section championship in 2015. He made All-League from 2012-15, was the Pioneer Valley League MVP in 2015, made All-State in 2014-15 and was a 2015 Max Preps All-American.
Garcia originally committed to Cal State Northridge, but after spending a semester there, he decided it was best to go back home to think things over, he said. 
"It was good for me to get away, but then when I got there I realized that the situation I was in wasn't what I thought it was," Garcia said about his time at CSUN.
After a rocky start in Northridge, Garcia said he considered his options and decided to transfer the following semester and attend Sierra College in Rocklin, located just over 10 miles from his hometown.
"I knew we had a good junior college at Sierra," Garcia said. "Coach Willson really wanted me out of high school so, I knew it was a place I can go and develop."
After committing to Sierra College, Garcia went on to spend the next two and a half years living at home while trying to move on and transfer to another four-year school. 
Garcia said he learned a lot about himself both as a person and a baseball player while at Sierra, but during his second season while he was starting to prepare to move on, he dealt with a setback that caused him to use a medical redshirt in 2017.
"I had a strain in my oblique; I actually thought it was a hernia from working out," Garcia said.  
Garcia added that taking the time to get healthy allowed him to devote more time to the classroom. Understanding the importance of grades was something he didn't really grasp onto while he was at CSUN, he said.
While he recovered from his injury, Garcia said it was the first time since he began playing baseball that he went an entire season without taking part in it, but he powered through it. He credits being close to home and his brother as the biggest help. Garcia came back for his final season at Sierra ready to take the next step and move on from the junior college level.
During his sophomore season at Sierra College, Garcia said he was getting recruited from multiple schools, but it wasn't until Sierra College reached the postseason when Fullerton began to recruit him just as he was starting to consider traveling to the southern or eastern regions of the country to continue his career. 
Garcia said that once he received a call from current Fullerton College head coach and former Titan assistant coach Chad Baum he knew he would end up at CSUF. Garcia also credited the culture and history of winning as a reason for committing to Fullerton. 
Committing to Fullerton was a full circle moment for Garcia who would talk with his dad about CSUF's baseball program in his youth, when the program had made six College World Series appearances and won one while at least making the NCAA tournament from 2000 to 2010.
"I remember as a kid the first college baseball team I ever really knew about was Cal State Fullerton from my dad," Garcia said. "It's just crazy how it all worked out."
Garcia has reaped the benefits on and off the field. During his junior season at CSUF, he led the Titans in RBI's with 39, was second on the team in batting average with a .323 and led the team with 9 doubles.
2020 was supposed to be his final year at Fullerton, but after appearing in all 16 of the team's games, the season was canceled in March due to the COVID-19 pandemic. This year, after receiving another year of eligibility due to the prior season's cancellation, Garcia has appeared in 22 games and is batting .200 with 7 RBIs and 1 home run on the year so far.
Garcia said the transition from a junior college to a Division 1 program has been easier for him because he was older and more experienced, as well as the way his coaches at Sierra College prepared him for the next level.
Garcia is in favor of players being able to have more control through the transfer portal because of his own experience. Garcia said he remembers the feeling of uncertainty his parents had when he told them he wanted to leave CSUN, but they still supported him and his decision has helped him find where he belongs.
"I think you should always do what's best for you for sure. If you think you need to be somewhere else then do it," Garcia said. "I just knew that's what I needed to do and I was gonna end up where I was gonna end up and that was here, where I was meant to be."