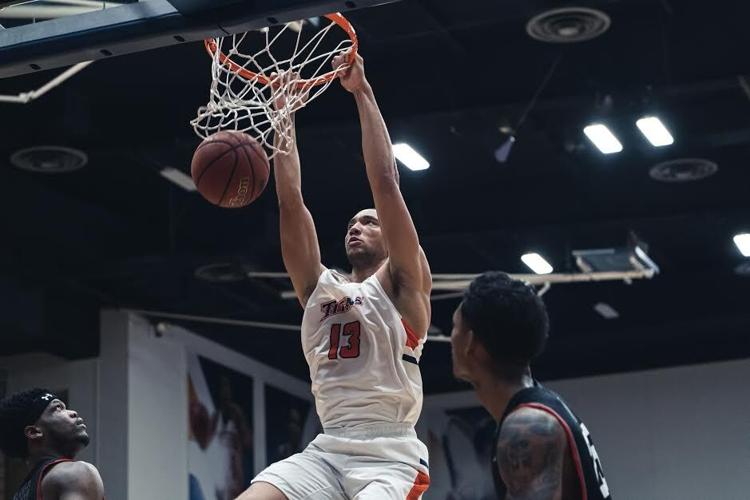 After their first five games scheduled were either canceled or postponed due to issues regarding COVID-19, Cal State Fullerton men's basketball finally took to the court on Sunday against NAIA member San Diego Christian, resulting in a 94-70 victory for the Titans.
CSUF started hot in its season opener with a 14-0 run in the first five minutes, led by good ball movement and hitting open shots. The Titans kept their momentum going offensively for the remainder of the first half as they shot 57.1% from the floor in the first 20 minutes, led by junior guard Wayne Arnold, who had 14 points off of 5-for-6 shooting.
The Titans defense clamped down at the start of the game as well, as they only allowed 23 points to the Hawks off of 30% shooting in the first half. CSUF also forced 11 turnovers that resulted in 16 points. 
The second half was a different game for the Hawks, as senior guard Teyden Gause began to find his rhythm offensively, as he scored 17 of his 23 points in the second half and shot 8 for 18 from the field for the night.
Although the Hawks outscored the Titans, 47-42, in the second half, the lead was ultimately too much to come back from as the Titans began their long-awaited season with a victory.
The Titans shot 55.2% from the floor and 44% from beyond the arc, as well as having 22 assists as a team. Of the five starters, four finished the game with double-digit points; among those four was Arnold who had a team-high of 19 points.
When asked about the team's performance, Arnold said he was pleased with the effort, but understood that there was still improvement to be made.
"I felt like we moved the ball pretty good. Offensively, we made a lot of shots, everybody got a chance to make shots. Defensively, I felt like we could've picked up a little more. I feel like giving up 70 points to that team isn't good, but we should be alright," Arnold said.
CSUF's head coach Dedrique Taylor echoed Arnold's sentiment. Although he said he was happy that his players were finally able to suit up and compete against another team including the team's eight newcomers, he knows that there is more to be done as the season progresses.
"There were some good things in terms of getting out on the floor and trying to establish who's who," Taylor said. "But obviously we got to get a ton, a ton, a ton better. I'll say it again, we got to get a ton better. There's a lot of things we got to do in terms of our defense and in terms of communicating. There's multiple things, but it's the first game of the year, so you expect those things."
CSUF will host Pacific on Saturday at 3 p.m. This will be the first time the Titans will face a Division I opponent.