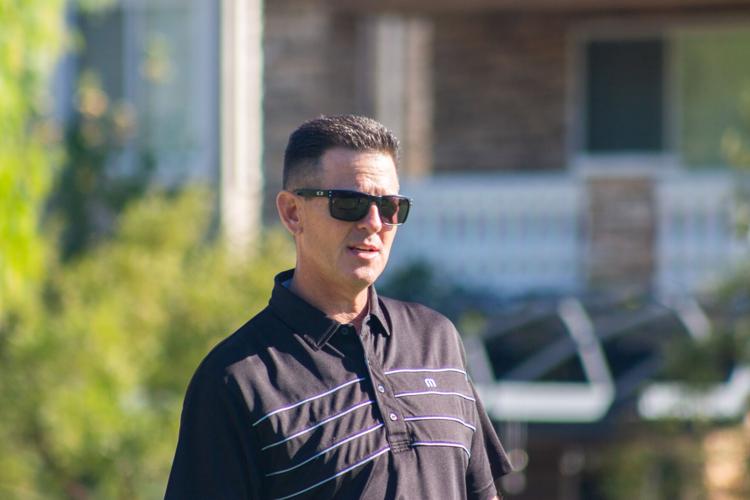 Cal State Fullerton's men's golf was among many sports teams to have an unfinished season due to the closure of college campuses. After coming off of a tournament win, the team was en route to Arizona for the Grand Canyon University Invitational before their season was officially canceled due to COVID-19. 
After coaching golf at CSUF for the past 11 years, head coach Jason Drotter has had his fair share of trials and tribulations. However, once  the season got canceled in March, Drotter said he was devastated, especially because the team was the favorite to win the championship.
"For us, 2020 was cut short and was on pace to be one of our best seasons ever, if not the best," Drotter said. "That's a terrible feeling. It was terrible for the kids, it was terrible for us coaches. I feel for the guys, I feel for the kids that missed out on it."
Drotter started off like most of his athletes, as he played collegiate golf at Cal State Long Beach. He then turned to play professionally in 1995 and played for a few years on the mini tours. He began coaching high school golf and like many college athletes, Drotter said he struggled to balance his athletic career and his academics.
"I wish I had taken my academics a little bit more seriously while I was an athlete," Drotter said. "That experience I think really helped me as a coach. When I finished my athletic career, I did not finish my degree, so going back and having to finish my degree was a little bit overwhelming, working full time and finishing my degree."
Now as a coach, Drotter said he understands the importance of balance in his athletes' lives. One challenge he often runs into is getting his golfers to stay focused on their academics along with their athletics. 
"If they make their academics and athletics number one and two in their life, either way, they can excel in both, but if the social life creeps up to number one or two, then something will give," Drotter said.
Drotter's coaching style is about being reasonable but strict. Because of his experience coaching other teams, he said he has learned how to adapt to every season and how to adapt his coaching style for his current athletes.
"This is a different generation. When I grew up, if the coach said go run bleachers, you went and ran bleachers. It's just what you did," Drotter said. "Now this generation, they have all the answers at their fingertips. So if you tell them to run bleachers, they're going to ask why. But if you give them an answer, they'll go run bleachers"
Fortunately for Drotter, the golf team was able to resume practice but the team is limited to eight hours a week while following COVID-19 safety protocols. 
"Because of the nature of the sport, it's outdoors, naturally socially distant, my guys were able to practice playing pretty much throughout COVID just not with the college, but on their own," Drotter said. "I think that's the one fortunate thing for our athletes is that they were able to maintain their game whereas a lot of other athletes that play indoors didn't have that opportunity."
As for his life outside of golf, Drotter said he enjoys the outdoors as well as watching his two twin girls play travel ball. As a coach of eight players, Drotter knows a thing or two about discipline, but when it comes to his daughters, all walls are down, he said. 
"It's interesting because I can bring a different perspective to the girls that sort of relates to their athletics," Drotter said. "So, I think that I can help them in a way that their coaches can't. I think that that's a benefit to them. However, in their personal lives, they've got me wrapped around their fingers. They're pretty spoiled. It's a little different approach to my guys on the team.
Drotter's experience as a coach has prepared him to tackle any obstacles that come his way such as  the current coronavirus pandemic. Although COVID-19 has interrupted the golf season, Drotter said he understands the leadership role he holds.
"There's an incredibly deep responsibility that we as coaches have, to make sure that we prepare these young men for life outside and after school," Drotter said. "We have to make sure that we graduate them, we have to make sure that they have success athletically. We have to make sure that we make them better human beings by the time they leave here."