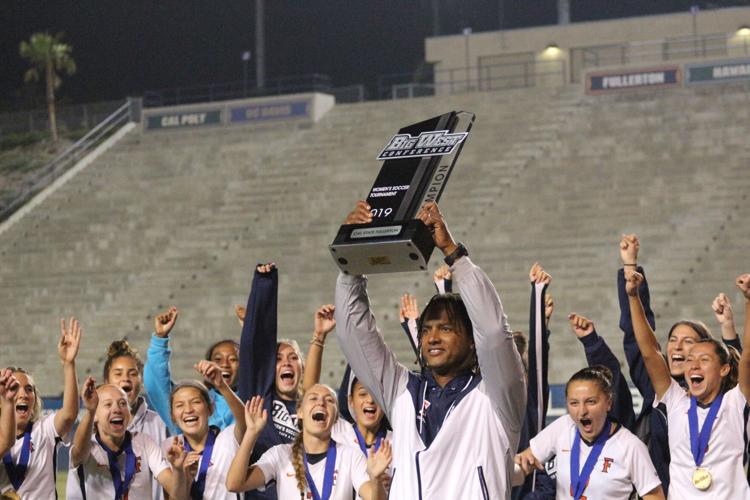 On Tuesday, Jim Donovan, the athletics director for Cal State Fullerton, announced that CSUF's women's soccer head coach Demian Brown signed an extension through the 2025 season.
 Under Brown, the Titans are five-time Big West regular-season champions with six Big West Tournament championships and Big West automatic qualifiers to the NCAA tournament for three consecutive years from 2013-2015, in addition to qualifying in 2007, 2017 and 2019.
 "Six NCAA Tournament appearances over his tenure is a level of consistency and excellence that we want all of our programs to strive for. He also takes care of our student-athletes and runs the program in a way that focuses on growth on and off the field, thriving academically and having a family atmosphere," Donovan said.
 Since his start as head coach in 2007, Brown has managed an overall record of 122-106-37, and a 55-38-13 record in the Big West conference. He earned coach of the year honors three times in 2007, 2012 and 2014.
 "I would like to thank Jim Donovan, President Fram Virjee and the entire administration for their support and confidence," Brown said. "I take great pride in being a Titan, and I am very excited to lead the program in the upcoming seasons."  
 Fullerton players have received two Big West offensive player of the year honors, two Big West conference defenders of the year and four Big West conference goalkeepers of the year all under Brown's tutelage. 
 In addition, Brown has coached five Big West Tournament MVPs as well as one Big West freshman of the year and 66 All-Big West conference selections with 26 players included on the first-team selection. 
 Brown played defender for CSUF where he lettered four years for longtime men's soccer head coach Al Mistri; he graduated in 1997 with a degree in communications.