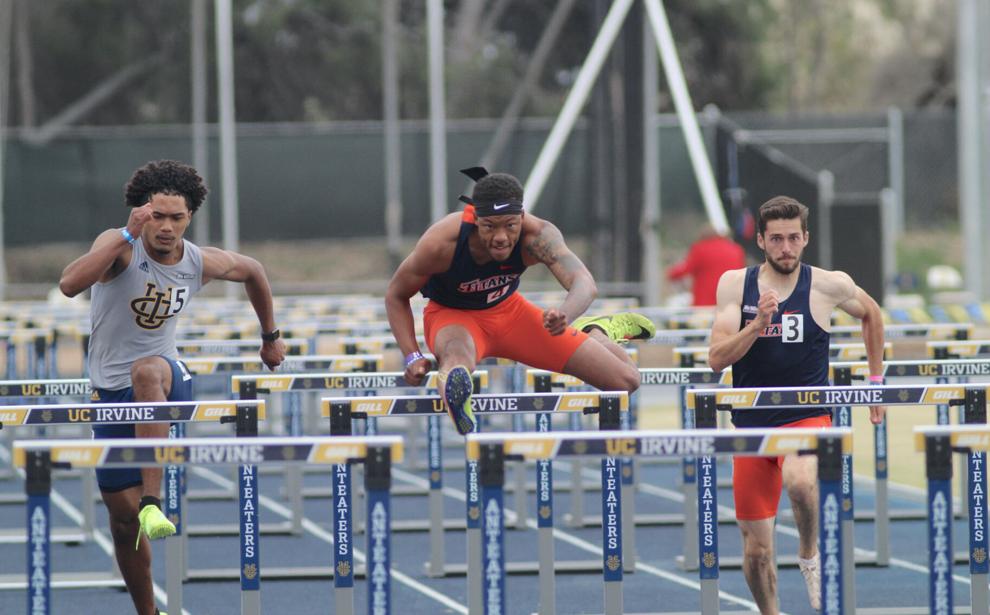 Cal State Fullerton's track and field team split up on Thursday and Friday to compete in a pair of meets at the UC Riverside and Long Beach State invitationals where they set back-to-back new records. 
On day one of UC Riverside Invitational, Samantha Huerta shattered the previous meet record by 15 seconds with a time of 4 minutes and 23.49 seconds in the women's 1500-meter, followed almost immediately by Sam Pimentel, who broke the meet record in the men's 1500m record with a time of 3:50. Dana McGrath set a new personal record as she placed fifth in the women's 1500m.
In the women's 3000-meter steeple chase, Sara Hollis won with a time of 10:35.36. Clara Meade finished third place in the women's 5000-meter with a time of 17:49.64, while teammate Demi Marine finished fifth overall.
During Friday's track events, Charles Kelly broke a CSUF record set in 2018 in the men's 110-meter hurdles with a time of 14.15 seconds, which now leads the Big West conference. Fellow hurdler Matt Kohen also set a new personal best of 14.78, placing fourth overall. In the women's 100-meter hurdles, Karyn Best ran a season-best time of 14.69 seconds.
In the men's 400m, Parris Samaniego took first with a time of 48.08 seconds, and Sam Ayala won the men's 800m with a time of 1:52.79.
Nathyn Scruggs finished second with a time of 10.86 seconds in the men's 100m and took second in the 200m with a time of 21.68 seconds. Meanwhile, in the women's 100m, Naiah Boardingham took third place with a time of 12.10 seconds, and Deja Allain secured third place in the women's 200m with a time of 24.80 seconds. 
At the Long Beach Invitational, Andrea Woods won with a throw of 119 feet and 11 inches in the women's javelin, and Sinai Fatafehi placed third in the women's hammer with a toss of 174 feet and 2 inches. 
On the men's side, Davis Yasuda placed third with a throw of 187.1 feet in men's javelin and Conor Anderson threw 194.8 feet which was good enough to place second in men's hammer throw. 
Closing out Saturday's meet, Sean Ayale marked a new personal best as he placed third overall in men's long jump with a jump of 23 feet and 4 inches, placing himself seventh in the Big West conference. Iesha Hamm remained undefeated on the season after she cleared 5 feet and 10 inches in women's high jump, continuing to lead the Big West as the championships approach. 
Ty Wallace placed third in women's triple jump as she leapt 39 feet, 10 ½ inches, and currently holds the second-best triple jump in the Big West by just five inches. Ernesto Collazo won with a jump of 4.81 meters, or 15 feet, 9 ¼ inches in the men's pole vault while Juwan Seales cleared 49.5 feet for men's triple jump, placing his mark as the third-best in the conference. 
CSUF will compete at the Big West championships as the events are set to begin Friday in Irvine.