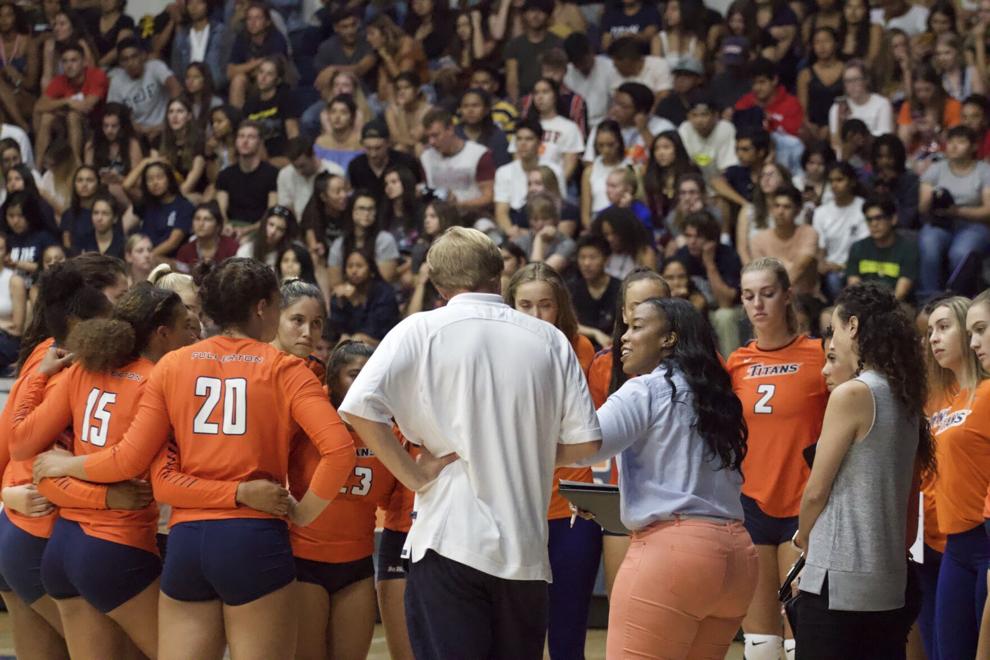 The Athletic Department at Cal State Fullerton announced that former assistant volleyball coach Nicole Polster will be the new interim head coach. Polster will replace Ashley Preston who accepted a position as volleyball head coach for the University of New Orleans.
Longtime members of the program, such as senior Neena Dimas, were shocked to hear that Preston is leaving the program. However, Dimas said it is a great opportunity and a step up for Preston to do what she wants most.
"I started crying," Dimas said. "It was definitely a shock, but I think I was happy that she was doing what she wants to do."  
Similarly to Dimas, Polster said she was surprised by the timing of the news, but is happy for the opportunity coach Preston was presented with.
"It happened so quickly so I was surprised in that way, but not surprised because it was a great opportunity for her," Polster said.
Polster has previously been a member of the CSUF volleyball program for two years as assistant coach. During those two years, the team saw a drastic improvement in play, going from 6-24 during the 2018 season before Polster's arrival, to 12-15 in 2019, totalling the most overall wins since 2012 and the most conference wins since 2013.  
Prior to joining the Titan's program, Polster played four years at Long Beach State, two years on the USA national team, played professionally in France and also coached for various clubs and camps.  
With Polster's previous experience in the program, Dimas said that it is good to have someone who knows the program's values and expectations. 
"She came into the program at a time where we were really building our culture and she contributed so much to that, along with all the players and with coach Preston as well and coach Nikki Cannon," Dimas said. "Everything that she's just done so far, she's going to continue that into the future with our team and that's really exciting."    
For new players, like incoming freshman Lyla Traylor from Texas, Traylor said that keeping stability in the program will be an exciting step.
"I got to know all the coaches throughout my recruitment process and got to know not only the values like coach Preston had but the whole program shared," Traylor said. "So knowing that those values will be continued this next season through coach Nicole, that's really exciting." 
With a strong finish to the 2019 season and missing the entire 2020 season due to the pandemic, Polster said her main goal for the season is to continue where the program left off and continue its improvement. 
"We had such a great 2019 season and we really grew a lot," Polster said. "That's my goal, every year, get a little bit better." 
Dimas added that Polster has already contributed to the team's growth and culture.
"She's definitely serious about volleyball which I really like, but she can be fun too. She's very knowledgeable and gives clear directions and advice and really tries to bring the best out of everybody," Dimas said. 
The 2021 season is set to begin on Aug. 27 at 6:00 p.m. with match one of the Titan Classic against the University of New Mexico.