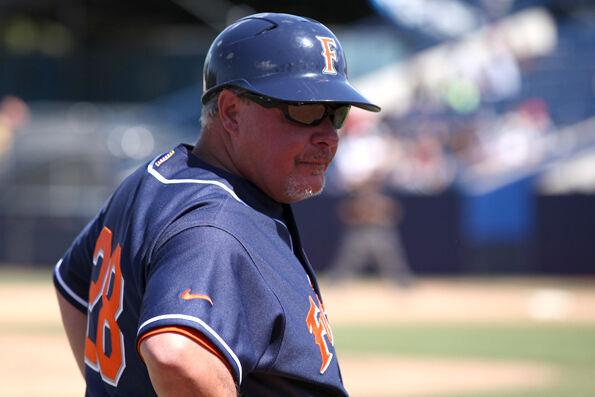 Titan Athletics announced on June 4 that head baseball coach Rick Vanderhook will retire after 10 years running the Cal State Fullerton baseball program.
He started with the Titans in 1983 after transferring from Cerritos College, but took a redshirt season, meaning that he did not compete against outside competition during that season. The following year, he became a member of the legendary 1984 National Champion team coached by CSUF and college baseball legend Augie Garrido.
Immediately after finishing his playing career in 1984, Vanderhook returned to CSUF as an assistant coach in 1985, a position that he held for three years.
Shortly after, Vanderhook served as an assistant coach at Cal State Northridge from 1989 to 1990 and led CSUN to be the runner up in the 1990 Division II World Series, as they lost to Jacksonville State.
After Northridge, Vanderhook returned as an assistant coach for the Titans in 1991 and remained until 2007. During this time, the Titans won the National Championship in 1995 and 2004. On top of the program's success, Vanderhook was named the Collegiate Baseball's National Assistant Coach of the Year in 1995.
In 2008 Vanderhook joined the UCLA baseball program as a hitting coach then assistant coach until 2011. While at UCLA, he helped get 12 Bruin hitters drafted into the MLB.
During his final two seasons, Vanderhook helped the Bruins end their over 20 year Pac-10 championship drought and an over 10-year College World Series appearance drought.
In 2012, Vanderhook returned to CSUF and took over as the program's head coach. During his time as head coach, Titans baseball won five Big West championships and took multiple trips to the regionals and super regionals in the college baseball playoffs.
In total, Vanderhook finished with a 322-225 record as the Titan's head coach. During that time 40 players were drafted and even more during his time as an assistant coach.
Vanderhook has been a huge part of the many historic eras of CSUF baseball. He has been a part of three out of four National Champion teams as both a player and coach, seen many players make it to the major leagues, won many Big West championships and has continually upheld the excellence of the program.
Vanderhook will officially retire on December 30, 2021 and will continue to serve as special assistant to the athletic director until his effective retirement date.
A national search for a new head coach will begin immediately, according to the CSUF Athletics Department.