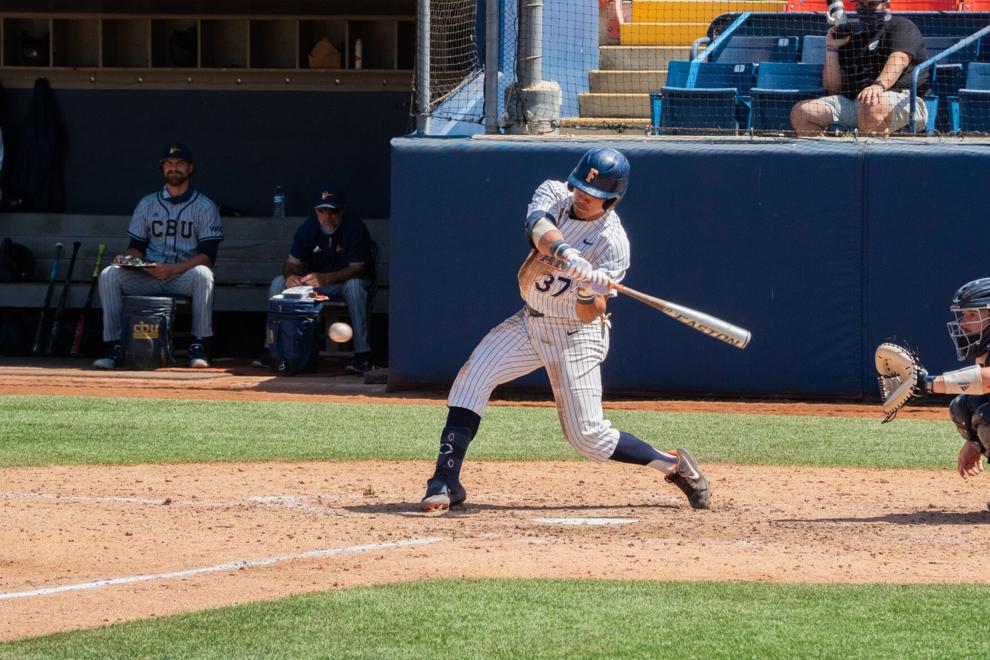 Despite sitting in third place in the Big West standings at the halfway point of their conference schedule, Cal State Fullerton has dropped the last two series, including losses in six of their last seven games. 
Now, with three weeks remaining, the Titans will strive to get back on the right foot with a four-game series on the road against the Cal Poly San Luis Obispo Mustangs. 
Fullerton's offense has not translated into productive results, but outfielder Caden Connor and catcher Cole Urman have hit the baseball well in recent outings. 
During last weekend's series against UC San Diego, Connor delivered three multi-hit games, including Friday's outing where he registered three hits. Connor also contributed three RBIs and scored twice over the four games. He leads the team with .331 batting average, 22 RBIs, 24 runs and 50 hits. 
Urman's batting has also been hot. In the last 12 games, he has registered a hit in 10 of them, elevating his average to .312 with 19 RBIs on the season, the third-most for the Titans.
Fullerton currently holds weight of a .268 team batting average, while averaging 3.25 runs per game over the last two weekends. On the pitching side, they have allowed an average of 7.1 runs per game during that span. 
In conference play, the Titans have only dropped its Friday night contests twice. That has been due to senior right-hander Tanner Bibee, whose 78.1 innings pitched and 3.10 ERA have put the Titans in position to secure victories. 
Cal Poly, however, enters the weekend having lost its last six games, sitting in 10th place in the Big West. 
The Mustangs have consistently rolled out a pitching rotation that includes starters Drew Thorpe, Travis Weston and Andrew Alverez. The trio has gone on to register a combined ERA of 4.08.
With two teams coming out of difficult losing ruts in recent weeks, this could be a situation where a team finds its identity once again and propels them for success as the finish line of the season moves closer.
Fullerton holds possession of an overall record of 19-24 and a conference record of 12-12.
The Titans sit tied for sixth place in the Big West with Cal State Northridge as the two squads hold a .500 winning percentage against conference opponents.
Fullerton's four-game road trip will kick things off at Baggett Stadium on Friday night at 5 p.m. Saturday will feature a doubleheader with games scheduled at 1 p.m and 3:30 p.m, before rounding out the final meeting on Sunday at 1 p.m.