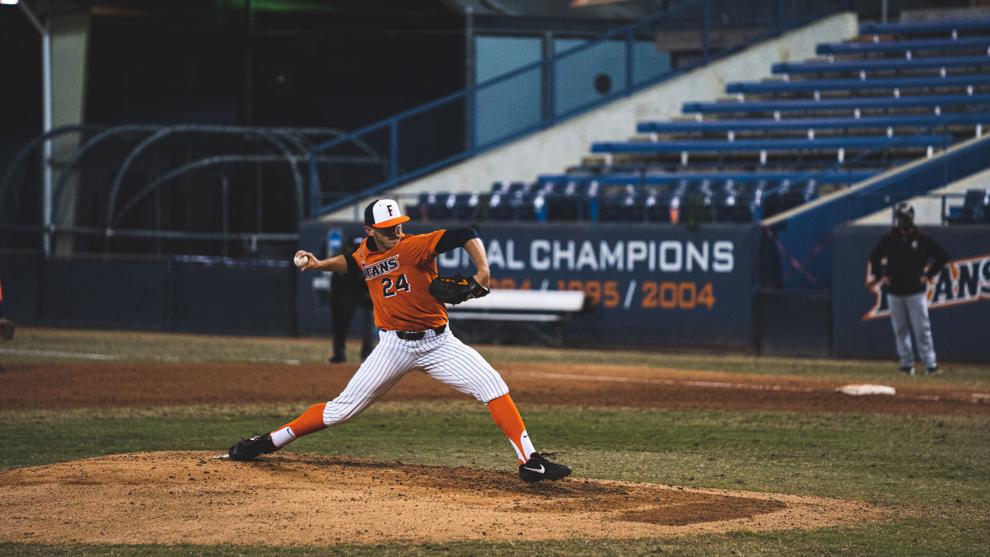 An exceptional team effort on both the offensive and defensive ends gave Cal State Fullerton baseball an astounding 15-1 victory over Utah as the Titans claimed their second victory of the season on Sunday night.
Two dominant frames during the second and fourth innings, where the Titans scored five and seven runs respectively, broke the lead wide open for Fullerton. Meanwhile Fullerton's defense managed to only give up one run, despite Utah having two bases-loaded opportunities and leaving 13 runners on base throughout the game. 
The Titans now clinch the series against the Utes in their opening weekend after beating them, 3-1, on Saturday night. 
Timothy Josten got the start for the Titans and found himself in a jam in the second inning after the Utes loaded the bases with only one out in the frame. A sacrifice RBI by Utah's Jaylon McLaughlin gave them the 1-0 lead before Josten was able to retire the next batter.
Fullerton quickly took a 5-1 lead in the bottom of the frame and went through the entirety of their lineup before the Utes were able to end the second inning. Sparked by a leadoff single by Zach Lew, Jake Lyon immediately brought Lew home with an RBI triple. A wild pitch that got behind the catcher gave Lyon an opportunity to make a play at home and claim the go-ahead lead. 
Cole Urman extended CSUF's lead by recording his first collegiate hit with an RBI single. He stole second base while on the base path and eventually was brought home along with Jake Harvey after a single by Caden Connor. 
In the fourth inning, the Utes loaded the bases on Josten once again, which forced the Titans to pull the left-handed junior. 
In 3.1 innings of work, Josten only gave up one run and three hits while his defense recorded two errors during his outing. 
Landon Anderson came in for relief and shutdown the remainder of the inning and struck out the next two Utah batters. 
Although having their first two batters retired, Fullerton rallied to deliver a seven-run fourth inning to put the game way out of reach for Utah to even mount a comeback. It also marked the second time in the game where Fullerton went through the entirety of its lineup through a frame. 
Jason Brandow gave Fullerton extra insurance in the bottom of the fifth with a two-run RBI double that brought Lyon and Lew home, while JJ Cruz added one with a sacrifice fly in the seventh inning.
For a lot of new Titans, the lead allowed them the opportunity to play in their first college games and gain experience at the D1 level. 
Fullerton will wrap up the series against Utah on Monday at 12 p.m. at Goodwin Field.