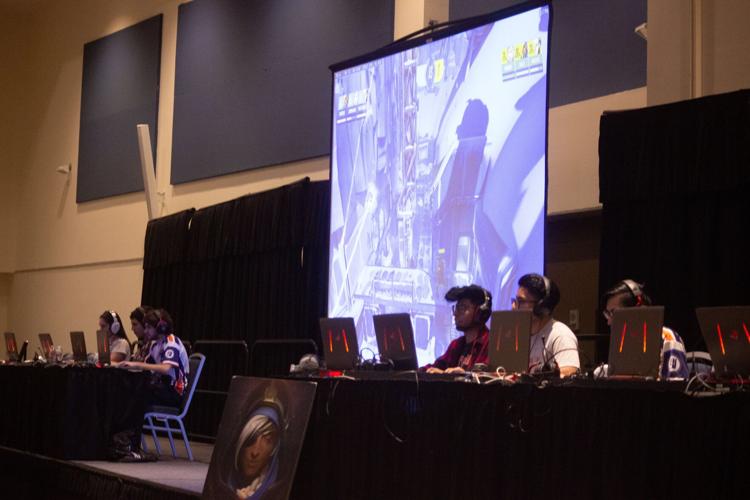 While esports exist in the virtual realm, the coronavirus pandemic has not stopped negatively affecting the performance of Cal State Fullerton's esports teams.
Although it might not seem that transitioning to a fully online format would affect esports too much, staff and players alike have felt the consequences of trying to adjust to a new normal.
Jenny Lau, the team manager for CSUF Valorant, said scheduling conflicts are the biggest concerns that teams face at the moment.
"Honestly, scheduling is the hardest part," Lau said. "I just got one of my players telling me today that he is going to add another class at 7 a.m. on Wednesday. So, now I'm going to have to change the practice day."
She said that scheduling seven players to at least three practices a week can be difficult  considering that all the players are students and that the pandemic has added extra stress. 
Lauren Finney, a player for the Overwatch team, said that the concern of availability has to do with the fact that school life is different now.
"A lot of professors don't realize how much work they are giving out. They probably feel like they don't give enough, so they give out a lot more to compensate," Finney said.
Although Lau and Finney are a part of two different esports teams, their concerns are echoed in terms of added stress from school. Adjusting to the new normal has created inconsistency with students' schedules, making availability for esports difficult.
The teams are dealing with unprecedented circumstances, and many members have said that it has led them to feel somewhat lost going forward.
Ryan Deering, a member of the Valorant team, said that there have been internal struggles throughout all of the teams with not many of them knowing what to do under current circumstances. However, he said he sees a silver lining in the situation.
"It's made work life basically nonexistent," Deering said. "I've had an abnormal amount of free time, where I can't do anything else. In that way, it has been cool because I have had a lot of chances to just try out the game and progress."
Regardless of the extra time to practice together, Lau said they are optimistic about the upcoming events.
"It's working out OK," Lau said. "I would assume the pandemic is not affecting us to a full extent, compared to, like, a soccer team."
Lau said that although scheduling conflicts are an issue that are surfacing more often, esports are played online, and that it should not be hard to adjust to those circumstances.
However, some players and staff have said that their shared positive outlook doesn't take away from their hardships. 
Finney mentions that transitioning online takes away from the social aspect of esports.
"You kind of miss making relationships with other players on the team and the other people who are also interested in the same game," Finney said.
The lack of sociability between the team members could possibly affect morale, but players like Deering do not necessarily agree.
"I've played on teams and have not met any of the players in real life," Deering said.
Deering adds that since he is familiar with playing in that environment, it should not affect the team too negatively.
He and Finney said they believe that transitioning to a completely online format should not be much of an obstacle, but often becomes messy, Deering said.
Although esports at CSUF now have to deal with unprecedented challenges, adapting to what is in front of them is part of being a collegiate gamer. Instead of adapting to new game mechanics or play styles, the teams will have to think outside the box in adjusting to their new reality.