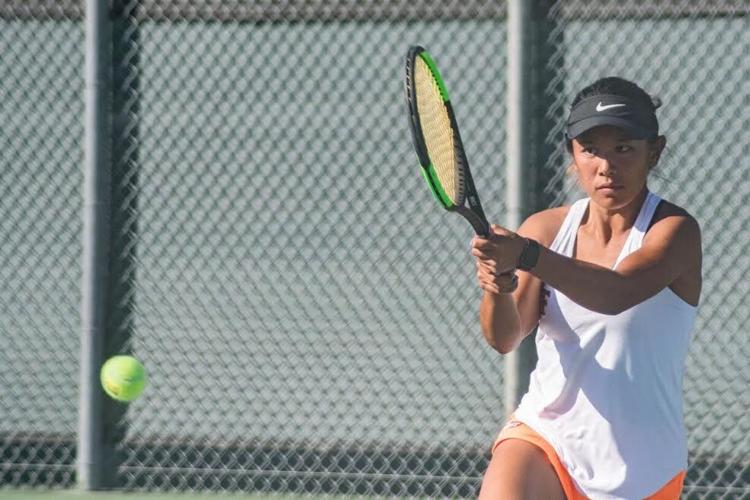 Cal State Fullerton senior Jadie Acidera has remained busy despite the pandemic's effects on her tennis season and other on-campus sports. Although some may not like being busy, Acidera  prefers it.
"I really like reaching out and doing a lot of things," Acidera said.
Acidera said she tends to fit a lot into her schedule;  taking a 19-unit class load, training with a personal tennis coach, mentoring underclassmen and participating in the Community Outreach Prevention and Education  health scholar program.
Before joining the scholar program, Acidera said she always knew that she wanted to work in the healthcare industry. After researching and talking to others, Acidera said she decided that she wanted  to become a physician. 
Due to the program, Acidera gets  an opportunity to gain field experience by working in a hospital. It provides college students a chance at hands-on work in clinical and administrative health care.
Students have a chance to learn about the business aspects of the industry. The program requires a 250-hour commitment , which amounts to four to eight hours a week for 15 months or until the hours of field experience are complete.
Since the beginning of the year, Acidera has been working at Kaiser Permanente in Anaheim and her duties include patient calls and assisting hospital staff.
She also holds two leadership positions in the program; a department coordinator on the medical surgical floor and department coordinator for materials management department that is responsible for the distribution of personal protective equipment. 
Acidera  has been on the front-line since the pandemic began, which has provided her  an entirely different perspective on the severity of COVID-19.
She said when the hospital closed off an entire department specifically for COVID-19 patients, viewing the area through the double doors was surreal for her.
"It's just really weird how real everything actually is. It's like right in front of you," Acidera said.
Acidera said, at  the beginning of distance learning last spring, she admittedly fell into the trap of thinking that schooling from home was akin to an extended spring break. By the time summer came, she said she felt the need to give herself more structure and time allotted to practice tennis.
Acidera worked with her private coach and hit with the team's local coach once. Despite the break from practice, tennis imparted a valuable off-court lesson.
"I noticed that tennis has really helped me realize what a good work ethic looks like and what it means to be disciplined," Acidera said.
Dianne Matias, the women's tennis head coach, praised Acidera's work ethic.
"In terms of academics she's on top of it. She is a very hard worker on and off the court and she wants to do big things," Matias said. 
As part of her busy schedule, Acidera mentors underclassmen. She said she finds joy in helping students with the transition from high school to college. With classes via Zoom and campus generally closed, Acidera empathizes with new students' confusion.
She said she likes being a resource for her three mentees and is considering mentoring again next semester.
Underclassmen are not the only ones who value Acidera's input. Matias said Acidera is one of the leaders on the women's tennis team and has meaningful input.
"Her feedback I definitely respect and definitely ask for because I trust her feedback. She has a good pulse of the team," Matias said.
Acidera is a leader on and off the court through the scholars program and mentoring at CSUF. She said tennis has taught her lessons she has used in her personal life as well as her clinical experience. 
When it comes to sports, Acidera said she feels that  people only think of the physicality,   technique, conditioning and work outs. The mental component is often overlooked by the fitness aspect  she said. 
"With tennis it's really important to be mentally tough," Acidera said. 
Acidera also said that being mentally tough is an important aspect in working in hospitals. Seeing a lot of illness, especially during the pandemic, can get very chaotic, she said.
"It's just really important to focus on what task you have at hand and be mentally tough," Acidera said. "Just one thing at a time."
The women's tennis team started restricted practice at the beginning of October and Acidera said she is thankful for a restored structure and the comradery.
"It's been fun to be with my teammates again," Acidera said.