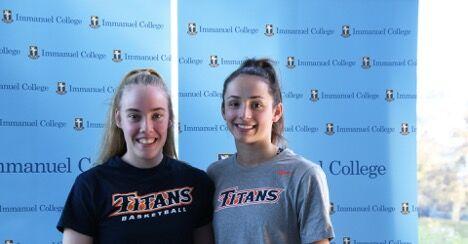 Hailing from small towns in Australia, Bella Stratford and Gabi Vidmar are Cal State Fullerton's newest additions to the women's basketball team. The two players signed with the team for  the 2020-21 season last fall and have recently started their transition to CSUF.
Together the players have competed in the 2018 and 2019 Australian School Championships, acted as co-captains and graduated from Immanuel College, located in Novar Gardens, South Australia, in 2019. The game is something they have both played most of their lives and while their talents are undeniable, their motivation comes from the teamwork and the connection the game creates. 
"I like being around a team environment and making new friends that way," Vidmar said. "If you are having a bad game, because it's a team sport, you got people to support you and back you up." 
Stratford explained that the connection between teammates goes deeper than the game and that oftentimes they can even help outside of the sport, becoming best friends in the process.  
"The team stuff is definitely why I enjoy the game," she said. "You've got 12 or 14 built-in best friends really, so you're not gonna feel alone ever." 
Stratford, born and raised in Mount Gambier, South Australia, said she is looking to delve into earth science during her time at CSUF, and really enjoys geology, geography and other natural sciences.  
For Vidmar, born in Adelaide, South Australia, she said she is interested in child and adolescent development and hopes to one day become a teacher. She relates her experience coaching sports back home to her admiration of teaching. 
"I think I wanna do the (child and adolescent development) major and go into teaching. I quite like english and psychology and sociology. I do a bit of coaching at home, so it's kind of like teaching in a way. I enjoy that," Vidmar said.  
The players help lead their team to fourth place in the 2019 Australian School Championships and second in the 2018 Australian School Championships. Stratford was named team MVP two years in a row and acted as vice captain, while Vidmar was named 2019 IGSSA Sports Person of the year and crowned MVP the same year.  
After receiving numerous awards and accolades, the players gained international attention which led CSUF to recruit the players. Despite their numerous accomplishments, becoming internationally recognized is one of the biggest surprises to the pair, they said. 
"I think it's pretty crazy," Vidmar said. "Australia, well Adelaide in particular, is quite small, and to know that there are college coaches watching the Australian championships and stuff, that's a pretty big deal I think." 
Stratford mentioned that the game has been growing in popularity in Australia over the past few years and signaled that more players may make the migration over the next few years. 
"It's popular at the moment and I think people are looking to come over, and I think more people in America are looking over at Australia as well, so we've got some talented young kids coming through," Stratford said.  
The pair recently began their journey to CSUF, but due to COVID-19 restrictions they  have not been allowed  to explore the city. Even though family and friends are back home in Australia, for Vladmir and Stratford, Fullerton has shown familiarity ever since they left  Australia. 
"Definitely I think we picked a good place to come to," Stratford said. "It's on the right side of the country too, where to fly home it's a shorter flight and all that stuff. It's quite similar in climate and weather and in lots of ways but it's definitely a lot bigger than home."