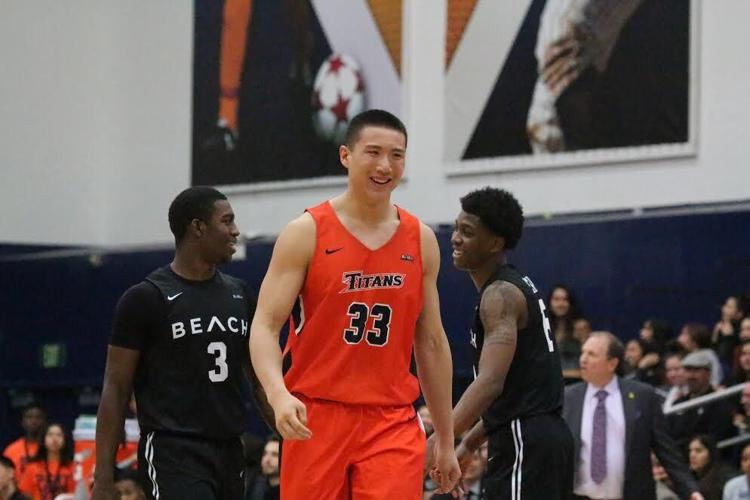 Playing basketball in multiple countries before the age of 18 is a dream come true for most athletes. However, for Yixiong Wang, known to his teammates as Johnny, it is a reality that he intends to see through the end even if he can no longer play. 
Wang is a senior forward on Cal State Fullerton's men's basketball team. Born in Beijing, China, he has played basketball since he was 10 years old. He was given the opportunity to leave his home to play internationally in Spain at age 15 for two years. 
After his tenure in Spain, he received another opportunity to travel west to play in Southern California for the Eagles at Santa Margarita Catholic High School, where he was eventually recruited and signed to CSUF.
His experience of traveling to different countries has been a set of obstacles that he consistently needed to overcome. After performing well in China, playing in Spain exposed him to a new level of talent, an experience he said he was humbled by. When coming to the U.S., the process started again as he had to adjust to greater competition.
"You need to earn your opportunity, and you need to earn everything," Wang said. "Even for you to go to college, you need to earn your college scholarship. So, I feel that all three journeys for me have been really, really helpful at different perspective points."
Basketball has been a part of Wang since he was born, since both of his parents, Wei Wang and Li Liu, were professional players in China. At first, Wang said that he wasn't involved in sports until he became taller than his classmates. His parents eventually offered the idea to see if he wanted to try basketball out, which he reluctantly accepted.
"At the beginning it was tough, I didn't have any fundamental skills, I was new to it," Wang said. "When time goes on, you experience ups and downs, you start to experience happiness or frustration as well, and that's when I kind of started to fall in love with basketball. From that point, I decided I wanted to do that for my life."
While committing a life to sports might seem like a big decision, Wang said his parents were accepting of his choice to continue an athletic career early on.
"I think my parents were just really open-minded for me and then they were really supportive to me as well," Wang said. "I think they realized I had a talent that I could accomplish on basketball."
He added that he is grateful that his parents allowed him to pursue a life that he can determine himself.
Life traveling wasn't always the easiest to adjust for Wang. He said he found it difficult to adapt to different cultures on more than one occasion. Wang said he had to quickly become more accepting and change his mentality in order to succeed.
For basketball at CSUF, he's adopted  a leadership role from his coaches. Stepping into his senior year, one of his responsibilities is to help ease the transition of new players to their system.
"I have to be a leader and try to lead them and make them to make sure they can come in and they can study our system as much as they can in a short amount of time," Wang said. 
Having only practiced with a full team for about a month, Wang said he still feels the need to improve on his game as the season moves forward.
"For this up and coming season, I'm just trying to focus on doing the best that I can with the given amount of time I can get, and I think it's time to give my best every single game and to give my best to my teammates as well," Wang said.
As Wang continues his career in basketball, when asked about what he would do if he wasn't playing, he said he would be involved in the sport in any way possible.
"Basketball has been through my whole life," Wang said. "Just because of my experience I would work for some sports company, like Nike, something involved in sports I would feel like."