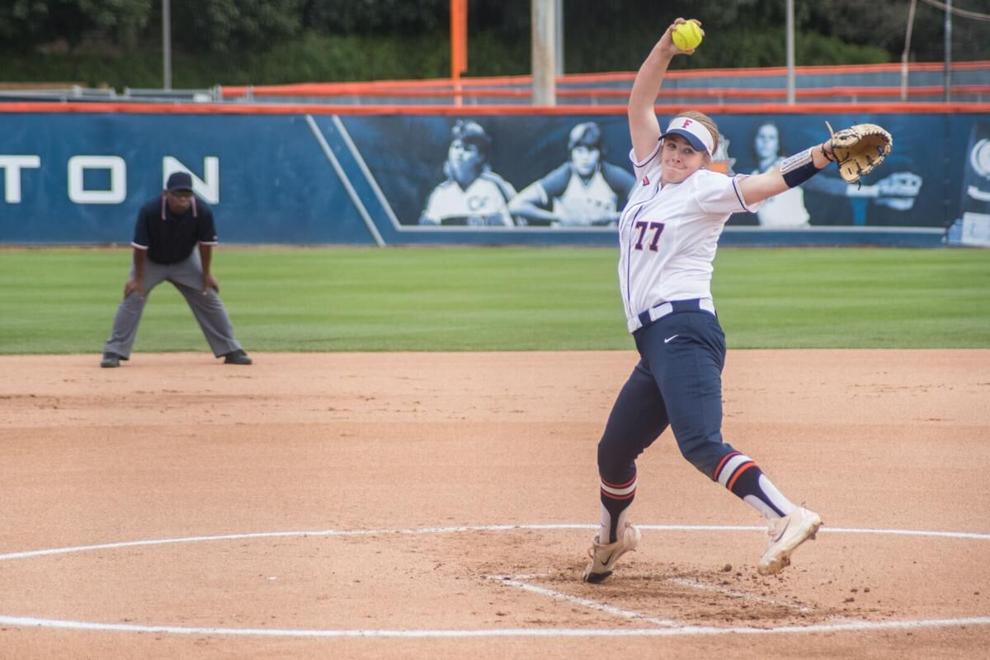 Sophie Frost, one of Cal State Fullerton's softball players, is returning this year to play another season for the team, as the last season was cut short due to COVID-19.  
After her last season was cut short, Frost was given the opportunity by the NCAA to return to the team for one more season.
"It was like a no brainer for me," she said. "I was 100% coming back if we had the opportunity to do so." 
Frost chose to return to the team, although she did receive an invitation to play softball in the Netherlands this past summer, she said.  
As a child, Frost lived in Seattle, and grew up around softball. Her older sister started playing when Frost was about three years old, so she was always playing with a ball and glove. As soon as she hit high school, she knew that she wanted to play softball at the collegiate level. 
Frost said that it was her dream in high school to play college softball on the East Coast, but after spending time at CSUF and meeting the coaches, she realized that this is where she wanted to be. 
"I was hooked," she said. "Now, I could not imagine myself anywhere else besides California." 
The recruiting process was not the easiest for Frost, who said she was a little behind skill-wise, but her hard work paid off. 
During her fourth year, Frost and the team won their fourth consecutive Big West championship, only to have the season cut short. After that, she said she feared that she would not get the rest of her year back, but the NCAA granted spring athletes an extra year of eligibility. 
With no exact career path after college in mind, Frost is going into this season with one goal: to make history with her team by winning their fifth Big West championship title, even if the path will be different. 
This season, the team was cleared for individual practices which started in early October, a month and a half behind the normal practice schedule. 
Since team practices are not in full swing, players are adjusting to COVID-19 safety protocols, such as temperature checks, daily online screenings, face masks and sanitizing all gear before and after practices. This is just a small price to pay for being able to get back on the field, Frost said. 
She is already anticipating returning to practice with the team, and is excited to play together with both returning and new girls and see all the talent on the team this season, she said.
Coaches have brought the team together as a family, something that initially drew Frost to CSUF. She said she loves the close-knit group that the team has become, which led to some of her best experiences during her time at Fullerton. 
With softball being similar to a job for them, the work can get rigorous, but the coaches make it fun for the team. Frost said she believes that she is not only doing this for herself, but for a team and coaches who are counting on her. Being as close as they are, the obligation to the team is easy, she added. 
"The real world can wait. I'm going to be having a job for the next 50 years of my life, so I'd rather have this one year to get that fifth Big West championship with the team that I love and the coaches that I love," Frost said.