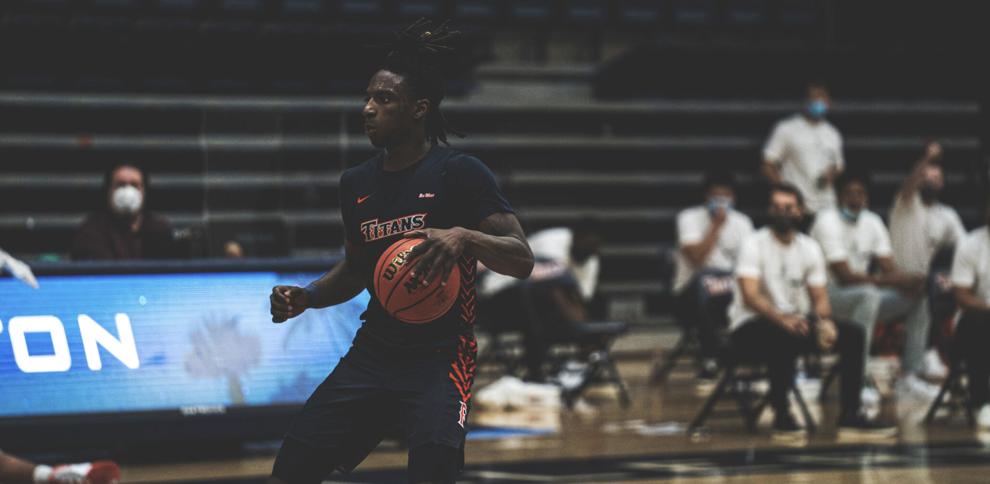 After four canceled games in the weeks prior, Cal State Fullerton men's basketball came out of its unexpected time off and split its weekend series against UC Irvine.
The Titans fell short on Friday against Irvine, losing 89-78, but picked up a 67-64 win on Saturday. Fullerton now moves to a 5-7 record in conference play, while Irvine sits at an 8-4 conference record and second place in the Big West. 
The Titans have split five of six of its conference series this season, and it happened again as the Anteaters' 45.6% field goal percentage on Friday night was too much for Fullerton to overcome. 
Despite the Titans trailing 40-26 at halftime, Fullerton rallied back in, tying the game at 71 apiece with over five minutes remaining. However, when the Titans reached striking distance, the Anteaters went on an 18-7 run to finish the game.
Irvine's freshman guard Dawson Baker led the Anteaters to victory with a team-high 23 points, going 6-14 from the floor and 10-12 from the free-throw line. Fullerton's senior forward Johnny Wang came off the bench and recorded a season-high 18 points with four 3-pointers, leading the Titans on offense.
Both teams were sent to the free-throw line quite regularly on Friday, as Fullerton shot 16-23 from the line, compared to Irvine's 21-25. 
As the Titans showed improvements in the second half, putting the underwhelming start behind them, head coach Dedrique Taylor said he was intrigued with the team's high-energy effort that got them back in reach. He said the focus heading into game two of the series was carrying that same momentum into Saturday's matchup. 
"We got to start with the same effort," Taylor said after Friday's game. "Now we got some minutes under our belt and we know what it's like — the physical play and the tough play. We've got to bring that, and we got to be more aggressive, I think, from the start of the game. If we can start with that type of energy and that type of effort, you can expect a good ballclub to play tomorrow night."
During Saturday's game, the Titans' defense was the difference-maker in its 67-64 victory, holding Irvine to a 21.4% from 3-point range and 38.1% from the floor. 
Fullerton's 13 takeaways and four blocks, three of which came from senior forward Josh Hall, propelled the Titans to a stout defensive effort. 
On offense, the Titans shared the ball effectively as four players reached double-digits in points, meanwhile, Hall and redshirt-sophomore forward Vincent Lee both recorded a team-high three assists. 
While the Anteaters found themselves on the losing end of game two, redshirt-junior forward Collin Welp and redshirt-senior center Brad Greene both gave Irvine second chance opportunities, totaling 25 rebounds between the two. 
"Our group stuck together. We played hard and we played together. I think that's the difference. We didn't do anything X's and O's wise, we just attacked the paint, attacked the rim and defended. We gambled a little bit and flew around, more importantly and at the end of the day, we just competed," Taylor said. 
One thing Fullerton did accomplish on Saturday night was reaching a milestone victory for coach Taylor.
Taylor, now in his eighth season with the Titans, earned his 100th career victory as head coach. His achievement in reaching the 100-win benchmark makes Taylor the fourth coach in Fullerton basketball history to reach the achievement. 
"My emotions are really high. I'm super proud of these guys because I thought they played 40 minutes. They competed tonight. The difference was that we normally would go away, but tonight we stuck with it. We played with great effort, great energy, our bench was alive and we just played together and played for each other and anytime you do that you give yourself a great chance to win," Taylor said. 
The Titans will now have a week off before rounding out its regular season schedule on the road against UC San Diego in a two-game series starting on March 5.