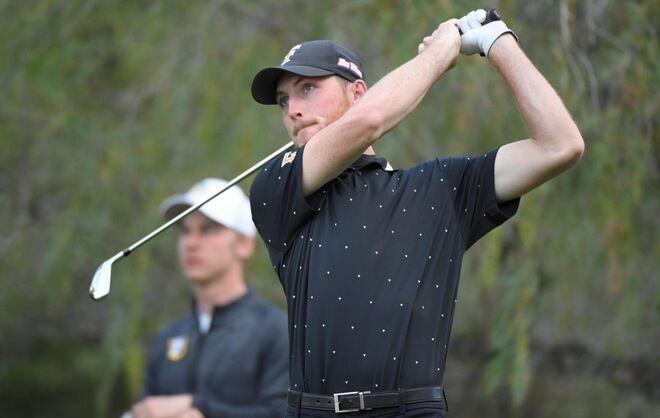 Cal State Fullerton men's golf played a steady tournament as they finished in fifth place at the Grand Canyon University Invitational with a total score of 17-over-par 869, just seven strokes behind the winning team. 
Wichita State brought home the victory finishing with an overall score of 10-over-par 862, while Southern Mississippi finished in second place with a total score of 12-over-par 864. 
However, the top finishers on the individual leaderboard came from Grand Canyon's Michael Salazar, scoring 6-under-par 207 overall, followed by another Antelopes golfer, Adam Veenstra, who ended the tournament with 3-under-par 210. 
For this 16-team tournament, CSUF sent Garrett Boe, Harry Doig, Matt Rafter, Trevor McNary and Teagan Andrews to compete as a team, the same players who participated in the Sacramento State Invitational, while Blake Petchel played in the tournament as an individual.  
The Titans entered round two of the tournament nine strokes behind the two leading teams, Wichita State and Grand Canyon, with a score of 280. Fullerton performed better in the second round as its total was just one over par, the equivalent of 285 strokes. The team finished the third round shooting its worst score of the tournament with 295 strokes.
Rafter finished tied for 19th place with an overall score 4-over-par 217. He started the tournament shooting one-under-par 70, but his score gradually increased r throughout the invitational, shooting one-over-par 72 in the second round and four-over-par 75 in the third round.
Doig was not far behind tying for 26th place with a total score of 5-over-par 218. However, in the third and final round, Doig and Boe both scored 2-over-par 73. Boe finished tied for 32nd place with a score of 6-over-par 219, while McNary and Andrews tied for 37th place scoring 7-over-par 220. 
On the individual leaderboard, Titans' Petchel tied for 80th. His performance improved  each round, and by the end of the tournament he scored 17-over-par 230.
Throughout the tournament, the Titans performed well on par-5 holes as they combined for a total score of -17 which placed the team among the top three. Fullerton's Andrews outperformed the competition on par-5 holes with an average of 1-under-par on each par-5 hole, equivalent to -8 in total. The Titans struggled more on par-3 holes with players combining for +27, placing Fullerton in the lower half.
The Titans will have a two week break before returning to the greens and heading to Chandler, Arizona for the Cowboy Classic April 5-6.