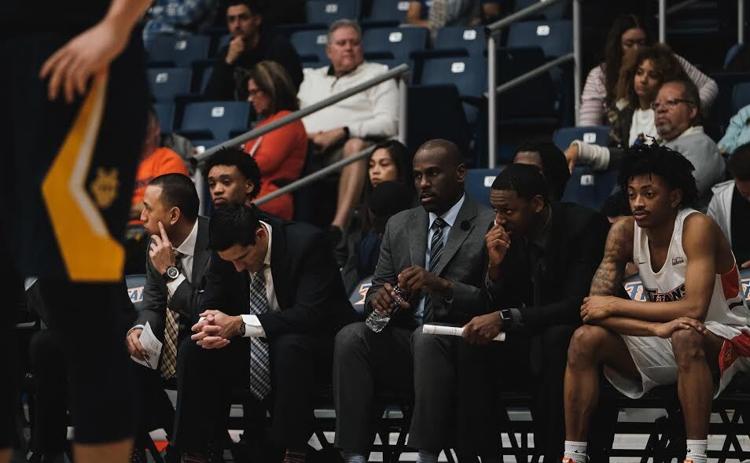 Just three hours before tipoff, Cal State Fullerton men's basketball game against Bethesda University was canceled due to a positive COVID-19 test within the Bethesda basketball program. 
According to the CSUF Athletics website, a decision will be made no later than Friday, Dec. 11 to reschedule today's game.
https://twitter.com/FullertonMBB/status/1336794024825352192?ref_src=twsrc%5Etfw%7Ctwcamp%5Etweetembed%7Ctwterm%5E1336794024825352192%7Ctwgr%5E%7Ctwcon%5Es1_&ref_url=https%3A%2F%2Fpublish.twitter.com%2F%3Fquery%3Dhttps3A2F2Ftwitter.com2FFullertonMBB2Fstatus2F1336794024825352192widget%3DTweet
This is the second time the Titans have had a game postponed due to a positive COVID-19 test. Fullerton previously withdrew from the Husky Classic, a tournament hosted by the University of Washington, when a CSUF player tested positive for COVID-19, thus delaying the Titans' season back another two weeks. 
When asked how the team prepares knowing the possibility of a game being postponed, CSUF men's basketball head coach Dedrique Taylor said, 
"It's unfortunate, but I think this is the new norm and you just expect the worst and hope for the best. How we prepare for this, I don't think that you can prepare for it, we know it's a possibility, but such a range of emotions. Trying to get ready for what you think is your home opener, to it being canceled because of someone else and then all you can do is turn your focus to Friday and try to prepare accordingly.". 
For a lot of players on the team, today would have been the first day they suited up for a game or even saw the locker room. 
"Six of our guys have never been in a locker room because of the circumstances and so we would have been afforded an opportunity to introduce them to the locker room and show them what it looks like and put on a uniform for the first time and here we are Dec. 9th and we're still not afforded the opportunity," Taylor said. 
While the Titans will have to wait two more days before its first game of the season, Taylor said he knows this is part of the process that they have prepared for. 
"You know this is a part of what we are preparing for and it's unfortunate but a part of the process. I think it will make the opportunity to play against someone else that even that much more sweeter," Taylor said.
The Titans are expected to play at San Diego on Friday, Dec. 11 with tipoff at 6 p.m. and then return home to host San Diego Christian on Sunday, Dec. 13 at 3pm.