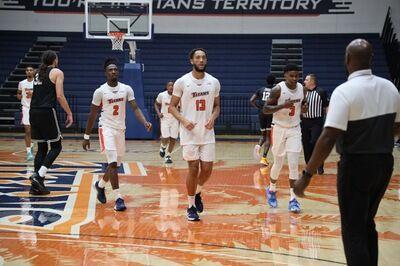 As they begin their 2021-22 season, the Cal State Fullerton men's basketball team will look to bounce back this year after a 6-10 record last season which was cut short due to the COVID-19 pandemic. So far, the Titans started off strong this year with a blowout win, 105-46, over Bethesda in an exhibition game on Oct. 30.
Senior guard Tray Maddox Jr. was the leading scorer with 16 points. He picked up seven rebounds and two assists.
Maddox was the team's leading scorer a season ago when he put up nearly 16 points per game. He did it while shooting 45% from the field and nearly 41% from the three-point range. He did struggle at the line, however, where he shot only 67%.
Maddox averaged just over two rebounds and assists per game, with almost one steal per game. He was asked to shoulder the load as he led the team in minutes at around 34 minutes per game.
Head coach Dedrique Taylor expects Maddox to take a step forward this year. "(He) is another guy who was our leading scorer last year. Just looking to continue for him to build on that offensive output," Taylor said.
Sophomore guard Latrell Wrightsell Jr. is back with the team after missing the final five games last season due to an injury.
Taylor said he believes that Wrightsell Jr. will have a big year, "just getting him back from injury and being on the floor consistently will have an impact on our ballclub." Wrightsell Jr. averaged nine points a game last year with two assists and nearly two rebounds a game. He also led the team in free throw shooting, hitting them at just under a 95% rate.
Sophomore guard Dante Maddox Jr. will also take a leap forward this year. He was the team's second leading scorer with 11.7 points per game to go along with 2.1 rebounds, 1.8 assists and 0.9 steals per game.
One standout among the transfers is graduate forward E.J. Anosike, a transfer from Tennessee where he struggled to find consistent minutes. Anosike initially transferred to Tennessee from Sacred Heart University where he was named to the All-Northeast Conference first team in 2020.
He averaged a double-double that season with 15.7 points per game and almost a dozen rebounds per contest. He led his team in both categories, while also leading in minutes played.
Another player that has caught Coach Taylor's eye is sophomore transfer forward Lado Laku from Texas A&M-Corpus Christi where, like Anosike, he struggled to find playing time.
Senior transfer guard Damari Milstead is another player who stood out in camp. He transferred from San Francisco where he averaged just under five points per game while shooting 38% from the field. His best game came against Long Beach State where he scored 24 points, including four three-pointers, in the win.
Going back to last season, the Titans lost their last three games in high scoring affairs. This included an upset loss to the Cal Poly Mustangs in the first round of the Big West Tournament.
Taylor hopes that the team takes it one day at a time. He said his goal this season is "to just get better quite frankly, day in and day out. Just to build and put things together that lead to us getting better, somehow, some way. I don't know what that means in terms of winning and losing but just finding a way to get better every single day and I think if we do that and if we approach it that way, I think we'll like the end result."
The men's basketball regular season starts Nov. 9 with a road matchup against Santa Clara at 6 p.m.