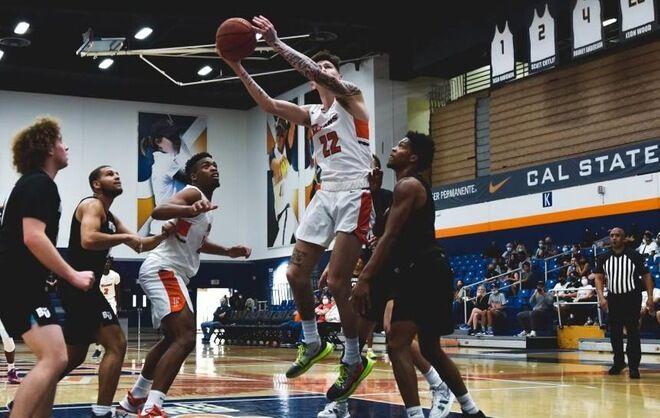 Titans men's basketball will face off against the Santa Clara Broncos at Leavey Center in their first game of the 2021-22 season on Tuesday at 6 p.m.
This season, Coach Dedrique Taylor added five transfers with Division I experience to the roster — Lado Laku from Texas A&M, Damari Milstead from UC San Francisco, E.J. Anosike from Tennessee, Grayson Carper from Columbia College in Missouri and Ibrahim Famouke Doumbia from Central Florida.
Caper, a junior, averaged 16.5 points and 7 rebounds per game for Columbia, where he played with fellow Titan Landis Spivey.
Before Anosike transferred to Tennessee, he led his team at Sacred Heart University in points and rebounds per game, averaging 15.7 and 11.6, respectively.
Returning this season is senior guard Tray Maddox Jr., who was the team's leading scorer last year, averaging 16 points per game.
The Titans won in dominant fashion in an exhibition against Bethesda University on Oct. 30, ending the game 105-46. Newcomer Anosike scored 10 points and grabbed eight boards.
The coaching staff was finalized last week with the additions of Ryan Hamm as director of operations, Garret Boaz as video coordinator and Scott Cutley — a former Titan basketball player — as graduate assistant.
During his time at CSUF, Cutley led the team in rebounds during their 2007-08 seasons and is one of three players in Titans basketball history to be named Big West Player of the Year.
Prior to his hiring as Director of Operations, Hamm served as an associate head coach at St. Leo University in Florida.
The Titans ended a shortened 2020-21 season with a 6-10 record. On Nov. 3, Titans men's basketball was picked to finish seventh in the Big West Conference Preseason Coach's poll.
The conference also announced last week that senior guard Tray Maddox Jr. had been selected to the Preseason All-Big West Coach's Team.