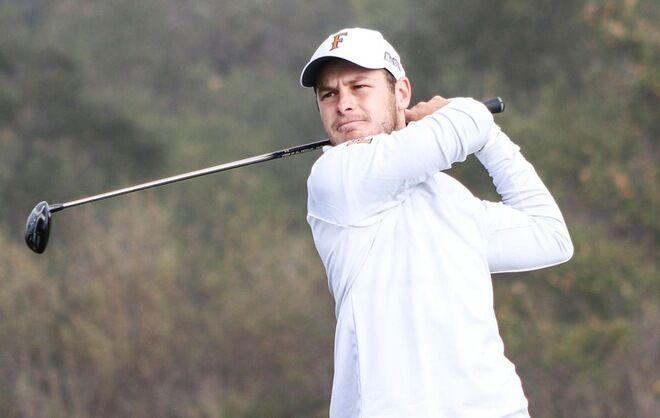 Cal State Fullerton's men's golf currently sits in third place after two rounds at the Bill Cullum Invitational on Oct. 11. The team scored an exact 297 in each round for a total of 594. 
Cal State Northridge Matadors have the lead with a score of 579. They sit just six strokes ahead of the Utah State Aggies. 
Senior Harry Doig had a big first round with a 2-under-par 70 to lead the Titans. This included three birdies on holes six, eight and 12. 
A wind advisory kicked in during the second round. However, it did not affect Doig's performance as he was able to hold onto a 2-under-par with a scoring of 72 in the second round. His two birdies on the back nine brought him back down to par. 
Doig is third overall in the tournament with a score of 142. He is four strokes behind UC Santa Barbara's Brian Arnold, who has scored 6-under-par. 
Titans' sophomore Tegan Andrews also had an excellent first round where he scored 1-over-par 73. He received more birdies than Doig which helped offset the double bogey he got on the sixth hole. 
Andrews is tied for 14th after scoring a 3-over-par 75 in round two. This puts him at 4-over-par 148 after completing the two rounds. 
Fellow sophomore, Garret Boe, scored a 4-over-par 76 in round one. It was initially a rough start after he triple bogeyed on the first hole of the first round. However, he remained calm and only went 1-over-par for the remaining 17 holes. The back nine were especially kind to him as he was able to get three birdies. 
He tied Andrews in the second round with a 3-over-par of his own. He had two birdies in the round to put him at a 7-over-par 151, which tied him for 26th place overall. 
The Titans will look to mount a comeback in the third round of the tournament, which will begin on Tuesday at 8 a.m. at the Oaks Club in Valencia.