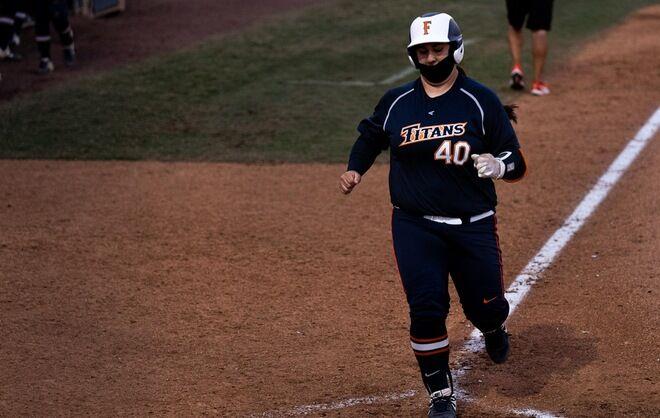 Cal State Fullerton traveled to Riverside, California to face off against the California Baptist University Lancers, winning its sixth game of the season. 
The Titans had nine runs on a season-high 11 hits to lead the team to a 9-5 victory against the Lancers.
Coming into the game, the Titans had a season record of 5-7 while the Lancers had an overall record of 4-5. Dani Martinez, the starting pitcher for the Titans, came in and gave up one run while retiring two batters before pitcher Savannah Serrata came in to finish off the first inning.
After trailing 1-0, Titans catcher Julia Valenzuela doubled with two outs in the second inning. Lancers pitcher Kerisa Viramontes walked the next four batters and the Titans scored two runs on a pair of walks by pinch hitter Kika Ramirez and center fielder Megan Delgadillo.
In the bottom of the second inning, CBU tied the game 2-2 with a solo home run. After giving up the run, Serrata held the Lancers scoreless through the fifth inning. 
After an uneventful third inning, the Titans came out swinging to start the top of the fourth inning with a single by Valenzuela and a sacrifice bunt by right fielder Kelsie Whitmore to put Valenzuela in scoring position. The Titans recorded three more hits and a sacrifice fly to build its lead to 6-2. 
The Titans came out with momentum again in the fifth inning, getting started with another lead-off single by Valenzuela, followed by a fielder's choice by shortstop Peyton Toto to set-up runners on first and second for left fielder Bailey Wallace who doubled over the center fielders head, scoring one run to make it a 7-2 game. 
With runners on second and third, a sacrifice fly by Delgadillo tallied one more run for the Titans. Another single by third baseman Hannah Becerra would score the Titans ninth run of the game, making it a 9-2 game. The Lancers managed to get a few runs back in the bottom of the sixth as a result of a hit and a couple walks and an error, making it a 9-5 game going into the last inning. 
Titans pitcher Ellie Zellien made quick work of the Lancers in the bottom of the seventh, following a walk with a double play to end the game. 
The Titans will return home on Saturday to go head-to-head against the Boise State Broncos in a doubleheader at 12 p.m. and 2 p.m., followed by a final game on Sunday at 9:30 a.m.