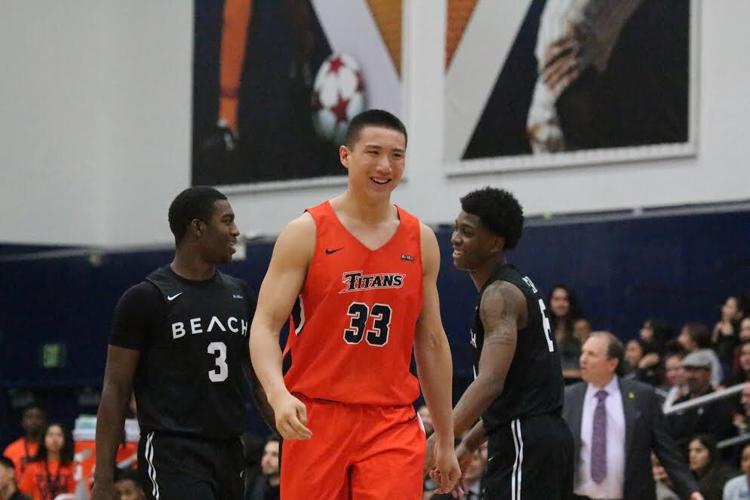 As Cal State Fullerton's athletic department prepares for the return of athletes to campus, staff members are treading lightly due to concerns regarding the overall health and safety of their players.
Since the closure of campus facilities in March, athletes were forced to train and workout on their own, while maintaining their health at home. However, on Oct. 19, the men's basketball team held its first full practice of the season, and soon other teams will be sure to follow.
With the first regular season games for men's and women's basketball set to be played on Dec. 27 and Dec. 28, respectively, staff from CSUF's athletics department have expressed concern regarding the return.
Alex Beljic, a strength and conditioning coach at CSUF, said he fears that athletes could potentially overwork themselves to return to the level they were at before the stay-at-home order. Beljic said that one of his responsibilities is to manage the excitement and energy that athletes are going to have, in order to have a productive and efficient return to activity.
While physical health is a concern for returning athletes, understanding and acknowledging athletes' mental health is another important concern for staff.
Kyle Burnett, an athletic trainer at CSUF,  said that mental health screenings have become commonplace when evaluating athletes. 
"The most important thing for us is we're trying to break the stigma around mental health," Burnett said. "It's OK to not be OK, and getting the help that you need is more important than harboring it in and trying to treat it yourself."
Beljic echoed the importance for athletes to have a stable mental health. "If you can't be mentally healthy enough, you're not going to succeed," he said.
Throughout the year, Beljic and Burnett said they have made an effort to reach out and attempt to be available for the athletes.  
Burnett said that having a relationship is critical in accomplishing his goals.
"My goal, and I know our staff's goal, is to really try to build that relationship, build that rapport, and it really stems from getting to the student athletes on a personal level," Burnett said.
Beljic and Burnett's efforts have not gone unnoticed. Players like men's basketball senior forward, Johnny Wang, said that he admires the efforts that both Beljic and Burnett have shown over the course of the year.
Wang said that since the beginning of quarantine, Beljic has been "really focused on just trying to get everybody back in shape." 
Beljic took into account that athletes were not able to have as intense of a workout at home compared to the offseason, so he made sure athletes had proper preparation for their bodies to adjust to their current circumstances, Wang said.
As for Burnett's approach, Wang said "he did a really good job with communication" and consistently checked up on him and reminded him to not overwork himself.
Even though there is concern about athletes not being in the best physical or mental shape coming back, both Beljic and Burnett said they feel confident in being able to prevent overworking or injuries as the season draws near.
Burnett said he feels that "prevention is kind of the cornerstone of what we do," so even though he has had to create preparations during a pandemic, he is not too worried about him or the staff being overwhelmed.
As for Beljic, he said he knows that the athletes and staff are more than ready for the return of sports.
"At the end of day, it doesn't necessarily matter how many resources we have because of our MO," Beljic said. "Our MO is really just to outwork the competition and outsmart the competition. That's something I'm proud of at this school."