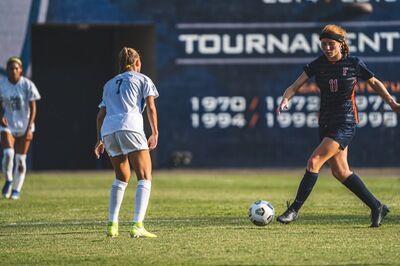 With the Big West Tournament approaching, Cal State Fullerton women's soccer team had seven players earn Big West All-Conference accolades.
Senior midfielder Haley Brown and senior defender Delaney Dombek Lindahl made the All-Big West First team. 
Brown was second on the team in points with 15. She accounted for six goals, which was also good second on the team and three assists. Two of her goals were game-winners. 
Lindahl got all five of her points through five assists which was tied for the most on the team.
Sophomore defender Megan Day followed up her 2019 Big West freshman of the year as she was selected to join the All-Big West Second team. Day, Brown and Lindahl each started in every game they played in this year. She helped the Titans through five-straight shutouts in October. 
Joining her on the second team is senior midfielder and forward Callie Petrey-Juarez. Her eight goals and four assists led to an outstanding 20 points and she led the team in both goals and points. 
Freshman midfielder Karla Rodriguez made her presence known as she also made the second team in her first collegiate season. She contributed with five goals and two assists for a total of 12 points. Petrey-Juarez and Rodriguez were tied for the team lead with three game-winning goals each. 
Goalkeeper DeAira Jackson was selected to the Big West All-Freshman team. She played in 11 games, starting in nine of them. Jackson had a 5-5 record with two shutouts in conference play. She  allowed 14 goals and saved 42 shots for a .750 save percentage. 
Fellow goalkeeper Noa Shumacher was also selected as a Big West Honorable Mention. She started all 10 of her games, going 5-4 with 50 saves. Shumacher thrived during conference play as she went 5-0 with four shutouts, had 24 saves and only allowed one goal. 
These seven players, along with the rest of the team, will take on the Cal Poly San Luis Obispo on Thursday at 5 p.m. at UC Irvine.