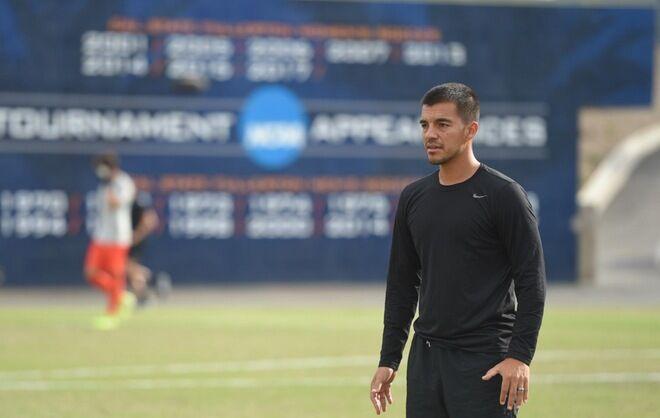 When Cal State Fullerton men's soccer coach George Kuntz needs a fill-in player during training sessions, he looks to one man. A man who, according to Kuntz, can "slide and glide" and "hit darts with passes" on a bum knee: Jorge Reyes, the assistant coach of the men's soccer team.  
Titans senior defender Irving Arvizu aligns his praise with Kuntz's sentiment. 
 "I can't say this in front of him but that man's a beast," Arvizu said. "That man, you see him play and you think he's still in his prime." 
Ever since Reyes joined the CSUF men's soccer coaching staff, the team has won two Big West Conference Tournaments. 
Reyes moved to Santa Ana from Mexico at two years old and has lived there since then. He played for two community colleges before joining the UC Irvine men's soccer team that featured Kuntz at the helm. 
After graduating from Irvine, Reyes spent a year and a half playing for Kaposvar Rakoczi in Hungary. While overseas, he had an epiphany to start an after-school soccer program in Santa Ana. 
Multiple attempts were made to get involved with the city council and school board upon return, but Reyes was shut down at every stop because he "was just this kid that had a bachelor's." 
Despite the failed attempts, Reyes said he knew he wanted to impact his community through coaching, so he reached out to Kuntz, who was now the head coach at CSUF. 
Kuntz offered Reyes an unpaid student manager position while he worked on getting his master's degree in sociology. After he obtained his master's, Fullerton's assistant coach at the time, Kyle Schmid, left to coach at Loyola Marymount and left behind a job opening. 
About 200 applications were submitted for the opening, which made it a long shot for Reyes. However, after a three hour one-on-one conversation at a Starbucks, the trajectory of Reyes's life and CSUF men's soccer hit a turning point. 
"I walked away from that meeting knowing where his heart was as far as teaching, what he wanted to do for the community, wanting to stay in the area, wanting to raise a family here and impact the community and kids that never get out of Santa Ana," Kuntz said. "Then, he went through the interview process and there were other people on the committee, and he just did extremely well. And then we hired him."
Soccer isn't the only passion Reyes wears upon his sleeve. As a lecturer at the Department of Sociology, education is something that Reyes constantly stresses to his players . Junior defender Edward Salazar said that he talks about school more than he preaches soccer. 
Reyes is nothing short of a mentor. Lily Reyes, his wife, said that players will frequently call him late at night because they trust that he'll "hear you out and give you his thoughts. 
"It's funny because we always joke that he never picks up his phone, but yet everyone calls him. He eventually will find the time to call people back, so he just is good at that. He's good at being available for listening to people, offering his two cents, his advice on how to make things easier for other people," Lily said. 
Family plays a huge role in his life, and is one of the things that Lily said she was attracted to when they first met. Between his 10 aunts and uncles, Jorge has over 40 cousins. 
Being the oldest of the bunch, he regularly plans events to bring his family together, whether it be family soccer matches, basketball games or Mafia games. Lily also said he started playing Call of Duty with his cousins during quarantine to stay in touch. 
Oscar, Jorge's younger brother, said that Jorge plays a large role in his cousins' lives because he wants to be a role model for them. 
"His selflessness and his character is what's most unique about him. He was able to sacrifice his own social life, his own merit, so that the generation after him did it better than him. For me, I think that's where my selflessness comes from," Oscar said. 
Jorge and Oscar started their nonprofit afterschool program, La Academia, in 2017. The driving factor for this organization stems from their experiences in the Santa Ana public schooling district, as well as wanting the best for future generations.
La Academia provides year-round soccer training with practices three times a week and games on the weekends. Additionally, it provides workshops twice a month for the kids and once a month for their parents. 
Topics discussed in these workshops include education, nutrition, college applications and how to use email. 
"You'd be surprised, most of our parents don't know how to use email. When you accept your scholarships, you're using email, so that's a really crippling factor if you don't even know how to log on, check an email and respond to an email," Oscar said.
One of Jorge's long-term goals is to educate communities like his own on the importance of voting. He said that the majority of people in Santa Ana are Latino, but the voters and policymakers aren't, which is something he wants to change 
To help facilitate this change, Oscar is running for a seat on the Santa Ana school board in this upcoming election. They've run into difficulties with their afterschool program, such as field accessibility, so they want to help influence change through policy. 
"I don't know that we're the most successful soccer players that came out of Santa Ana, but I'll tell you this: we're the only ones that ever came back because I don't see anyone here," Oscar said.
Jorge said he wants to eventually become a head coach at a university. When asked about the possibility of Reyes leaving Santa Ana to coach, Oscar, Kuntz and Arvizu all gave different answers that came to similar conclusions: if he leaves, it will be a long time from now
"The position I hold right now is influencing that social mobility, but killing two birds with one stone; it's also fulfilling that passion, that love I have for this sport because at the end of the day, soccer, football, this sport, I love it like you wouldn't believe," Jorge said. "I know soccer. This is all I've known all my life."