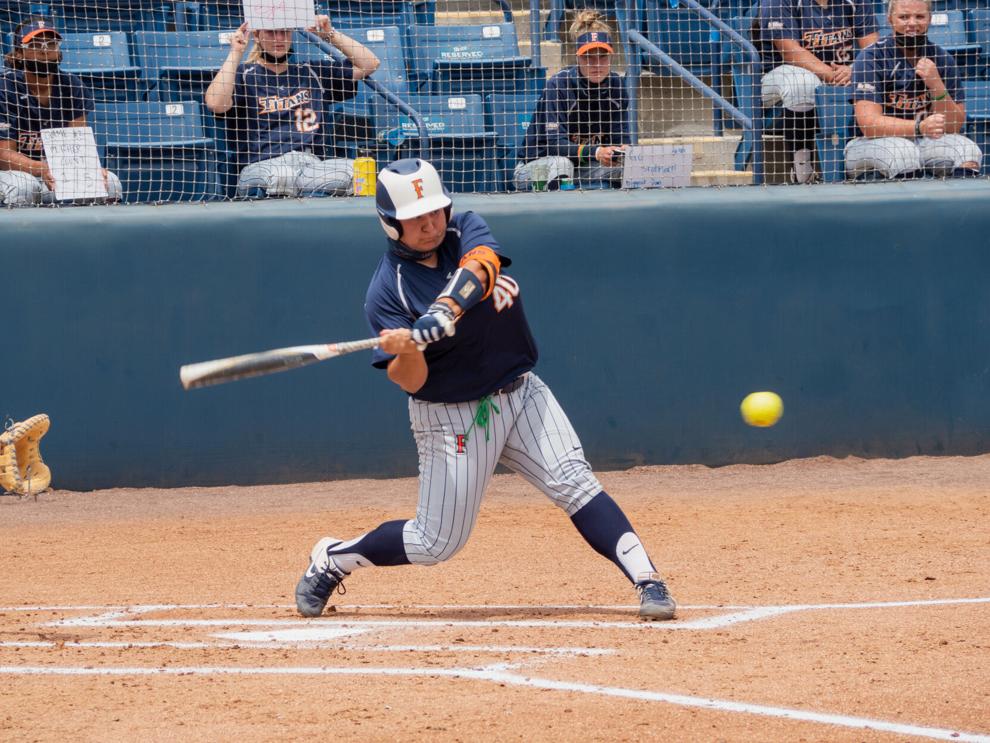 Cal State Fullerton softball continues  their undefeated conference run as they face Cal Poly San Luis Obispo in a three-game series starting Friday.
The Titans are coming off a dominant series sweep against conference opponent UC Santa Barbara, where they outscored the Gauchos 31-3 in a four game span.
After last weekend's performance, Fullerton's senior outfielder Kelsie Whitmore received Big West Conference Fielder of the Week honors while teammate infielder Hannah Becerra earned Freshman of the Week honors for the fourth time this season.
The Titans had a slow start to the season with a  4-6 record after 10 games, but they soon found their stride and have yet to look back. Fullerton has won 18 of their last 20 games, leading the Big West with an undefeated conference record of 15-0. 
Their last loss came against Big West conference opponent UC San Diego on April 17, snapping the Titans 14-game win streak. However, the game was scheduled as a non-conference matchup, keeping their unbeaten non-conference streak alive.
Currently the team holds a 31-12 overall record, with the team batting .319, scoring 243 runs and hitting 49 home runs.
As for Cal Poly, they are looking to bounce back from their series against Cal State Long Beach, where they lost the last two games of a three game series. 
The Mustangs' season has been a rocky one as they hold a 10-16 overall record and 4-11 conference record, just one game ahead of Cal State Northridge for last place in the Big West standings.
Keeping teams from scoring has been an issue all season for the Mustangs, as they have allowed teams to score five or more runs in 11 games this season, nine of which have resulted in losses. The Mustangs have also unfortunately lost 10 games this season by two runs or less. 
The key to success for the Mustangs has come in games where they have held opponents to three runs or less, in which they have won seven out of 11 games.
The first game will be on Friday at 5 p.m. at Bob Janssen Field in San Luis Obispo. The last two games will be on Saturday at 2 p.m. and 4:30 p.m.