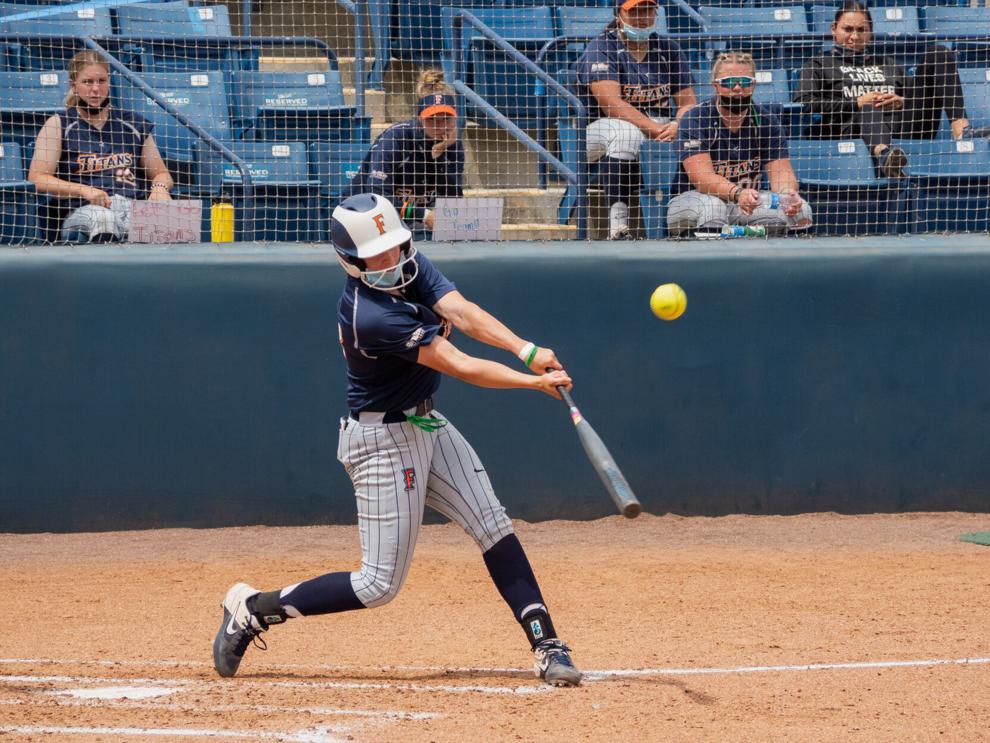 Cal State Fullerton's softball team failed to defend the crown, as they dropped the final three games of the season to Long Beach State this weekend. With the three-game sweep, Long Beach claims their ninth Big West Conference Championship and first since 2014.
Fullerton came into the series with an undefeated conference record prior to facing their long-time conference rivals. Holding a 19-2 conference record, Long Beach State needed a series sweep to deny the Titans their fifth straight conference title.
In game one of Friday's doubleheader, Fullerton looked destined to secure their 10th Big West Conference title. 
Freshman infielder Hannah Becerra gave the Titans the lead in the fourth inning after a two-run home run to center field. However, after pitching five scoreless innings, senior Sophie Frost couldn't contain Long Beach's rally in the bottom of the sixth, allowing three runs to score, resulting in a loss for the Titans with a final score of 3-2.
The second game started off similar to the first, with the Titans getting on the board early after freshman Remington Ross scored on a fielder's choice play by teammate K.K. Humphries. However, Fullerton had no response to Long Beach State's eight runs in the fifth and sixth innings. 
Long Beach's senior Kellie White picked up her second win of the day, giving up only three earned runs on seven hits after pitching two complete games.
Saturday's game was a nailbiter to the end, with the game scoreless up until the fifth inning. With the bases loaded, Frost walked Long Beach's Breezy Wise, allowing Rylie Seip to score. Frost was able to get a groundout on the next batter to end the inning, but the one run was all Long Beach needed to hand Frost her second loss of the series.
White would earn her third win in a row as she threw a complete game shutout to secure the victory and Big West conference bragging rights to finish the regular season.
After their victory, Long Beach State trails Fullerton for the most conference titles in the Big West with nine titles.
Despite being unable to retain their Big West conference crown, the Titans had an impressive regular season. After starting the season 15-11 through non-conference play, the Titans found their stride and set themselves up for what was surely another title year.
Several players added to their impressive careers, with Frost being one of the more notable standouts. Even after a disappointing end to the regular season, Frost is 20-5 with an ERA of 1.91 and 130 strikeouts. She was named Big West Pitcher of the Week four times this season, adding to her list of accolades that she has accrued pitching as a Titan.
The future also looks bright for the Titans as a couple of freshmen played key roles throughout the year. 
Becerra's debut season as a Titan is a memorable one, as she currently sits with a batting average of .356 and leads the team with 14 home runs, and 47 RBIs. Becerra's 14 home runs marked the most of any freshman in CSUF history. She also earned her fair share of recognition this year as she was named Big West Freshman of the Week four times this year, just one behind fellow teammate Dani Martinez, who earned five in 2019. 
Humphries also had an electric freshman debut, as she is batting .366 and hit nine home runs and 35 RBIs. She also received Big West Freshman of the Week honors in the first week of May, adding to Becerra's four, giving CSUF five out of the 11 Freshman of the Week honors that were awarded this season.
Now, the Titans await to see what fate has in store as selections for the 2021 Women's College World Series are to be announced Sunday at 6 p.m., with Regionals beginning on Friday.