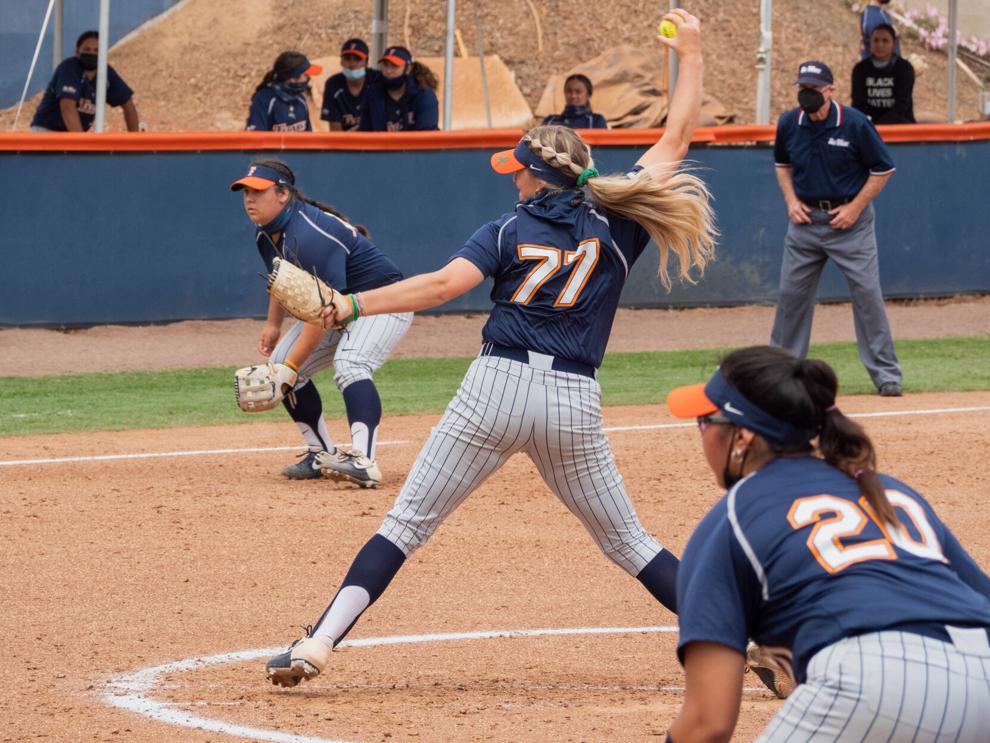 Cal State Fullerton softball breezed by Cal Poly San Luis Obispo in a three-game sweep on Friday and Saturday, which continued their undefeated run in the Big West conference.
In game one, pitcher Sophie Frost recorded another win to add to her impressive senior season, and threw her fourth complete game shutout of the season with a line of seven hits, three walks and two strikeouts.
Senior Julia Valenzuela led the team with two RBIs and a run scored in three at bats, while senior outfiler Kelsie Whitmore and sophomore Daisy Munoz both extended their on-base streak to 23 games. 
Fullerton won the game with a final score of 5-0 in seven innings.
Game two was closer than the final score showed, as the Titans only led by two runs heading into the fifth inning. However, Whitmore hit a home run on the first pitch in the inning, sparking a eight-run rally that would ultimately seal the game for the Titans, winning 10-0 in five innings via mercy rule. 
Whitmore went 2-for-3 at the plate as well, and scored three runs to help secure the victory in the first game of the doubleheader.
Frost earned her second win of the series and pitched four scoreless innings, while junior Alexia Silvas came in for relief and pitched a scoreless inning. Frost now has a record of 18-3 in 23 starting appearances.
The Titans were clicking all around in game three as multiple players had great performances to finish the series. Scoring five runs in the first inning, the Titans never gave up their lead and scored in four out of five innings played, winning by a score of 15-2.
Whitmore, who earned Big West fielder of the week, went 3-for-3 with a double and two home runs to go along with her six RBIs and four runs scored in game three. She also extended her hitting streak to 14 games as well as extending her on-base streak to 25 games along with Munoz.
Freshman KK Humphries also had an impressive night going 3-for-3, hitting a home run in the first inning that helped push the momentum for the Titans.
Pitcher Dani Martinez earned her third win of the season as the sophomore was then followed by a couple freshman pitchers in Staci Chambers and Ellie Zellien who both threw a scoreless inning in relief. Martinez finished with a line of 3.0 inning, two hits, two earned runs, two walks and two strikeouts.
The Titans have now won 20 straight series' in the Big West and have won 25 straight games in Big West play.
Fulllerton continues their dominant conference play as they host Hawaii for a pair of doubleheaders beginning on Friday. The first game is set to begin at 3 p.m. followed by a game at 5 p.m.