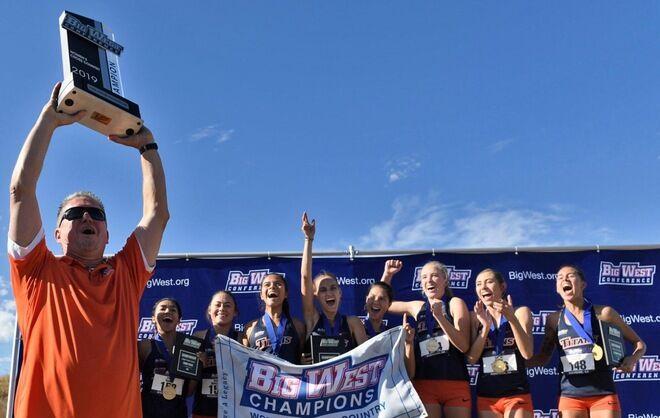 In his 33rd season as head coach of the men and women's track and field team at Cal State Fullerton, John Elders led his team over hurdles during the COVID-19 pandemic.
Just as the team was set to host the annual Ben Brown track meet, the first California stay-at-home order struck. The meet, which has occurred for 25 consecutive years, came to a halt.
Due to COVID-19, Elders said he had difficulty adjusting to a new way of coaching his team.  
"We've just only been able to meet with our student athletes by zoom and email and things like that, so it's really hard for myself and my staff to not have that interaction, you know, or the regular interaction with our student athletes which is so critical," Elders said.
Besides the students, the coaches had to adapt to the new rules and safety regulations in order to practice with the team. A major change is the limited in-person capacity the athletes have been permitted, as they train on campus for a few hours each week. The coaching staff is only allowed one coach on campus at a time, causing them to stagger the practice times for the events because the team is so large.
"It's better than nothing. It's not ideal, but at least we have an opportunity to practice," Elders said. 
Since returning to campus, the track and field athletes have a new protocol once they arrive to practice. The athletes have to check into the athletic department wearing masks to get their temperatures checked, and when cleared receive a wristband that allows them to participate in their on or off campus location. The coaching staff has also implemented training and virtual communication on Zoom. 
Distance runners are able to train off campus and run at the Fullerton loop or Carbon Canyon trail, leaving it easy to maintain social distancing standards. As for the sprinters and field events, it has been a little more difficult as one of the largest groups. 
"I would think that's the biggest challenge with such a large group to keep them in their pods and keep them separated at practice," Elders said, adding that all the kids faced similar struggles. "They've had to adjust to not being able to be together, to not have a season."
Though the upcoming season is still unknown, Elders said he is preparing the team as if there is going to be a season. The students have been faced with training through difficult circumstances such as online school, mental health issues and deciding on whether to continue to train through the season.
If the season were to take place, the women's event middle and long distance along with the men's event sprint hurdles are what to look out for, as Elder said he would anticipate these events. 
"Those would be the strengths of our program again this year, although we feel like we've gotten better in all the different areas," he said. 
Having won countless awards throughout his coaching career, Elders did not hesitate to commend his staff of coaches, supervisors and students. 
"I'm the one that gets the awards and all that stuff but the reality is that, we're a team and I'm proud of them and I'm, to be able to lead them is just such a blessing and honor" Elders said. "It's not as hard to win when you have that kind of support behind you and then we have just a great group of student athletes and they're the ones that do it on the track."