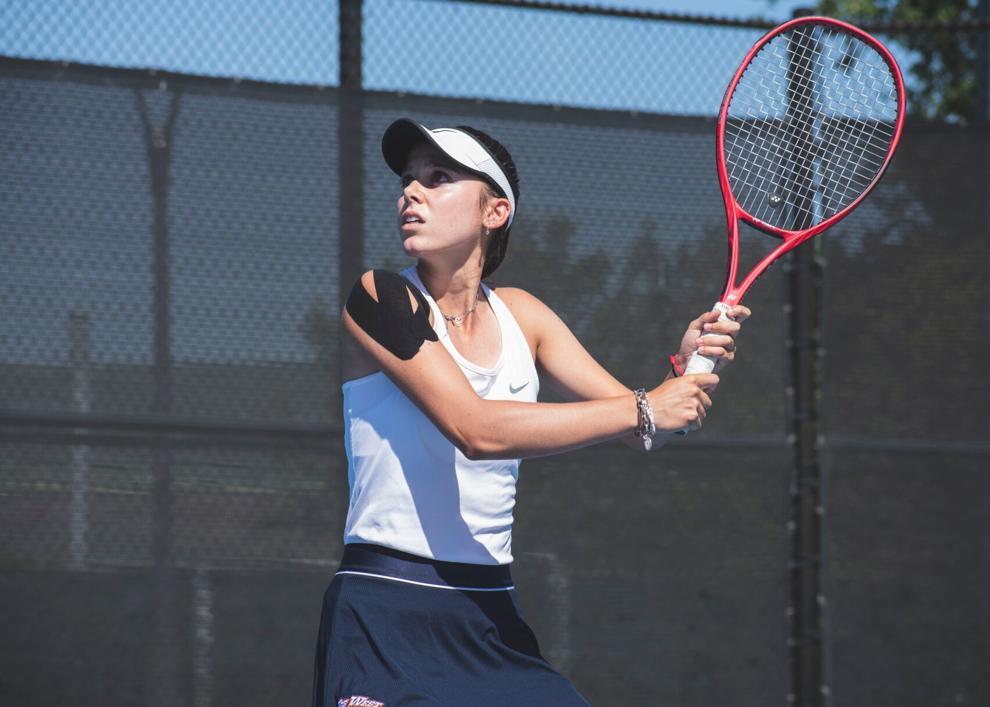 Cal State Fullerton women's tennis season came to an end after being defeated by Cal Poly San Luis Obispo, 4-0 in the semifinals of the Big West championship.
"Unfortunately today there had to be a winner and loser, but just kind of looking back where we started in the fall and the spring and just you know the situation our team was where we didn't even know if we were gonna be able to fill six players," said Dianne Matias, CSUF head coach.
Fullerton started the day on Saturday with a win in the doubles matches as they tried to set the tone for the semifinals. YuSeung Suh and Natalie Duffy beat their opponents 6-2 in the first double match of the day. 
However, the next two matches the Titans fell short of snagging any more doubles points against Cal Poly. Fullerton's Eira Tobrand and Misaki Kobayashi were defeated by their opponents, 6-3 and just a few minutes later Camila Garcia and Jadie Acidera were also defeated by their opponents, 7-5.
Heading into the singles matches, Fullerton trailed the Mustangs, 1-0. Kobayashi, the No. 1 singles player for Fullerton, was defeated in straight sets, 6-1, 6-0, by Cal Poly's Dominique Stone. 
Moments after, Suh lost to her opponent in straight sets, 6-2, 6-2, giving the second singles point to the Mustangs. 
The clinching point went to the Mustangs at No. 3 singles when Acidera lost to her opponent in a tiebreaker, 6-1. This was the Titans' first loss in April after they went unbeaten in their last six matches. 
Juliette Daries, Duffy and Tobrand's singles matches were all left unfinished.
"We did everything we could, unfortunately, Cal Poly just took it to us today. We had opportunities, small windows here and there and we just couldn't capitalize, but I feel like we competed well, we gave it our all," Matias said.
On Thursday, the Titans had a strong start in the tournament as they defeated the UC Irvine Anteaters 4-0 in the quarterfinals, which advanced them to the semifinals on April 30 to square off against the Cal Poly Mustangs. 
The quarterfinals doubles started off rough for Fullerton when Suh and Duffy were defeated 6-4. The Titans made a quick turnaround as Tobrand and Kobayashi won, 6-4. Moments later, Garcia and Acidera also defeated their opponents, giving the Titans the doubles point.
In the singles matches, fellow Titans Tobrand, Duffy and Daries beat their opponents in straight sets, giving the Titans three more points and the quarterfinals victory against UC Irvine. 
For the Titans, this weekend marked the final match for seniors, Acidera and Taylor Valenzuela, including Genevieve Zeidan, who also served as the team's student assistant coach. With the majority of Fullerton's core players remaining, the Titans will hope to make another deep run in the postseason when they return to the court next year.