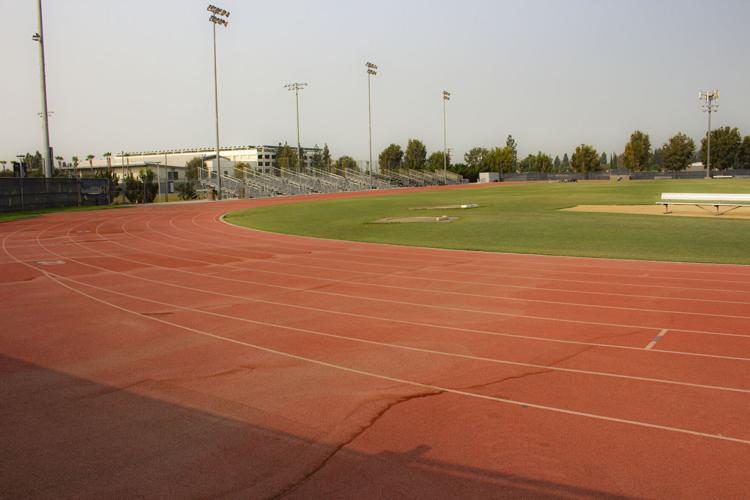 Cal State Fullerton athletes return to school this fall as more of a student rather than an athlete after the Big West conference announced in July that all fall sports will be postponed until the end of 2020 to protect players from COVID-19. 
Student athletes are used to a busy schedule, as they  juggle school, work, social activities along with practices and games. Athletes are experiencing an unprecedented amount of free time, which gives them more time to focus on their courses without the time commitment that collegiate sports requires.
Hailey Murdica, a junior kinesiology major, started sprinting for the women's track and field team in 2019. Murdica said that she is using the break from sports as a way to focus on her upper-division classes this semester.
"It's definitely weird because right now, we're in pre-season and, you know, we have our eyes set on season, but of course, we are students first," she said. "I'm trying to see it as a blessing in disguise.  I'm a junior now, so I'm getting into all of my major classes and the things I really need to focus on."
As a student leader, Murdica also helps organize voluntary practices held outside of CSUF. She said she motivates her teammates to continue to stay in shape to be ready for when competition returns. 
Murdica said a major key to success during these challenging times came in the form of the Athletics Academic Services department.
"They definitely made it easy to contact our counselors. We still have study hall hours that we can attend to or are assigned to us and so they are making sure they are helping us in any way possible," Murdica said.
The department serves up to half of the athletes on campus, facilitates one-on-one meetings and distinguishes the type of support each athlete needs, said Allyson Kelly, the assistant director of the department .
Kelly said that the staff  counselors did not miss a single academic meeting with athletes, despite the inability to meet in person, but there were areas that they could improve in. One of those improvements was the completely online conversion of the athletes' weekly academic organizer, which would normally be filled out in person with the help of a counselor.
"Now, it is electronic, it's PDF-fillable and we tweaked it," Kelly said. "It's a pretty cool document and we also added things at the top so that they will fill it out like, 'How are you feeling? What's your mood? What are you proud of this week? What are you struggling with?' just to make sure we're not missing something."
Kelly said that the department also updated staff training material, implemented one-on-one meetings with tutors and developed a website where all of the department's electronic resources are located. 
John Elders, head coach of the track and field teams, said that the teams' coaching staff communicates with the athletes' academic counselors on a regular basis to ensure each athlete gets the support they need to maintain academic eligibility.
"We have two academic counselors that work with our team, Dee Dee Kingsbury and Erin Mena, and they do an amazing job. They are in constant communication with us regarding academic progress," Elders said.
In the circumstance that an athlete misses a required meeting, the counselors are able to let the coaching staff know so the coaches can be involved with helping their athletes succeed in both school and their respective sport.
Elders said that it has been hard to motivate his athletes during this time, but he reminds students to have a championship mindset by continuing to work hard and focusing on what the athletes can control in their lives, not on a specific date to return to competition.
"We have control over what we can do," Elders said. "I just tell them there's two things every day that you can control; that's your attitude and your effort."