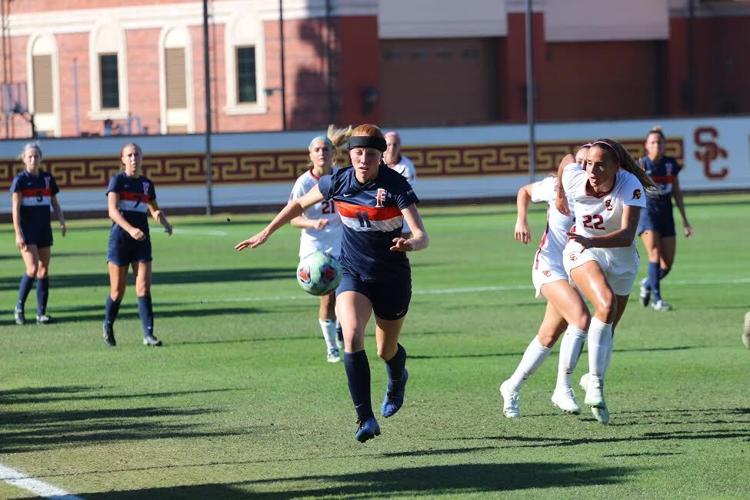 Since the cancellation of spring sports on March 13, Cal State Fullerton athletes have learned  to adapt to the difficult circumstances caused by the coronavirus pandemic. The disappointment from a lost season still lingers, but preparing for a future season is now the objective for Titan athletes.
The pandemic prematurely ended the career-best season for of senior right-handed pitcher Tanner Bibee, who had four or more starts was No. 12 in the Big West with an ERA of 2.74 and No. 4 in the conference with 10 strikeouts per nine innings.
"I just think it's just an opportunity. Everything happens for a reason. Obviously, I was super sad about it and everyone was sad about it for a long time. I can't dwell on the past or else I'm going to ruin my future," Bibee said. 
Despite his improved numbers, Bibee was not selected in the 2020 MLB draft, though the number of rounds had been cut from 40 to a mere five rounds because of the pandemic, reducing his opportunities dramatically.
Now Bibee  has moved on to prepare for his senior season and is using his time to work on his curveball and changeup pitches.
"I was working with some guys, one of our student managers Anthony [Antolin], and he was helping me tweak grips and finger pressures and lower half stuff. It's been working pretty well so far," Bibee  said.
Sophomore outfielder Megan "Cheese" Delgadillo led the softball team in hits, triples and was also selected No. 3 in the conference with a .408 average and No. 1 in 16 stolen bases. Though months have passed, her lost freshman campaign still stings.
"It left me heartbroken. I'm still not over it. I'm just hoping we can get back out there soon and hopefully we can play again and be that team that we were last year," Delgadillo said.
Delgadillo moved to Fullerton this past week and has been working with teammates to prepare for the 2021 season.
"I've been getting together with a couple of my teammates and we'll go hit once or twice a week. I've been running on my own and I ride bikes around. I'm going to start lifting soon to get back into it because everything was closed," Delgadillo said.
Coming off a back injury Delgadillo sustained during the season, she said that staying healthy has been important in her training.
On the other end of the field, senior midfielder Hayley Brown was supposed to play her season beginning this month, but on July 29, the Big West Conference announced that all fall sports, including women's soccer, are to be postponed until after the calendar year. There is still optimism for a spring season, which Brown is preparing for by emphasizing normalcy.
"I don't want to fall out of that routine, especially when we do begin to go back to practice. I want to make sure that my body clock is set and that I'm still motivated and I still have that routine and schedule," Brown said.
Brown is living with her family in Northern California, far away from most of her teammates.  Still determined and dedicated to her sports, she has found ways to train on her own, utilizing whatever resources possible while far away from the practice facilities.
"I've tried to maintain getting some kind of weights in three times a week. The weights I have are nowhere near what we have in the weight room, it's just dumbbells. I run five to six times a week to make sure I'm keeping fit, and I try to get some kind of touches in every single day, even if it's just inside my house against my fireplace," Brown said. "My high school has goals so I'll get to do some shooting every once in a while if the campus is open, so that has been really helpful."
With other conferences such as the Atlantic Coast Conference beginning play Sept. 10, the likelihood of a senior season for Brown looks promising, but until there is official word, all Titan athletes will have to wait and see what the future holds for their athletic seasons.