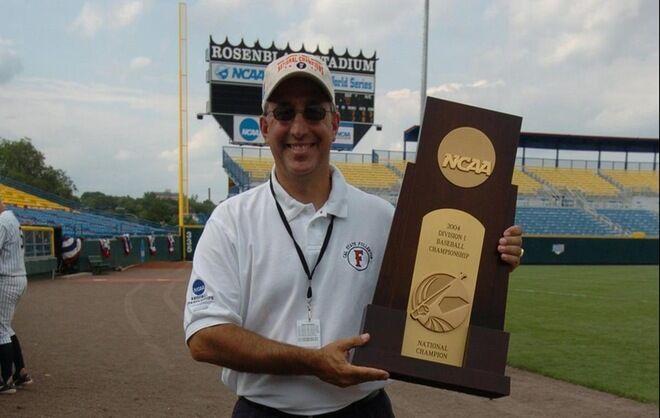 Steve DiTolla had his fair share of ups and downs through his extensive career as an administrator for Cal State Fullerton Athletics. 
Having witnessed some of the best and worst moments, his pride for CSUF has not wavered regardless of the circumstances. With his upcoming retirement, DiTolla's presence will still be active among the department through the brand and passion he helped establish for the Titans.
"Fullerton — it's a very unique place. I think being an underdog is something that we all relish. We all thought that nobody expects us to win," he said. "It's been a fun ride because we have had a lot of success in spite of some of the challenges that we face."
DiTolla's path to Cal State Fullerton began in 1985. 
He was at the University of Colorado and worked as the athletic's business manager and director of promotions and marketing. After six years in Boulder, Colorado, his boss at the time recommended that he applied for an opening with CSUF Athletics as the chief financial officer, which brought DiTolla to his home of nearly 30 years. 
Upon arriving in Southern California, he has worked extensively in different fields through his career for CSUF Athletics, working from 1985-92. He returned in 2001 after serving as the vice president of Jammin Sports Apparel for eight years.
By the '80s, CSUF was an up and coming D1 program, with its baseball program having claimed two national titles in 1979 and 1984, while other up and coming sports were building competitive reputations for themselves on the national stage. 
"It was a big jump and I don't know that the campus was prepared and had that mindset," he said. "There wasn't really a mentality that athletics was important."
Through the help of DiTolla, the baseball program has maintained national relevance and remains in the conversation for one of the best programs in the country. 
While not taking credit for all their success, he played a role in spearheading the hiring for Larry Cochell, Augie Garrido, George Horton, Dave Serrano and Rick Vanderhook. During his administrative career, DiTolla has made 13 trips to the College World Series in Omaha which included a National Championship in 2004.
He said that being a mid-major institution with less funding while also being located in one of the largest media markets in the world brought its challenges like name recognition. Despite the obstacles, he hasn't deterred from thinking CSUF Athletics can compete with the best programs and build a national brand.
"Nobody expects us to win. Nobody expects us to have success because of the funding that we have," he said. "It's hard to go to a place where you're virtually unknown, and you can still have success so I think we all rallied around the cry that we were underdogs."
CSUF Athletic Director Jim Donovan shares the same sentiment as DiTolla in regards to the Titans being contenders regardless of circumstances, a common value the two have shared since Donovan's arrival in 2012. 
"I think that the commonality that we had was we both thought Titan Athletics could be successful," Donovan said. "It's great place so I just didn't see any reason why we couldn't do better across the board, and Steve felt the same way."
Aside from sparking the competitive fire in others at CSUF Athletics, DiTolla has played a part in many ventures. He has played a vital role in the development of the athletics department whether it was through marketing, broadcasting, hiring or facilities.
Greg Paules, assistant athletic director for development, commended DiTolla on his ability to lead a group and steer conversation towards completing a task or project within the department.
"I didn't truly understand how much involvement Steve has on different things," Paules said. "There's just so many things that he's just done and he does things so quickly because it's all his institutional knowledge and things he's been working on for a number of years."
Keeping up with his career, DiTolla has also been able to maintain his personal life while also being able to integrate it with his work life. Being able to juggle both worlds was a rewarding experience, he said. He regularly brought his family to games and other athletic events, and welcomed them into the Titan family. 
"If you have the ability to share your job with your family, it really creates a total person. I felt that I could be a good dad and a good husband by including my family in what I was doing," DiTolla said.
For his son, Justin DiTolla, the seeds were sown for him to follow a similar path of becoming a sports administrator. Being around college athletics growing up, Justin was heavily influenced through his father's work. 
When he was younger, Justin was a bat boy for the CSUF baseball program for a couple seasons, and regularly interacted with coaches and players as he watched his dad at work. Now, he is the assistant athletics director for compliance at Syracuse University, crediting his dad as the sole reason for his career in college athletics. 
"Growing up I realized that what my dad does it's pretty cool to work with coaches. He gets to work in sports and as I got a little bit older I thought 'Wow, that can be a really cool option," Justin said. "There's no way I would have the same interest, the same passion and be in the same spot in my career without him."
Aside from being a husband and father, DiTolla is also a football coach for Yorba Linda High School and an active member of the Fullerton Rotary Club, a group of business and leaders dedicated to improving the community. By participating in these other interests, DiTolla said they have complemented for the better the main aspects of his life as a husband, father and administrator.
While DiTolla's CSUF career comes to a close, he will be seeing two final projects before his retirement becomes official: the baseball and softball renovation project and a TV deal with ESPN. 
When the projects are completed, DiTolla will officially settle into retirement, although he said he will still coach high school football and remain active with Rotary, as well as continue to support CSUF Athletics. 
Even though he will no longer be an administrator for CSUF, his passion for the Titan brand will leave a lasting legacy for those at Fullerton.