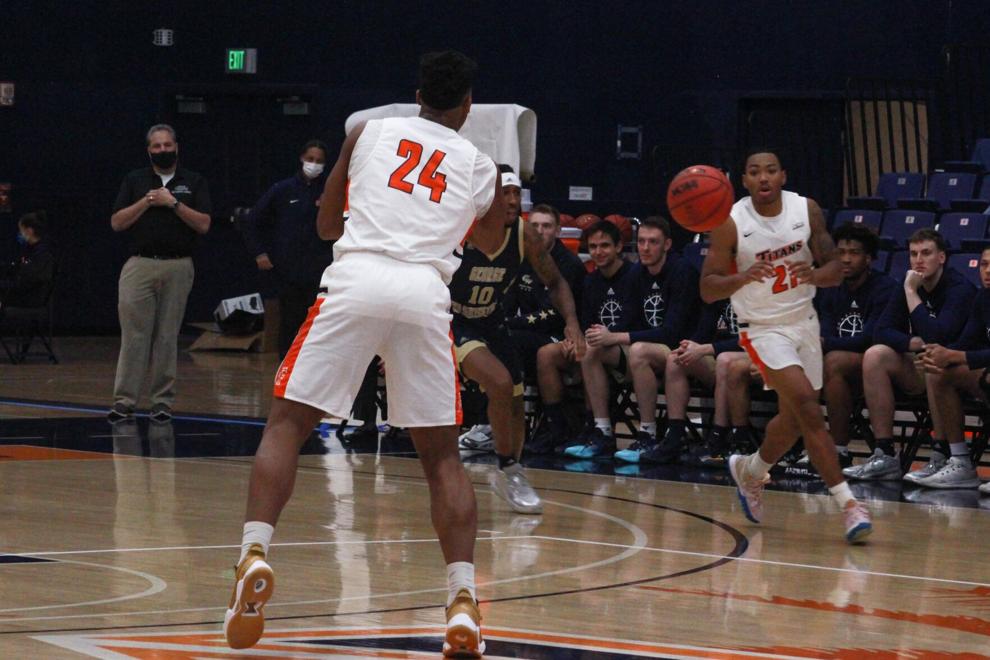 Senior forward E.J. Anosike led the way for the Titans with 19 points followed by senior guard Jalen Harris, who scored 14 points off the bench. Senior guard Damari Milstead, also contributed nine points.
The game saw the Titans trailing for majority of play as the Cowboys, led by their stout defense, consistent three-point shooting and height advantage, made it difficult for the Titans to get into any kind of rhythm offensively.
However, ignited from an alley-oop from senior forward Ibrahim Famouke Doumbia courtesy of a lob pass from sophomore guard Latrell Wrightsell Jr., the Titans managed to put up a valiant effort as they went on a 8-2 run in the second half, bringing them to within nine points, 51-42.
From that point the Titans would trade made baskets with the Cowboys as both teams struggled to stop each other as the two teams relied heavily on their offense.
CSUF would cut Wyoming's lead down to just four when Harris made a jumpshot making the score 55-51 as the momentum seemed to be shifting in the Titan's favor.
With the lead within two possessions and under 10 minutes left to play, Fullerton gave Wyoming its best shot in the second half. However, the Cowboys would ultimately pull ahead of the Titans in the final 7 minutes thanks to three-pointers from senior guard Drake Jeffries and sophomore guard Brendan Wenzel and strong play near the basket from sophomore forward Jeremiah Oden.
The closing minutes of the game consisted of free throws from Jeffries and senior guard Hunter Maldanado, as well as several missed scoring opportunities from the Titans.
In the first half of play, CSUF failed to stop the offensive output from Wyoming sophomore forward Graham Ike, who had 14 points in the first half and long range shooting from his teammate, sophomore guard Xavier DuSell, who went 3-4 from behind the three-point line in the opening half for the Cowboys.
The Cowboys rotated well on the defensive end forcing turnovers throughout the half and scoring the ball in the paint on the offensive end, which then led to a 39-26 lead for the visitors at halftime.
This was the first meeting between the two teams since November 2019, which saw the Titans prevail on the road, 60-53.
CSUF will have an opportunity to rebound from this loss when the Titans take on the Pacific Tigers on Dec. 4 at Titan Gym.