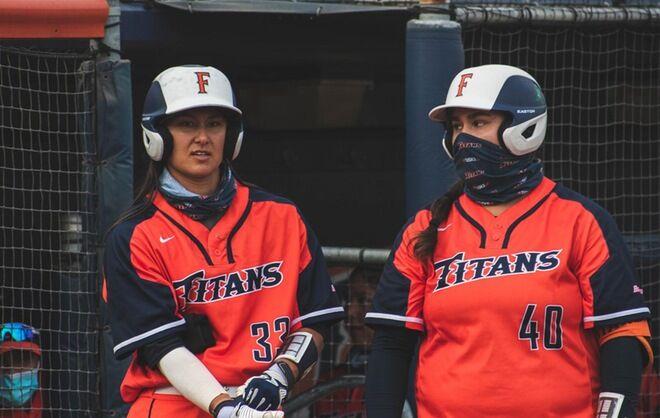 Cal State Fullerton softball picked up some Big West weekly honors after last weekend's sweep against UC Santa Barbara. Infielder Hannah Becerra earned Big West freshman of the week, while senior outfielder Kelsie Whitmore was awarded Big West fielder of the week.
This is the fourth time this season that Becerra was recognized as freshman of the week. She is one win away from tying the current record for the most in a single season held by fellow Titan Dani Martinez, who earned five of the award back in 2019.
Becerra had a solid performance to add to her record-setting season. In a span of four games, she had two home runs and four RBIs with a 1.268 slugging. Her two home runs brought her total to 11 for the season — the most home runs hit by a freshman in a single season in CSUF history.
Aside from a rough series against Boise State in February, Becerra has been consistent offensively throughout the season.
For the season, she is batting .356 with 37 RBIs, and has also scored 31 runs with nine stolen bases in 41 games.
Whitmore earned her first Big West fielder of the week after an outstanding performance in a pair of double-headers against UC Santa Barbara. 
Over the course of the weekend she batted .500, walked three times, which left her with a .636 on-base percentage in three games, and crossed home plate seven times during the series.
With her recent outing, she extended her hitting streak to 11 games and on-base streak to 22 games. Her batting average currently sits at .352 and she has nine home runs and 23 RBIs.
For the Titans, both Becerra and Whitmore are in the top three in batting averages, on-base percentage, slugging and runs scored.
With 11 games remaining in the regular season, the Titans look to continue their strong play as they head into the month of May. Their next game is set to tip off on Friday at 5 p.m. against Cal Poly San Luis Obispo.